The Dow and S&P 500 suffered their biggest one-day decline of the year Monday as U.S. stocks were whipsawed by concerns about political instability in Italy.
After opening higher on a global updraft, the Dow Jones industrial average ended the day down 216 points, or 1.5%. The S&P 500 fell 1.8% and the Nasdaq lost 1.4%. It was the worst day since Nov. 7 for both the Dow and S&P 500, and comes after both indexes logged their worst week of the year last week.
Wall Street's so-called fear gauge, the CBOE market volatility index, or VIX (VIX), surged 32%.
It was difficult to pinpoint the catalyst for the late-day sell off, said Ryan Larson, a senior equity trader at RBC Global Asset Management.
"Nothing specific, just herd mentality," he said. "People tend to not show their true hands until the final seconds of the trading day."
Overall, traders said political uncertainty in Italy was the main trigger. But many added that stocks have been vulnerable to a pullback after making a run at new all-time highs earlier this month.
"People may be using some of the overseas events as an excuse to realize that pullback," said Larson.
Initial results from Sunday's election showed the center-left party of Pier Luigi Bersani leading in both chambers of parliament. But later projections indicated that former Prime Minister SIlvio Berlusconi and his anti-austerity allies were not far behind in the Senate race, which is decided on a regional basis.
While the final outcome is still uncertain, investors are concerned that "gridlock" in the Italian Senate could undermine the progress Italy has made in overhauling its troubled economy, said Dave Rovelli, managing director of U.S. equity trading at brokerage Canaccord Adams.
"They're worried that if Berlusconi gets elected, there will be no one ruling the roost," said Rovelli. "The market is back to where it was a year ago, we're focusing on Italian and Spanish bond yields."
Indeed, the last time the VIX saw such a dramatic spike was Nov. 9 2011, notes David Lutz, head ETF trader at Stifel Nicolaus. After checking the headlines from that day, Lutz said Italy was the culprit behind that big surge in the VIX as well.
Related: Markets reverse as Italy deadlock looms
European markets pared earlier gains. The DAX in Germany and France's CAC40 both rose, but the FTSE 100 in London lagged. Moody's announced late Friday that it had lowered the United Kingdom's AAA credit rating, citing the country's rising debt burden and tepid growth outlook. The British pound fell versus the dollar and the euro in trading Monday.
Related: Fear & Greed Index no longer in extreme greed
Meanwhile, investors remain sanguine about the latest budget impasse in Washington.
Chances are slim that Congress will avert the automatic spending cuts, known as sequestration, before they take effect this Friday. It's more likely lawmakers will reach a deal to replace the cuts after they begin. But there's no telling when.
Investors are also bracing for Federal Reserve chairman Ben Bernanke's annual testimony on the U.S. economy to Congress this Tuesday and Wednesday.
The worries about Italy also overshadowed reports that Prime Minister Shinzo Abe is poised to nominate an advocate of aggressive monetary easing to head the Bank of Japan. The yen fell to its lowest point versus the dollar since May 2010, while Japan's benchmark Nikkei index added 2.4%.
Chinese shares rose modestly after a report on Chinese manufacturing fell unexpectedly. The Hang Seng increased 0.2% and the Shanghai Composite closed up 0.5%.
Related: Wall Street CEO pay: Who gets the most
In corporate news, shares of Barnes & Noble (BKS) shot higher after Chairman Leonard Riggio said he plans to buy the company's retail operations, leaving the Nook electronic book segment a separate company. No price was disclosed in his filing with the Securities and Exchange Commission.
Lowe's (LOW) reported lower sales and earnings, but both results were slightly better than forecasts and the company announced a $5 billion share repurchase.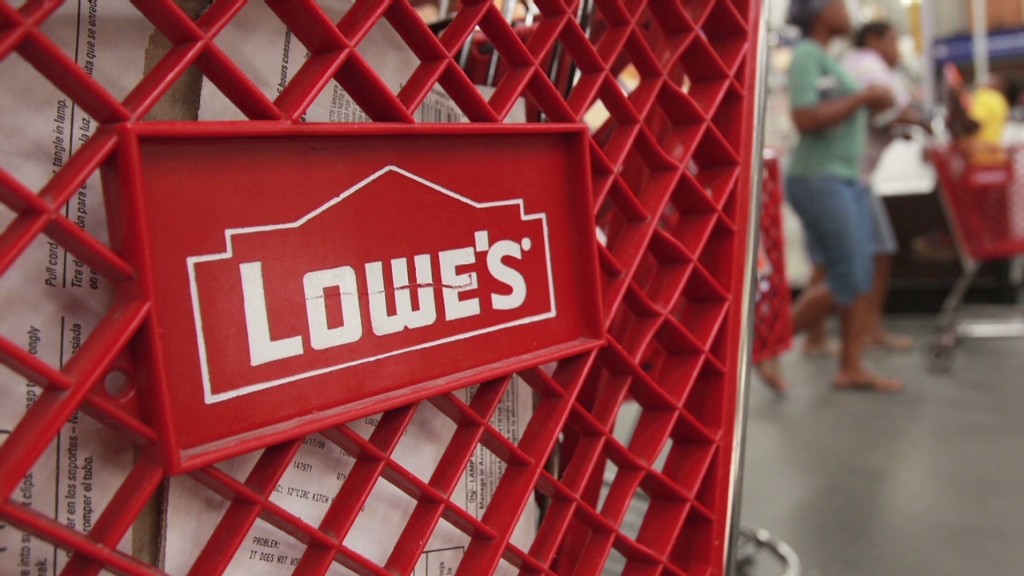 Results are due later in the week from companies including Home Depot (HD), Macy's (M), J.C. Penney (JCP) and Groupo (GRPN)n.
Shares of 3D systems (DDD) fell after the maker of 3D printers reported quarterly results that were slightly better than expected but missed revenue forecasts. A previously announced three-for-two stock split also went into effect Monday.
Shares of Chesapeake Energy (CHK) fell after the embattled natural gas producer sold some oil and gas assets to Sinopec for $1 billion.
FarmVille maker Zynga (ZNGA) shares surged on reports New Jersey will revise online gambling laws.
Oil and gold prices rose, while the U.S. dollar fell versus the euro.
The yield on the 10-year Treasury note edged up to 1.99%, from 1.97% previously.