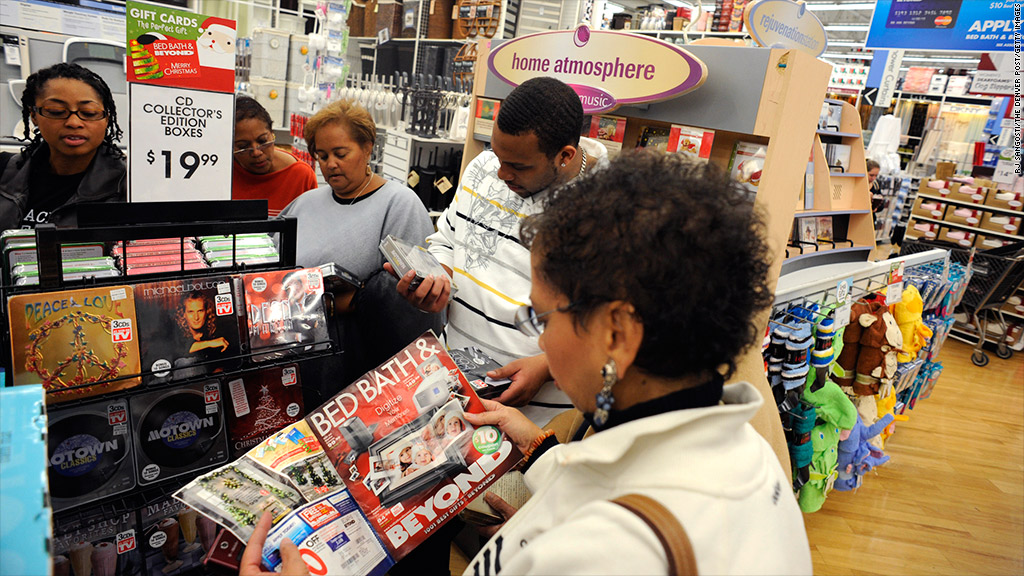 Amazon.com's low prices have put some of the nation's topmost retail stores on high alert -- from Wal-Mart and Target to Best Buy and Barnes & Noble.
But the retailer most at risk of losing sales to Amazon is Bed, Bath & Beyond, according to a study released Wednesday by Seattle research firm Placed.
The study finds that shoppers are more likely to use the aisles of Bed, Bath & Beyond to get a feel for products, such as the 1,000-thread-count cotton sheets or kitchen appliances, and then buy those items online at Amazon.com.
The practice is known as "showrooming," and has become a big problem for traditional retail companies, which find it difficult to compete on price because they have high fixed costs like rent for their physical stores and expensive sales people.
Amazon (AMZN) has even made this easy by launching a smart phone app that lets customers scan bar codes of products at a store, which they can then buy online.
The study found that the three retailers most at risk from showrooming are Bed Bath & Beyond (BBBY), PetSmart (PETM), and Toys R Us.
Related: Shore salesman hurt by online sales
Electronics chain Best Buy (BBY), which has admitted that showrooming has led to a slump in its sales, is fourth on the list. Recently, Best Buy expanded its price match guarantee to 19 major online sites in an effort to combat the practice.
Book retailer Barnes & Noble (BKS) and Sears (SHLD) come in fifth and sixth.
Toys R Us and PetSmart wouldn't comment on the study. Bed Bath & Beyond did not respond to a request for comment.