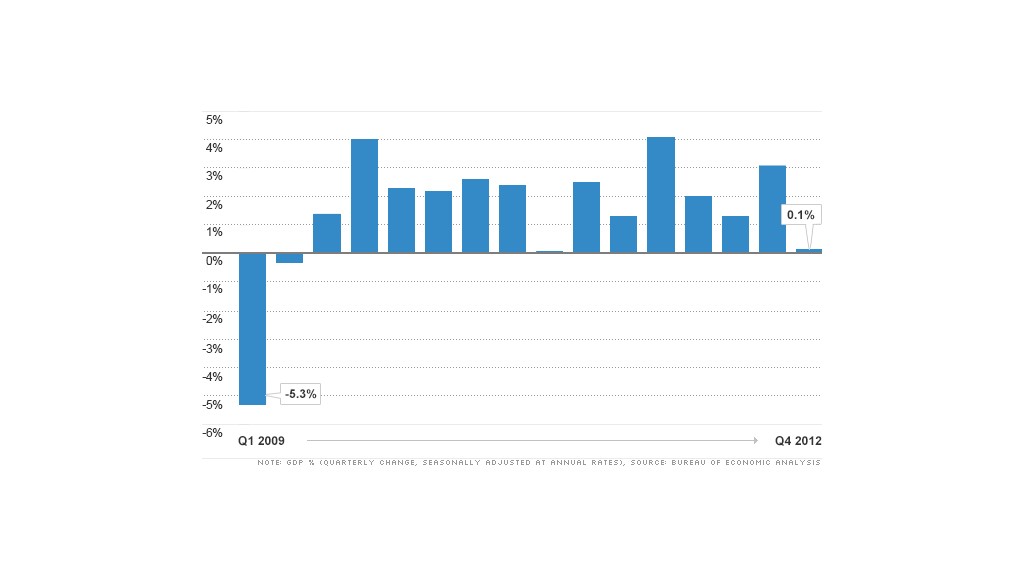 The U.S. economy didn't contract in the fourth quarter after all, but the bigger picture remains the same: It's still stuck in slow motion.
Gross domestic product, the broadest measure of the nation's economic growth, grew at an annual rate of 0.1% from October to December, the Commerce Department said Thursday.
The new data stems from a government revision, after it initially reported last month that the economy contracted 0.1%. Revisions are common, and Thursday's report marks the second of three estimates on GDP.
Overall, the change is so minor, it doesn't really change the picture of the U.S. economy. Growth slowed in the fourth quarter, and is far too slow to boost job growth, which remains the key problem facing the economy.
"This report provides further evidence that the economy stumbled into the finish line last year," said Jim Baird, partner and chief investment strategist for Plante Moran Financial Advisors, in a research note. "While the revision is technically an improvement, the bottom line is that it's still bad."
Related: Workers over 50 are the new 'unemployables'
One major economic theory suggests that the economy needs to grow around 3% a year to bring unemployment down by one percentage point. The unemployment rate was 7.9% as of January.
This slow growth is exactly why Federal Reserve Chairman Ben Bernanke told Congress on Wednesday that a "reasonable guess" would point to the unemployment rate not falling to 6% until around 2016.