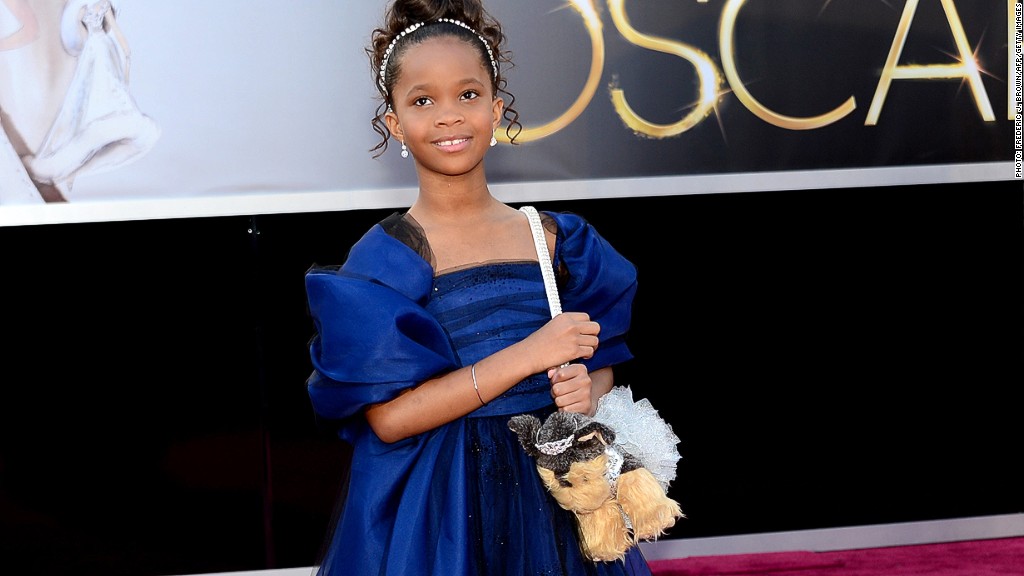 The only thing that outshone nine-year-old best actress nominee Quvenzhané Wallis at the Oscars was the puppy purse she carried on the red carpet.
Just ask Poochie & Co., which makes the purse the young star sported on the red carpet.
"The interest after the award show has been unbelievable," said Leslie Palmer, division president at Cudlie Accessories, which owns Poochie & Co. "We've seen sales shoot up 25% to 30% since she started wearing them."
The actress, who starred in the movie "Beasts of the Southern Wild," has donned the doggie purses at several red carpet events during the awards season. She has a big collection to choose from: Palmer has sent the budding actress about 50 different styles of the plush purses, which are decked out in sequined dresses and silky hair bows and modeled after 20 different dog breeds.
Phone calls, emails and messages poured in as soon as Wallis showed up with the purse at the Academy Awards on Sunday, Palmer said.
The company has made the puppy purses for five years and sells them to stores like Sears (SHLD), Kmart, Burlington Coat Factory, Marshalls (TJX) and Ross (ROST). Earlier this month, it started selling the purses under the Faded Glory brand at Wal-Mart (WMT) stores.
Related: Toy makers cash in on redefining stereotypically 'girl' toys
"Many of our retailers have told us that they've seen sales increase over the last few weeks," said Palmer, who is now fielding calls for the purses from other stores and international retailers.
A spokeswoman for Sears said the purses have been a hit among its young customers and Wal-Mart said its fuchsia poodle purse is very popular.
Dozens of people have commented on Poochie & Co.'s Facebook page on how they can track the doggie down.
"Been looking online...and would love to buy this purse," one commenter posted. "Can you tell us how to do that?"
Related: Be mine, zombie teddy bear
Customers will have to wait until July to get the custom Yorkshire terrier purse Wallis wore to the Oscars.