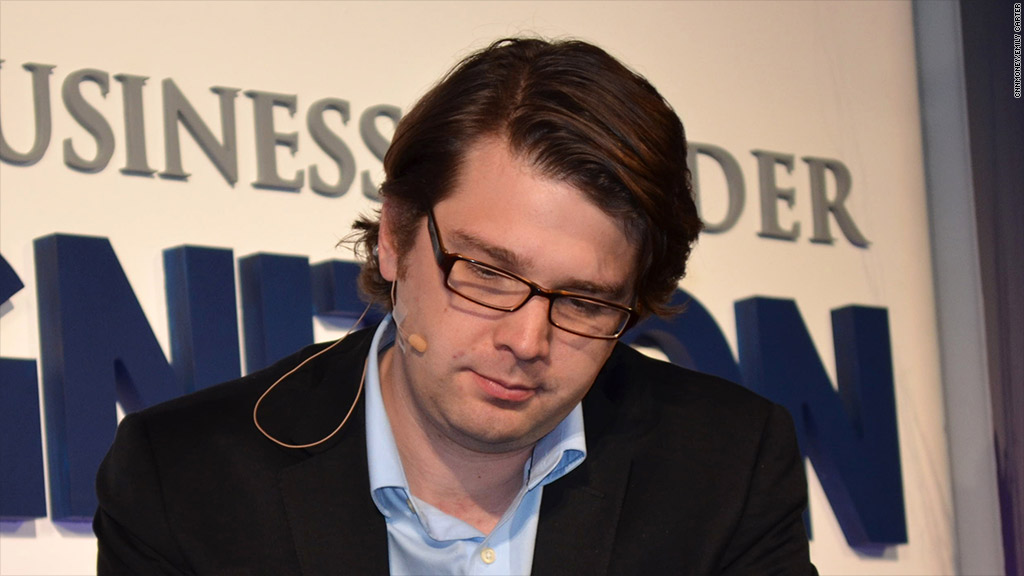 Groupon CEO Andrew Mason is out at the daily deals site he co-founded.
Rumors surfaced late last year that the board was looking to oust Mason, following terrible third-quarter results. The news of Mason's exit comes one day after Groupon reported yet another dismal quarter.
Mason didn't choose to leave.
"I've decided that I'd like to spend more time with my family. Just kidding -- I was fired today," Mason wrote in a memo he posted to Jottit.com, which promptly crashed. "If you're wondering why... you haven't been paying attention."
Related story: Groupon CEO's severance is $378.36
The rest of the letter was classic Mason, complete with a joke soliciting recommendations for a "fat camp" so he can "lose the Groupon 40."
The serious sections were bluntly honest: "I'm OK with having failed at this part of the journey."
Specifically, Mason said he regretted "moments that I let a lack of data override my intuition on what's best for our customers." He expressed hope that a new CEO will give the company the direction it needs.
The missive was far more candid than most exit memos, and it fit the irreverent tone Mason set for Groupon since its inception.
The company joked about raising "like, a billion dollars" in its official announcement of one of the largest financing rounds in tech-industry history. It responded to a lawsuit with a blog post joking about high-school gossip and a Cabbage Patch doll heisted by one of Mason's former classmates.
Mason even found a way to spice up typically dry regulatory documents. Groupon's official IPO filing mentioned dancing classes, gorilla suits, and a "Grouspawn" program that the company describes as "a foundation we created that awards college scholarships to babies whose parents used a Groupon on their first date."
That color is likely to fade with Mason's exit. While Groupon searches for a new CEO, chairmen Eric Lefkofsky and Ted Leonsis will lead the company on an interim basis. Shares jumped 4% in after-hours trading on the news.
The short press release merely thanked Mason "for his leadership, his creativity and his deep loyalty to Groupon," and heralded his creation of "one of the fastest growing companies in history."
But it's been an extremely rocky road for Groupon since even before its November 2011 debut on the stock market. Critics questioned Mason's judgment in walking away from a reported $6 billion buyout offer from Google (GOOG). (Mason quipped to CNNMoney that if he was going to sell his company, he'd want it to go to "someone totally weird" like Exxon.)
Groupon opted instead for an IPO -- and found the public market reception chilly. Cynics criticized Groupon for choosing a field that's easy for new rivals to jump into, and questioned whether any daily deals site can come up with a viable, long-term business model.
Disappointing earnings reports punished Groupon (GRPN) shares, which hit a 52-week low of $2.60 in November. They've since battled back to more than twice that level, but at under $5, they're still seriously below the $20 at which they debuted.
Soon after the 52-week low, Mason appeared at a New York City tech conference in November, just as the firing rumors reached a crescendo. He didn't seem surprised or upset.
"It would be weird for the board not to be asking that question," Mason said.
"I care far more about the success of the business than I do about my job as a CEO," he added later. When pushed specifically on whether he really did want to keep the CEO title, Mason said simply: "I want what's best for Groupon."
The company's CEO will inherit a number of problems and new initiatives. Customers have hit their saturation point with endless deals popping up in their inboxes, so Groupon is diversifying with new businesses. These include a product sales business called "Goods" and a new credit card payments processing service.