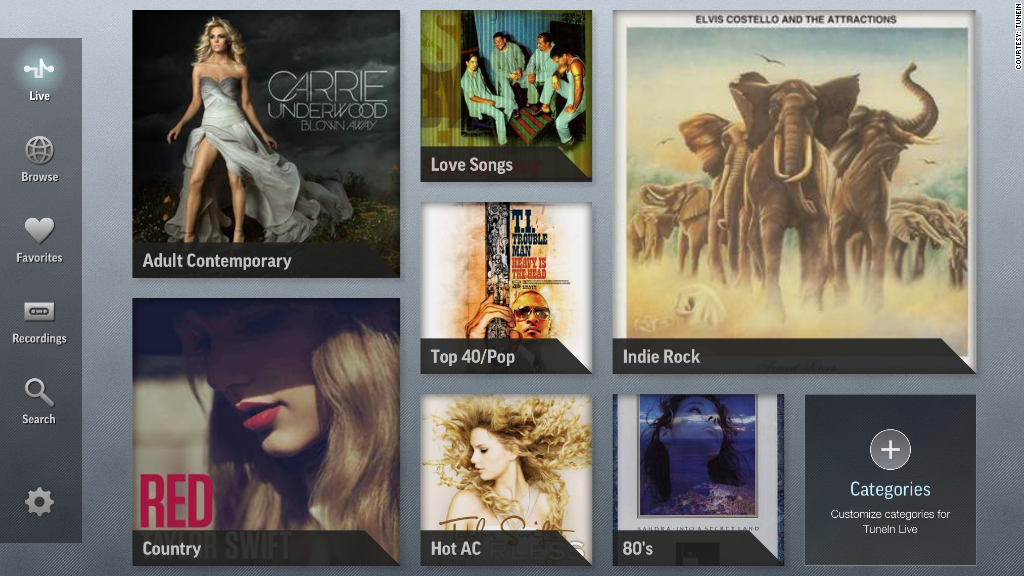 Pandora may be the best known "radio" startup, but TuneIn focuses on actual radio stations around the globe -- and its new TuneIn Live features make it easier for users to discover new content.
At 11 years old, TuneIn has amassed a catalog of more than 70,000 radio stations that it airs as-is, free to users. But it was tough for TuneIn's 40 million users to navigate all of that content; previously, they simply selected a location and a category like music, sports, news or talk.
Now, TuneIn users can check out what's trending across the world; search for and set reminders for events like sports; and set up live tiles that show songs playing around the world in particular genres.
"We don't want to be just a list of stations." CEO John Donham told CNNMoney. "We wanted to focus on what's important to each listener, and not make them work hard to find that content."
TuneIn, which users can access on TuneIn.com or via mobile apps, is hoping its foray into discovery serves to better showcase its content.
One example: TuneIn officially launched its "trending" feature several weeks ago for testing, but first announced it this week. Had it been available earlier, Donham says, users could have listened to the police scanner detailing the manhunt of former LAPD officer Christopher Dorner Big Bear Lake, Calif.
"We always had the Big Bear police scanner, but of course 99.9% of the time, scanners are boring," Donham says. "For future events like this, people will be able to see what we have to offer."
While trending focuses on what's popular to the masses, the other TuneIn Live features focus on what's important to individual users. Event search lets users find and set reminders for sports games -- "even play-by-play Wimbledon, which is impossible to find," Donham says -- favorite artists playing an acoustic set in studio, and political debates.
The third and final feature, live tiles, centers around users' favorite genres. They can set up a tile for alternative rock, another for country, and others for any of TuneIn's 99 genres. The tiles display the name of songs playing on stations around the the world, along with album art. Users can stick to one station and genre, or skip around the world.
"At times we've probably had more people listening to Antarctica radio stations than the number of people who live in Antarctica," Donham says.
He thinks 2013 will be a "huge year of growing" for TuneIn, and for the Internet radio market as a whole. Pandora (P), iHeartRadio and Spotify are just a handful of other companies in what TuneIn says is a $30 billion-per-year industry. TuneIn itself makes money by showing display ads to listeners, as well as occasional audio "pre-roll" ads.
"There's a lot still to be done here, both on the business side and the experience side," Donham says. "It's a huge world out there, with loads of content that you might miss on your own. This brings you the entire world on a single dial."