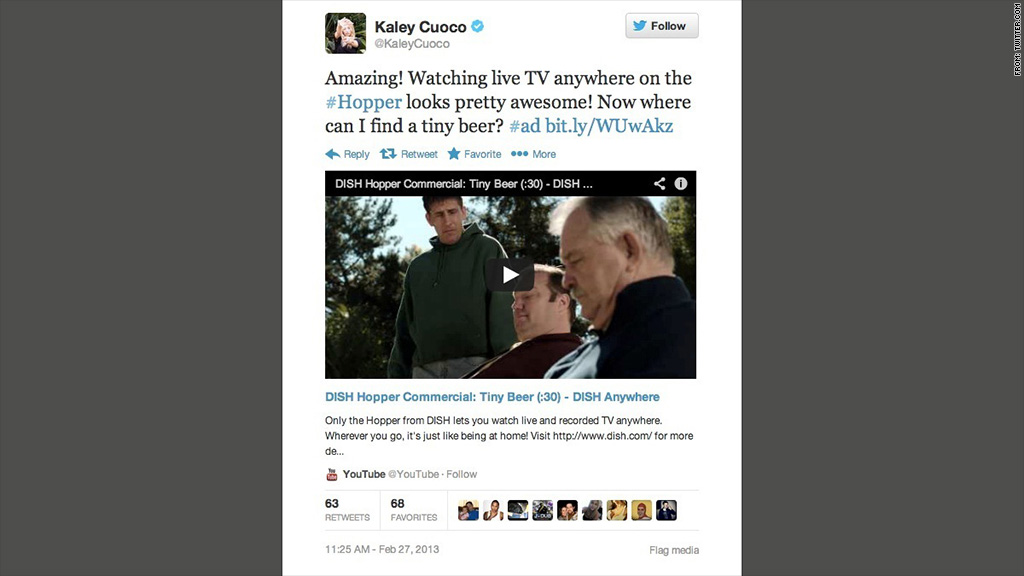 CBS' war over Dish's Hopper DVR is once again playing out in public -- and now one of the network's biggest stars is getting caught in the crossfire.
The latest drama comes after Kaley Cuoco, star of CBS's hit show "The Big Bang Theory," sent a sponsored tweet on Wednesday about the Dish Hopper DVR. Dish (DISH) had paid her to tweet that the Hopper was "amazing" and "awesome."
CBS (CBS) and many other broadcasters are currently locked in a legal battle with Dish over Hopper's ad-skipping technology.
Cuoco's tweet has since been deleted, and Dish sent out a press release calling attention to that.
"It's disappointing that CBS -- once the exemplar of editorial independence and innovation -- continues to use its heavy hand to hold back progress from consumers," Dish CEO Joe Clayton said in a statement.
CBS shot back with its own strongly worded denial: "Once again, Joe Clayton demonstrates his dubious gift for hyperbole and hucksterism. No demands were made, but it's clear that Dish's culture of fabrication is alive and well."
A CBS spokesman said separately that the company did not contact Cuoco "at all."
The Cuoco kerfuffle comes a few weeks after CBS-owned tech site CNet put the Hopper on an awards shortlist. CBS stepped in, forcing CNet to remove the Hopper from consideration -- and banning the site from reviewing "products manufactured by companies with which we are in litigation with respect to such product."
Dish is also mired in lawsuits with Comcast's (CMCSA) NBC, News Corp.'s (NWS) Fox, Disney's (DIS) ABC and other networks over the Hopper, which lets users record up to six channels at once and automatically skip commercials for primetime network shows.
"The Big Bang Theory" is produced by Warner Bros. Television, a subsidiary of CNNMoney parent company Time Warner. (TWX)