One day after hitting a new all-time high, the Dow gained more ground Wednesday as investors welcomed signs of strength in the U.S. job market.
The Dow Jones industrial average rose 0.3%, to end at a new record high of 14,296.39. The S&P 500 gained 0.1%. The S&P 500 is now only about 1.3% away from its record high, set in October 2007.
The Nasdaq, however, was little changed for the day. Shares of Staples (SPLS) weighed on the index after the office supplies retailer cut its sales outlook.
The rally has been driven by improved economic data in the United States, said Bill Stone, chief investment strategist for PNC Wealth Management.
"There's more and more confidence that the economy is on firmer footing," he said. "It's not growing fast, but it's not about to fall off a cliff either."
Wednesday's better-than-expected report from payroll processing firm ADP raised hopes that Friday's all-important monthly jobs report from the Labor Department would be a strong one. Economists surveyed by CNNMoney expect a gain of 175,000 jobs in February.
But recent readings on investor sentiment have been mixed, suggesting the market could be headed for a pullback, said Stone.
"There is some concern that it's precarious because we've come so far so fast," he said.
The Dow has gained 9% so far this year, while the S&P 500 is up more than 8%.
Related: Actually, the real Dow is still 11% below its record
Meanwhile, the market has also been supported by the Federal Reserve's stimulus measures, which have pushed interest rates down and made stocks more attractive.
"The U.S. is leading the pack in the recovery due to extraordinary levels of fiscal and monetary stimulus," wrote Deutsche Bank strategist Jim Reid in a research note.
In the latest edition of its Beige Book, the Fed said Wednesday that economic activity across its 12 districts expanded at a "modest to moderate pace" since it released the last edition in January. Fed officials, including chairman Ben Bernanke, have signaled that the central bank will continue to buy assets even as the economy improves.
After bottoming in March 2009, stocks have risen steadily as investors were drawn back into the market by attractive valuations. Analysts say stocks are still relatively cheap compared with earnings expectations, but bargains could be harder to come by as prices continue to rise.
Related: Bad timing? Investors yanked $1.1 billion from stocks
On the corporate front, shares of Hovnanian (HOV) fell 2% after the homebuilder said it lost a worse-than-expected $11.3 million, or 8 cents per share, in the most recent quarter. Despite the latest results, Hovnanian said it expects to return to profitability this year.
Also, the European Union fined Microsoft (MSFT) €561 million, or about $730 million, for failing to provide users of Windows 7 with a choice of Internet browsers.
Related: Fear & Greed index inching toward extreme greed
Shares of Smith & Wesson (SWHC) declined, despite the gunmaker's strong third quarter earnings.
JC Penney's (JCP) shares extended Tuesday's after the Wall Street Journal reported that some shareholders may start pushing for a new CEO if sales continue to slide. The struggling retailer is also in the third week of a court battle with Macy's (M), which claims that Martha Stewart Living Omnimedia (MSO) violated a previous agreement by entering into a new partnership with J.C. Penney.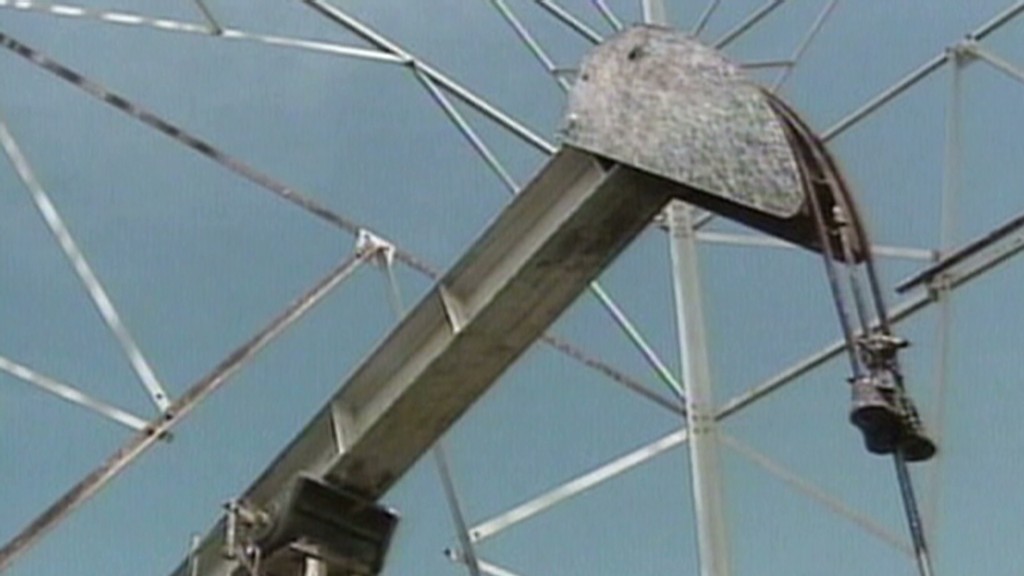 South Korean electronics company Samsung agreed to take a 3% stake in Japanese company Sharp.
European markets advanced, with indexes closing at their highest points in more than a year. Germany's DAX led the way. Asian markets also ended higher. The Shanghai Composite added 0.9%, the Hang Seng increased 1% and Japan's Nikkei rose 2.1%.
Oil prices were down slightly as the U.S. dollar strengthened. Analysts say the death of Venezuelan leader Hugo Chavez will not impact the nation's oil production.
Gold prices edged higher. The yield on the 10-year Treasury note rose to 1.94% from 1.89% on Tuesday.