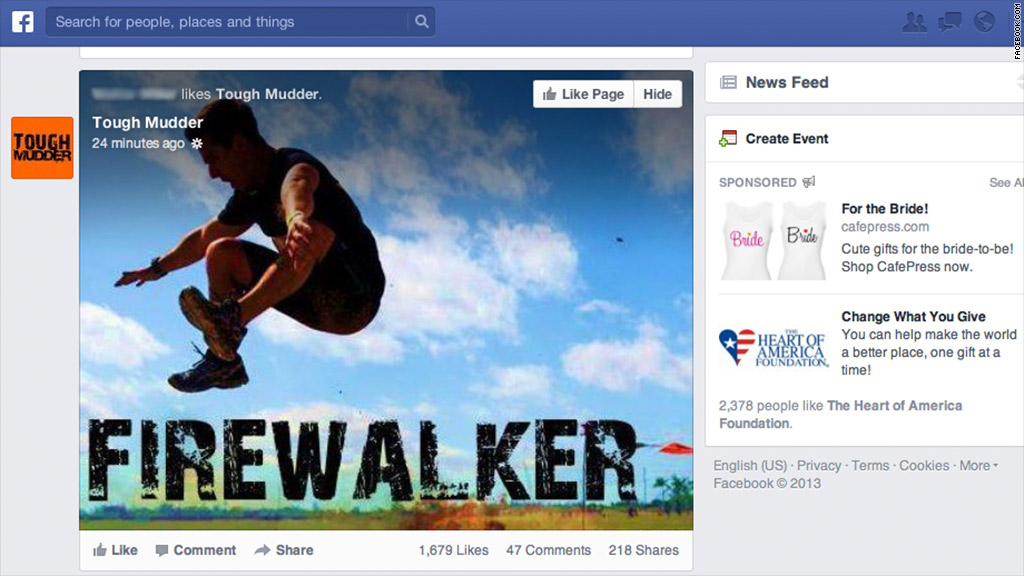 Facebook on Thursday unveiled a News Feed revamp that will make content more personalized and engaging. But the reason behind the redesign -- advertising -- barely got a mention.
Facebook (FB) depends heavily on promoted posts in its News Feed for ad revenue. If you "like" a brand's page on Facebook, your friends might start seeing ads for that brand with your name or face next to them.
Yet the old News Feed format didn't give much real estate to brand advertisers, and if you're not "liking" pages and activities, Facebook is making less money off you. It's in Facebook's best interest to keep its users returning to the site, and actively engaging with its content and ads.
"What drives engagement drives monetization," says Ken Sena, an analyst at Evercore Partners. "For Facebook, the News Feed is its product -- and its way to monetize users."
Facebook's overall user engagement has come into question recently, with some critics saying "Facebook fatigue" has set in. A recent Pew Research Center study found that 61% of Facebook users have taken several weeks off from the site. Earlier this week, the New York Times' Nick Bilton complained he gets far fewer likes and shares these days when he posts his columns to the site.
Facebook's announcement on Thursday is its attempt to rectify that issue.
The new News Feed's more visual design now takes up a much bigger portion of the screen, and Facebook has added personalization features. Users will be able to filter by category: content from friends only, brand pages only, or from topics like sports and music.
Facebook focused on how the new feed will be an improved experience for users, but only mentioned the word "ad" once, in passing. Investors, however, understood that what's better for users is better for Facebook's bottom line. They sent shares 4% higher after the announcement.