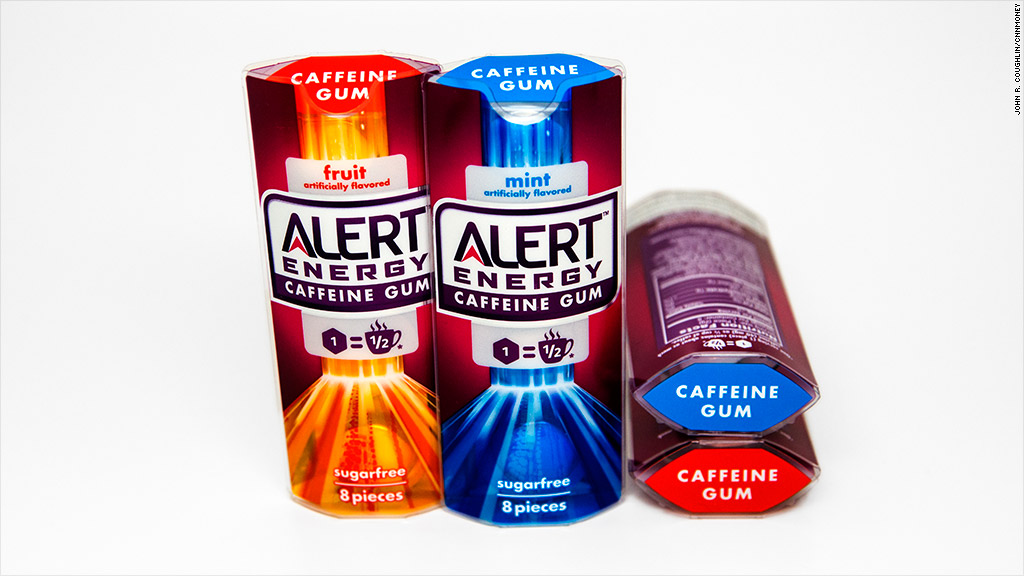 Hey caffeine addicts: Your morning just got a little easier.
Next month, Wrigley will start selling a caffeinated gum with the equivalent of about half a cup of coffee.
Alert Energy Caffeine Gum, Wrigley's effort to tap into the growing market for energy drinks, will be sold in convenience stores and food and drug retailers. It's not the first caffeinated chewing gum, but it'll be the first with Wrigley's brand and marketing strength behind it. No other caffeine gum has wide distribution.
The gum comes in packs of eight, is sugar free, and will be available in fruit or mint flavors. At $2.99, it's pricier than most gums, but cheaper than an energy drink or Starbucks (SBUX) coffee.
Energy drinks have become a much hotter product than chewing gum. According to Euromonitor International, a global market research firm, U.S. gum sales are down 3.8% since 2008, while sales of energy drinks are up 41% during the same period. Wrigley's sales make up more than half the gum market, according to Euromonitor.
Related: Energy drinks brace for caffeine crash
"Wrigley is focused on restoring gum category health, and that means creating functional and 'occasion-based' reasons to chew, bringing relevance back to gum," said a statement from the company. Wrigley is a unit of candy company Mars, the nation's third largest privately held company.
The company said it intends to market the gum to consumers age 25 and older. A warning label on the back says it's "not recommended for children."
Related: Investors sour on Monster Beverage
Roland Griffins, a professor at Johns Hopkins medical school who has done research on the impact of energy drinks, said there is reason to be concerned about children having easier access to caffeine.
"It doesn't seem like a good idea," he said. "To the extent that this makes caffeine more readily available to children, it's a potential concern."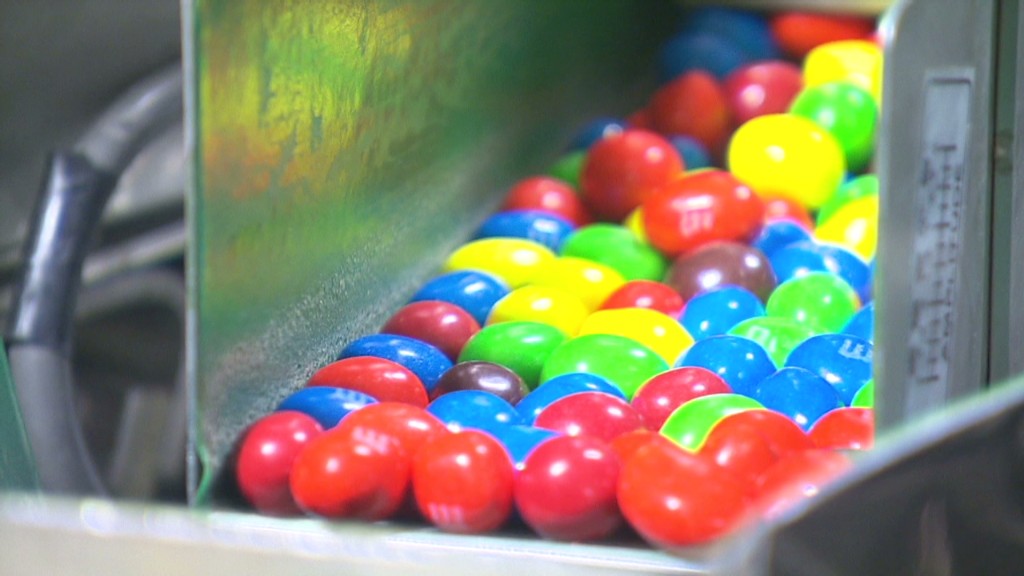 In October, a wrongful death lawsuit was filed against energy drink maker Monster Beverage (MNST) after a 14-year-old girl died of cardiac arrest. The suit charges she had two of the drinks in the 24 hours before her death. The Food and Drug Administration has also started a probe into whether there are deaths tied to another energy drink, Five Hour Energy.
Wrigley spokeswoman Jennifer Luth said everything about the gum, from its price to its more bitter taste, is likely to make it unattractive to children or teen consumers. The company is also urging retailers to display it with energy drinks, not gum.
"There's nothing we can do to prevent people from selling it to children," she said. "But we've done everything we can so it's not a product for children or teens. It is absolutely designed for adults who are already using caffeine for energy."
CNN's Amanda Hobor contributed to this report.