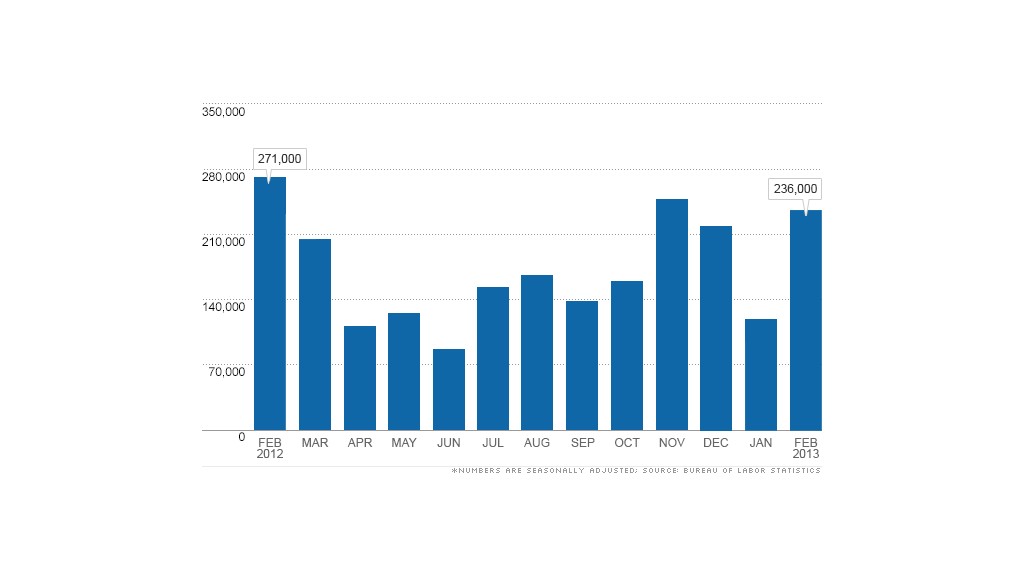 Hiring picked up in February, helping to bring the unemployment rate down to its lowest level since December 2008.
The U.S. economy added 236,000 jobs in February, according to a Labor Department report released Friday. That's much stronger growth than in January, when employers hired a revised 119,000 workers.
The gains were broad-based as offices, restaurants, construction firms and hospitals all added jobs.
Meanwhile, the unemployment rate dipped to 7.7%, as 12 million workers were counted as unemployed. The drop was partly because more people said they got jobs, but also because 130,000 people dropped out of the labor force.
The increase in jobs and decrease in the unemployment rate were better than expected. Stocks rose modestly in early trading Friday, with the Dow hitting yet another record high.
Related: Construction jobs soar on housing recovery
One of the brightest stars in the labor market now is the construction sector, which added 48,000 jobs in February, and 151,000 jobs over the past five months.
This sector single-handedly accounted for a quarter of the 8.8 million jobs lost in the financial crisis, but had largely sat of out of the recovery until recently. Momentum there is a welcome sign that the economy is improving, said Sal Guatieri, senior economist with BMO Capital Markets.
"It's largely because of the construction sector that the U.S. has yet to recover all of the jobs lost in the Great Recession," he said. "As long as the housing recovery remains intact -- and it should -- we should see the construction sector lead a return to a healthier labor market."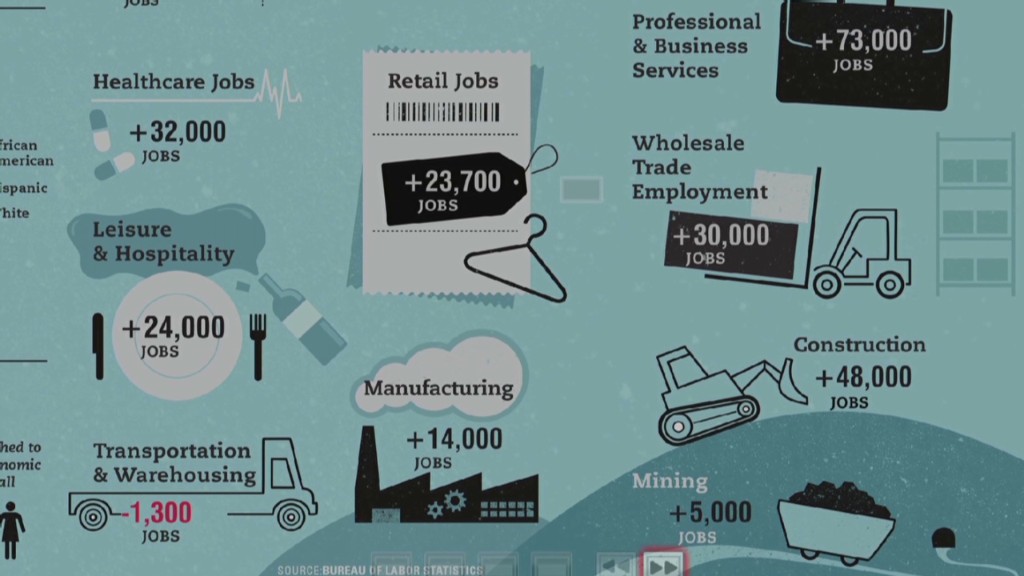 Overall, private sector employers added 246,000 jobs in February. Solid hiring came from a wide range of industries, including restaurants and bars, doctor's offices and hospitals, professional and technical services, and manufacturers.
"That's what we like to see to tell us the recovery is broadening out," said Beata Caranci, vice president and deputy chief economist at TD Economics.
An unusually large increase also seemed to come from Hollywood, with the motion picture and sound recording industry adding 21,000 jobs in February alone. That kind of strong job growth is highly uncommon for an industry of that size, but the data also tends to be volatile.
"I wouldn't call it a statistical fluke," said John Mullins, a Bureau of Labor Statistics economist. "It was a large increase, that's for sure."
Related: Hoorary for Hollywood! Movie biz lifts job growth
Employers have been adding jobs for three straight years, but still, it's happening too gradually for the labor market to return to where it was at the beginning of the Great Recession.
Overall, the U.S. economy has only gained about two thirds of the jobs lost in the financial crisis. Meanwhile, the population has grown and long-term unemployment remains a critical problem.
About 40% of the unemployed have been without a job for at least six months. The average length of unemployment now lasts nine months.
At 13.8%, the unemployment rate is highest for African Americans. Young people are also struggling. Workers ages 20 to 24 had a 13.1% unemployment rate in February, and for teenagers ages 16 to 19, it was 25.1%
Education still makes a big difference. The unemployment rate was only 3.8% for workers over the age of 25 with bachelor's degrees, whereas it was 11.2% for high school dropouts.
The federal government, excluding the postal service, cut 4,200 jobs. It was the fifth straight month for federal job cuts, and more are likely to follow, in the wake of automatic across-the-board spending cuts.
State and local governments cut another 10,000 jobs, mostly in education.