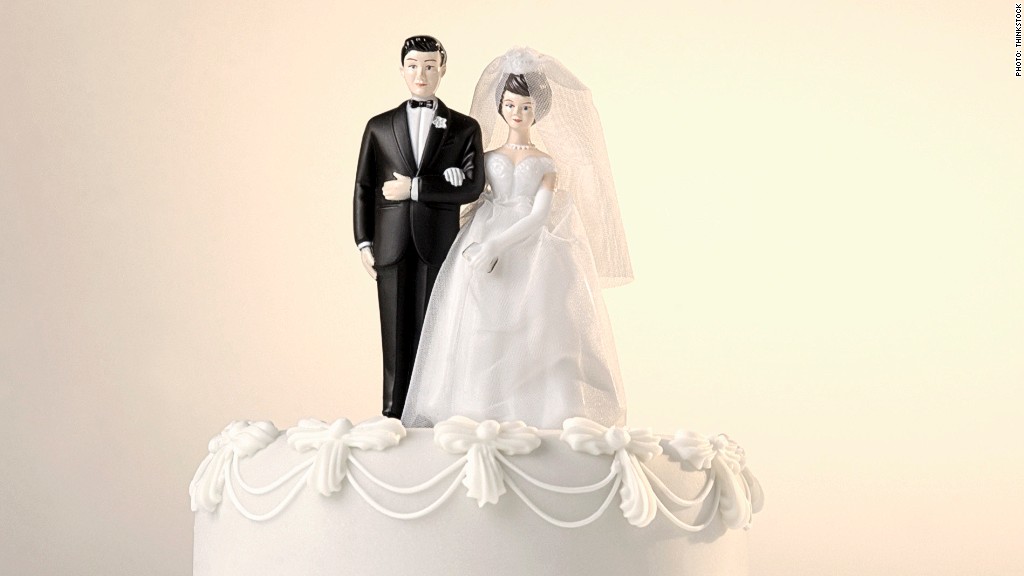 Brides and grooms spent more on their big wedding day last year than they have since the beginning of the economic downturn.
In 2012, newlyweds (and their families) spent an average of $28,427 on weddings and related events — the highest amount since 2008, according to an annual survey of 17,500 couples released by wedding website TheKnot.com.
Couples increased spending in nearly all categories, from the photographer and wedding DJ to flowers and invites, the survey found. But spending still came in below the 2008 high of $29,334.
"Couples are a little bit more comfortable and able to splurge a little bit more," said site director Anja Winikka.
Related: How to cut your wedding budget
Same-sex couples, who were surveyed for the first time in 2012, spent slightly more on their weddings than heterosexual couples, despite having fewer guests.
Couples in Manhattan dropped the most cash, with an average wedding budget of $76,687. Other pricey wedding destinations included Chicago ($49,810), northern and central New Jersey ($48,496), Santa Barbara and Ventura, Calif. ($42,319) and Boston ($39,239).
Alaska, meanwhile, was home to the most frugal affairs, with an average budget of $15,504.
A smaller percentage of respondents said the struggling economy was a damper on their wedding plans. In 2012, 26% of respondents said the economy had affected their budget, down from 29% in 2011 and 34% in 2009.
Related: Honeymoon hotspots: Splurges vs. steals
Also helping to increase spending was a trend Winnika dubbed "the year of the guest." Many couples provided a variety of wedding extras that pushed average per-guest spending higher by almost $10 per person to $204.
More than a quarter of all weddings included shuttles or buses to transport guests to the ceremony and reception. Spending on wedding extras like rehearsal dinners and morning-after brunches also increased.
"A lot of couples are having stateside destination weddings," she said. "Their friends and family live all over the place. They are planning these three-day weekend events."
And at many weddings, a DJ or band was just not enough. Last year, 27% of weddings included additional entertainment -- such as a photo booth or caricature artist -- more than double the percentage who did so in 2011.
"They consider it no longer this total splurge, but rather something they feel they need," Winikka said.
Saying 'I do' is getting pricier
| Category | 2012 Average spent | 2011 Average spent |
| --- | --- | --- |
| Overall wedding (excluding honeymoon) | $28,427 | $27,021 |
| Venue (reception hall) | $12,905 | $12,116 |
| Photographer | $2,379 | $2,299 |
| Wedding/event planner | $1,847 | $1,753 |
| Reception band | $3,084 | $3,122 |
| Reception DJ | $988 | $929 |
| Florist/décor | $1,997 | $1,894 |
| Videographer | $1,619 | $1,486 |
| Wedding dress | $1,211 | $1,121 |
| Groom's tuxedo | $230 | $215 |
| Wedding cake | $560 | $535 |
| Ceremony site | $1,711 | $1,599 |
| Ceremony musicians | $554 | $536 |
| Invitations | $453 | $440 |
| Limousine | $708 | $669 |
| Favors | $289 | $285 |
| Rehearsal dinner | $1,135 | $1,078 |
| Engagement ring | $5,431 | $5,130 |
| Catering (price per person) | $63 | $61 |