U.S. stocks continued their record run Monday as hopes that lawmakers would pass a budget added to the recent enthusiasm.
The Dow Jones Industrial Average climbed 0.3%, closing at a record high for the fifth consecutive trading day. The S&P 500 gained 0.3% and is less than 10 points away from its all-time closing high. The Nasdaq added 0.2%.
Both the Dow and S&P 500 have risen for seven consecutive trading days.
Stocks have been supported by better-than-expected economic data and signs the Federal Reserve will keep its stimulus policies in place for some time.
Investors have shrugged off federal spending cuts that went into effect this month, and seem optimistic that Congress will pass a budget before a March 27 legislative deadline.
"It looks like we might actually get a budget this year," said Charlie Smith, chief investment officer at Fort Pitt Capital Group.
Smith said his firm is in the process of shifting from "playing defense to offense." But he was cautious about the outlook for corporate earnings.
All three major indexes are already up between 9% and 10% this year.
Related: Bank stocks still 50% below all-time highs
Stocks could continue to move higher as investors regain their appetite for risk, but the bull market is vulnerable to a pullback, noted John Stoltzfus, chief market strategist at Oppenheimer.
"At some point, likely sooner than later, a piece of negative news or some data point will trip the bull up," Stoltzfus wrote in his weekly note to clients.
Historically, stocks have been flat to modestly lower two months after hitting a record high, according to BTIG chief global strategist Dan Greenhaus. That might not be too bad, considering stocks have gained roughly 15% from the lows hit last November, he added.
There were no major economic reports released Monday, but retail sales data, due Wednesday, could move the market.
Investors are keen to see whether the increased payroll tax, delayed tax refunds and higher gas prices have caused consumers to pull back on spending. February sales are expected to have risen 0.5%, according to economists polled by Briefing.com.
Wal-Mart (WMT) warned last month that its February sales had been softer than expected.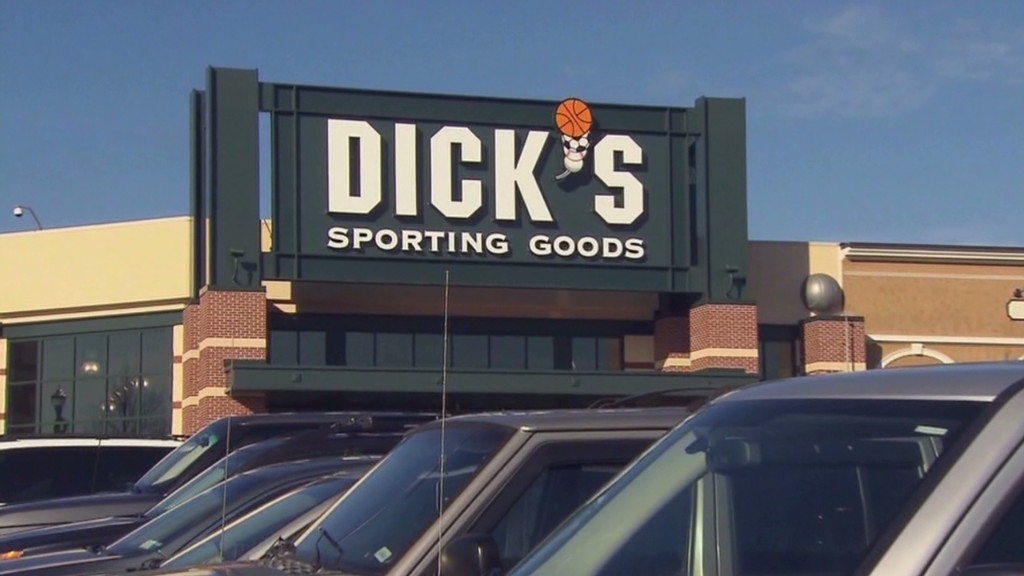 On the corporate front Monday, shares of Dick's Sporting Goods (DKS) fell more than 10% after the retailer reported earnings and sales that fell short of forecasts. The company also said it expected a sharp slowdown in same-store sales for the first quarter.
Shares of BlackBerry (BBRY) rallied nearly 14% as enthusiasm over the upcoming debut of its latest smartphone, the Z10, grew. AT&T (T) said it would begin pre-orders on Tuesday.
Billionaire investor Carl Icahn signed a confidentiality agreement with Dell (DELL)to review the PC maker's financial information, a move that could head off a showdown over Michael Dell's buyout.
Shares of Genworth Financial (GNW) rose 6% after an article in Barron's called the stock undervalued.
General Electric (GE) named former SEC chairman Mary Schapiro to its board of directors.
Related: Fear & Greed index moves deeper into extreme greed
Overseas, markets in Europe and Asia ended mixed.
The Nikkei rose modestly, extending this year's big rally. Japanese stocks have outperformed this year as investors welcome Tokyo's efforts to stimulate economic growth. But shares in China ended lower, dragged down by concerns over Chinese manufacturing.
The dollar rose against the British pound and the Japanese yen, but fell against the euro.
Oil prices dropped, while gold prices moved slightly higher.
The price on the 10-year Treasury edged lower, pushing the yield up to 2.06%.