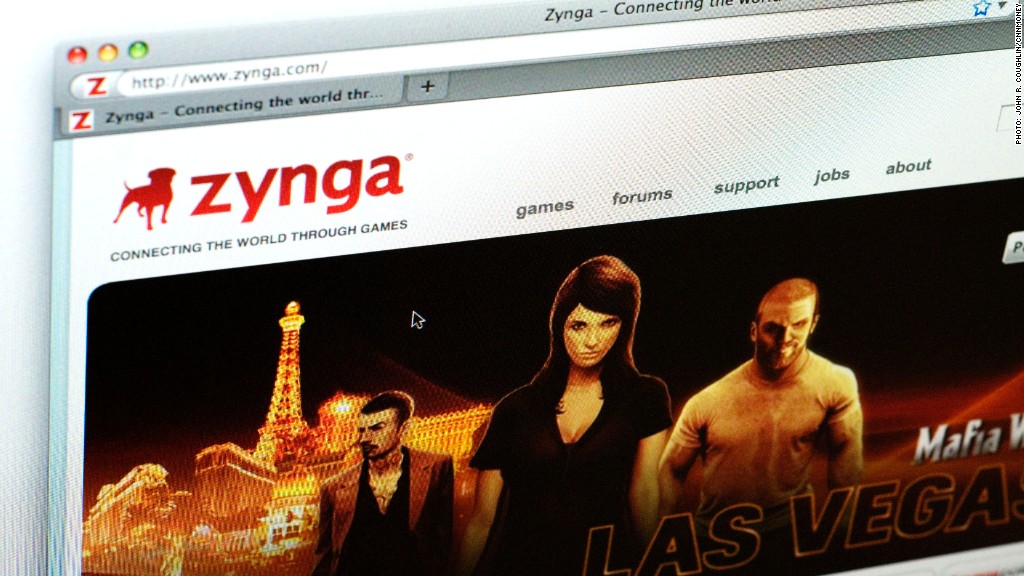 Investors like real money much more than virtual cows.
Zynga's (ZNGA) stock has soared 59% so far this year, following a foray into online gambling overseas. Shares of rival Glu Mobile (GLUU) jumped 18% Tuesday after announcing it would begin offering a real-money slot game for mobile phones through a partnership with London-based gambling service Probability.
Online gambling is legal in many places overseas, but it is mostly banned in the United States. Yet shares of both companies have risen on hopes that a domestic opportunity for real-money gaming may soon be possible.
The gaming industry has lobbied Congress to relax online gambling bans, arguing that games like poker are based on skill rather than chance, and it seems likely that those legislative changes will happen. Nevada, New Jersey and Delaware have all recently legalized online gambling.
"We're cautiously optimistic about Zynga's potential in [online gambling]," said Sterne Agee analyst Arvind Bhatia. "But there are a lot of unknowns. Until we know more, it's going to be more of a promise than reality."
Should online gambling become legal in the United States, Zynga will have to partner with the right companies and price its games well in order to make the most of this market, Bhatia said. But even then, Bhatia doesn't think Zynga will reap an immediate benefit.
"It will take a few quarters to work out," he said. "It's not a 2013 earnings driver -- more like 2014."
Zynga is banking on that increased revenue potential: The company built its brand on Facebook (FB) games like FarmVille, but the popularity of those titles is starting to wane. Zynga has shuttered about 15 titles since October.
After shares fell by nearly 80% in 2012, Zynga began to rebound in December when the company announced it had filed an application for a gaming license in Nevada.
The Nevada application came just weeks after Zynga struck its first real-cash gaming deal with international gaming operator bwin.party. Zynga plans to launch poker and casino games in the U.K. early this year.