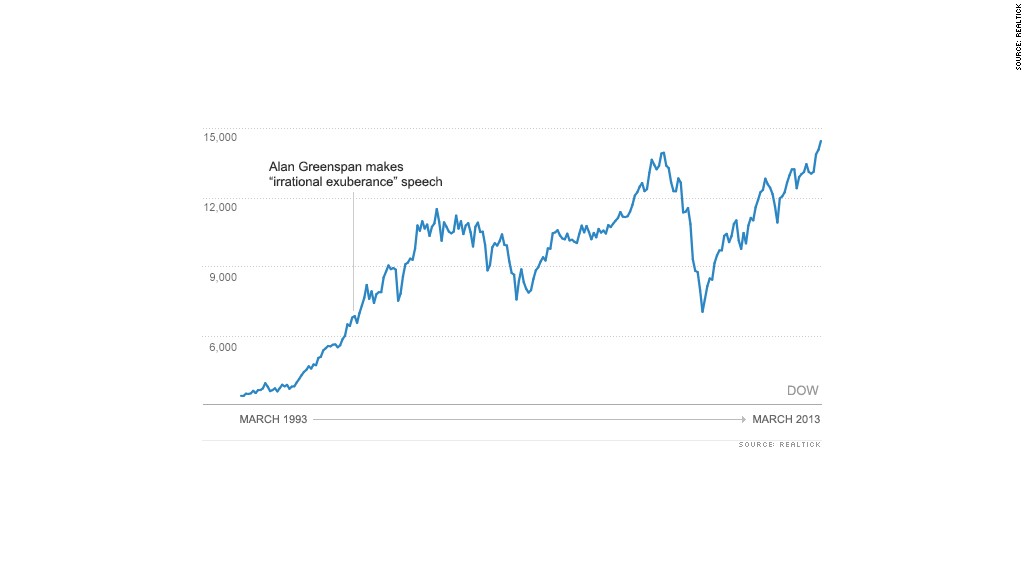 The Dow delivered its 10th consecutive day of gains Thursday -- a rare feat for U.S. stocks.
In fact, the blue chip index hasn't logged a longer winning streak since November 1996 -- less than a month before then Fed Chairman Alan Greenspan uttered the now infamous "irrational exuberance" phrase.
Will Fed chief Ben Bernanke also start warning that stocks may be overvalued and riding higher on a speculative bubble? Fat chance.
Rather, Bernanke has so far been the polar opposite of his predecessor, trying to inject exuberance into the market, said Mark Luschini, chief investment strategist at Janney Montgomery Scott.
Just days before the Dow climbed to a fresh all-time high, Bernanke said he doesn't "see much evidence of an equity bubble." And in speech after speech, the Fed chairman has emphasized that the Fed will keep its stimulus tools in place until growth is stronger and sustainable.
Related: The other Dow record: Dividends
The economy is gaining strength, but the recovery has been slow, with GDP growing a measly 0.1% during the fourth quarter. And though hiring is picking up, the unemployment rate is still at 7.7%, compared with less than 6% throughout the late '90s until the financial crisis.
While the combination of slow economic growth and record market highs has raised some worries about a new phase of "irrational exuberance," most experts argue that it's unwarranted.
"I think we have a few more years before we may reach a point of irrational exuberance," said Luschini, noting that the market rallied more than 80% during the three years following Greenspan's speech.
First off, even though stocks are trading at record highs, they aren't overvalued considering the strength of Corporate America, he said.
Stocks are currently trading around the historical average of 16 times trailing earnings. At the end of 1996, the P/E was just above 17, and climbed to almost 30 before the dotcom bubble burst.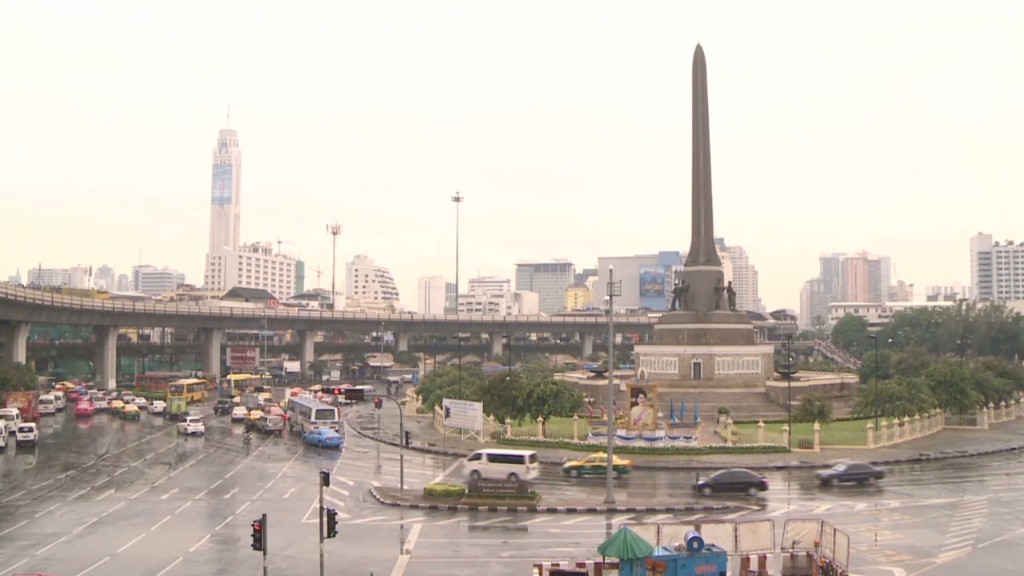 Plus, there's still a lot of money on the sidelines that has only begun to leak into the market. Individual investors have added nearly $20 billion into U.S. stocks this year, but that's only a drop in the bucket considering they yanked more than $500 billion out between 2008 and 2012.
Softer indicators also indicate that the rally has room to run, said Oliver Adler, head of economic research at Credit Suisse.
"Media 'hype' is remarkably absent, with commentaries more focused on a coming correction than the next big move up," he wrote in a client note. "Most investors seem to be watching markets in disbelief rather than joining in the 'frenzy.'"
Related: Bond bubble may be closer to popping
While stocks may not be there yet, the bond market may be somewhat exuberantly and irrationally priced, according to bond king Bill Gross.
The founder and co-chief investment officer of Pimco recently argued that corporate credit and high yield bonds are priced too high, and while investors shouldn't eliminate them from their portfolios, they should be prepared for returns in the range of 3% to 4%, instead of the double-digit gains enjoyed in recent years.