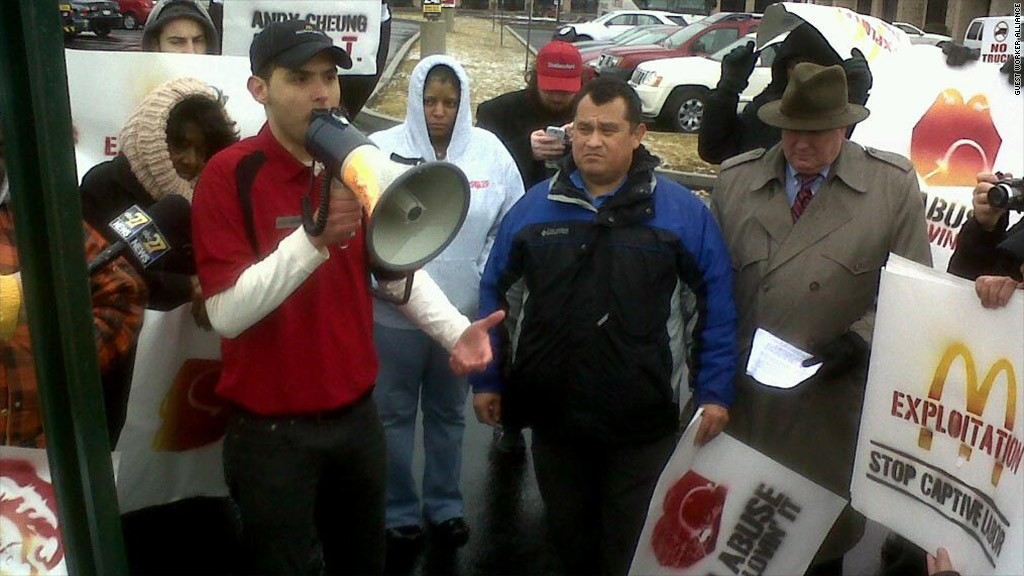 McDonald's has cut ties with a Pennsylvania franchisee embroiled in a controversy over a temporary work program that employed foreign students.
The fast food company said Thursday that Andy Cheung, the franchise owner, has agreed to leave the McDonald's (MCD) chain of restaurants. Cheung, who will be selling his restaurants in Harrisburg, Pa., did not respond to requests for comment.
The move comes after students, who came to work at his restaurant as part of a three-month visitor work program, filed a complaint with the State Department, alleging that Cheung exploited them and housed them in poor living conditions.
Roughly 15 students protested outside of the Harrisburg McDonald's last week, and about 10 came to New York City Thursday to demonstrate outside a McDonald's restaurant in Times Square.
Related: McDonald's, KFC, Burger King workers protest in NYC
The students, who came from several countries, including Peru, Chile and Argentina, claimed that they were forced to live in an overcrowded basement owned by Cheung. The workers also said that they were not given the opportunity to work enough hours at the burger and fries joint.
"We were living 6 men in a basement, on bunk beds that were clearly made [for] children and one tiny bathroom," said Jorge Rios, a college student from Argentina who came on the program in December. "At work, I was only scheduled 25 hours per week, even though they told us we would be working 40 hours."
Rios said he was making $7.25 an hour and had to pay $75 for rent each week.
Related: McDonald's to launch egg-white McMuffin
The State Department is investigating the case and wouldn't comment on it. However, Susan Pittman, a State Department spokeswoman said a situation where six people were housed in a basement with one bathroom would be "unacceptable."
McDonald's said it began investigating the case soon after learning of it, and is working with each student individually to address the situation. The fast food giant said it is also making sure franchisees who participate in the program understand "both the letter and spirit" of the State Department requirements.
Rios came to the United States under the Summer Work Travel Program, which gives students a J-1 visa and is intended to offer students the opportunity to live and work in the country for a short period of time. Last year, 91,600 foreign students participated in the the temporary cultural and employment exchange program, according to the State Department.
The Argentine student Rios first got to know of the program at his college campus via a poster he saw from Geovisions, a New Hampshire firm accredited by the State Department to sponsor students and place them with employers.
Rios applied and paid about $3,000 to participate in the program.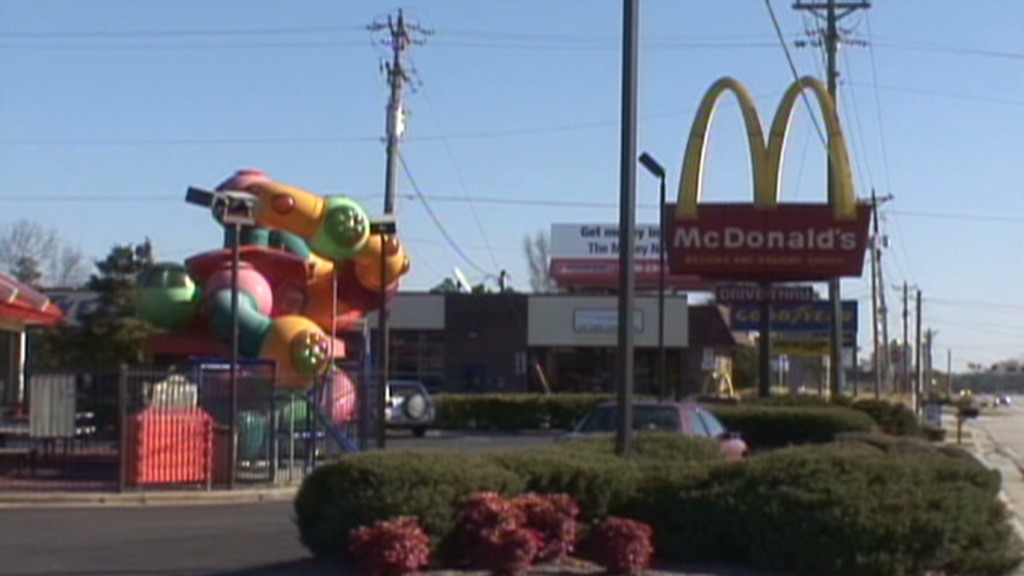 Geovisions' CEO Kevin Morgan wouldn't comment on the case. He said the company was still collecting data, and investigating all aspects of the case.
According the State Department, there are 46 other sponsors like Geovisions. All sponsors are responsible for working out living conditions, hours and wages with employers.
Last year, the department cracked down on sponsors, conducting 876 site visits to make sure that employers were looking after the health, safety and welfare of the foreign students.
Spokeswoman Pittman said the department issues sanctions if a sponsor or an employer doesn't live up to its expectations. In 2012, three sponsors were revoked from the program.