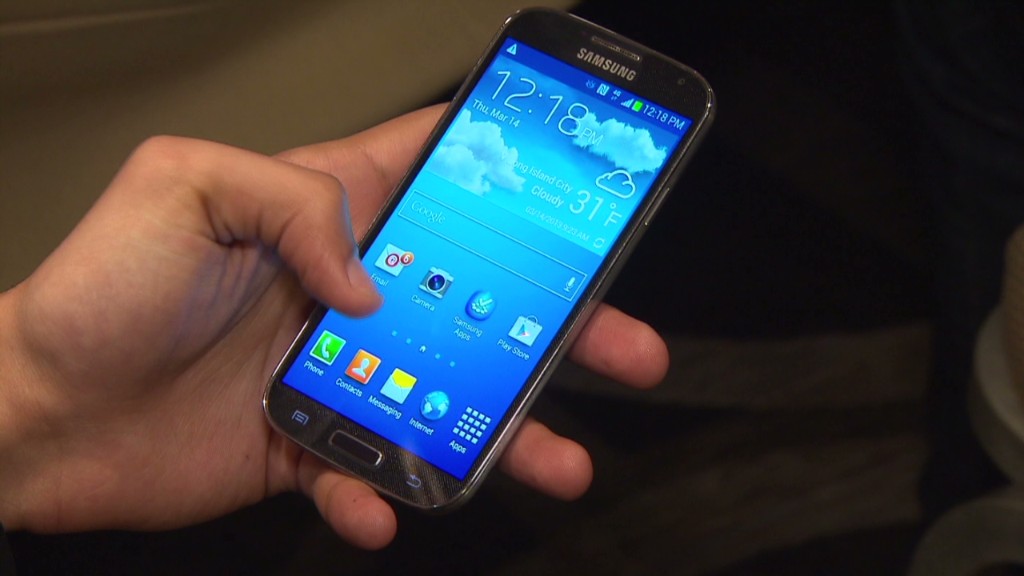 Samsung's Galaxy S IV is here. As expected, it's built to vie for the position of best smartphone in 2013.
How it will compare with Apple's (AAPL) next iPhone or Google's (GOOG) future Nexus flagship phone remains to be seen. But after a few minutes playing around with the the Galaxy S IV, it's easy to see how this smartphone could end up in the same conversation.
Here's everything you need to know.
The Guts: The Galaxy S IV sports a five-inch screen with incredibly high resolution. The 1920x1080 pixel display is as good as you're going to find on any smartphone right now (HTC, LG, and Sony (SNE) all have similar displays as well).
But it doesn't feel overly big. The Galaxy S IV's bezel occupies so little space, the smartphone isn't much bigger than its predecessor, the 4.8-inch Galaxy S III.
The quality and design of the Galaxy S IV is definitely a step above its plasticky predecessor. But it's still not on the same level of a phone like the solidly constructed HTC One. One benefit of the Galaxy S IV's plastic shell, however, is that it allows for the phone to be lighter. At 130 grams, Samsung's new device is lighter than many smaller Android phones.
Related story: With the Galaxy S IV, Samsung proves it's not all about the iPhone
Inside, it has a solid two gigabytes of RAM, a 13-megapixel rear camera (along with a two megapixel front-facing camera), a larger 2600 mAh battery (up from 2100 mAh), and your choice of 16, 32, or 64 GB of storage. It also supports micro-SD removable storage.
The big mystery, however, remains the processor. It's the most important part of any smartphone, and Samsung is keeping mum.
The Software: One big plus is that the Galaxy S IV will ship with the latest version of Android, known as Jelly Bean.
But many of the design benefits that come with Google's excellent Jelly Bean operating system will go unnoticed. Samsung continues to slap its custom "Touch Wiz" user interface on top of it, which has the habit of making Samsung smartphones appear toy-like.
Navigating through the user interface, however, was a brisk and responsive.
Related story: Samsung targets BlackBerry with Knox
And Samsung is banking heavily on software tricks to set itself apart from other smartphones. For example, while watching a video, you can set the phone to detect when you look away from the screen, and it will automatically pause the clip. When you look back at the screen, it will start again. That feature worked surprisingly well.
The Galaxy S IV also borrowed a page from Samsung's Note line of tablets, letting users interact with the phone without even touching it. Using the "Airview" feature, you can hover your finger over various on-screen elements in apps such as messaging, mail, or the media aggregator app Flipboard, and it will allow you to quickly view messages or read a story preview without diving into a new screen.
Samsung also introduced gesture controls, which let you wave left and right, up and down, to navigate and scroll through web pages and other text-based documents. But even in the few minutes I spent with the Galaxy S IV, it felt like a gimmick that was more hassle than resource.
And of course, there's the eye-scrolling feature that has been much-buzzed about. But it's not the eye-tracking, finger-free technology that casual futurists had hoped for. Instead, the phone can detect when you've focused your gaze upon the screen, and then it will allow you to tilt the phone up and down to scroll. It definitely works, but how much more efficient this feature (or any of the other additions) makes navigation remains to be seen.
The Camera: Samsung is also putting a lot of focus into its camera. The company snatched the interface from its Galaxy Smart Camera, adding a host of smart shooting modes that add some fun and functionality to the Galaxy S IV.
Like some other devices, such as the Nokia Lumia 920, the Galaxy S IV has built in the ability to make cinemagraphs, those highly-stylized animated gifs the internet has come to love.
Related story: Samsung's event marketing makes Apple's hype look tame
There's also a new mode which allows you to create time-lapse photography and track the motion of an object or person as it moves through the frame.
Maybe the most useful new feature is eraser mode, which snaps five photos at once, and if there's a person moving through the shot that isn't supposed to be there, you 86 'em out with a single tap. When you're on vacation in a busy area, this is the type of feature you can appreciate.
Everything else: The Galaxy S IV also has plenty of features that will appeal to many users.
There's a camera-based translator, which will take text from a printed document, and translate it into a digital format that you can file away on your phone. There's a built in pedometer, and if you're dying to use your phone to control your TV, you can also do that too.
The Galaxy S IV will also auto-calibrate its speakers and display to deliver the best audio and picture in any condition or application. For example, it could have the ability to know that you're watching a movie, and will automatically set itself to make dialogue clear. Or it could know that you're reading a book outdoors, and will adjust brightness and sharpness to save your eyes from retinal armageddon.
Even Samsung's accessories are cool. The S View Cover has a built in display which can display essential notifications, like incoming and missed calls, texts, and e-mail. It's the type of feature that could save battery in the long run, saving you from having to switch the screen on and off.
Availability: Samsung said the phone will be available at the end of April. It will be available on every major American carrier, including AT&T (T), Sprint (S), T-Mobile, and Verizon (VZ), along with smaller carriers such as U.S. Cellular (USM) and Leap Wireless' (LEAP)Cricket.
The company hasn't disclosed the phone's price, but Samsung did say to expect it to be around the same price as a phone like the Galaxy S III. The 16 gigabyte model sold for $200, while the 32 gigabyte variant went for $250.