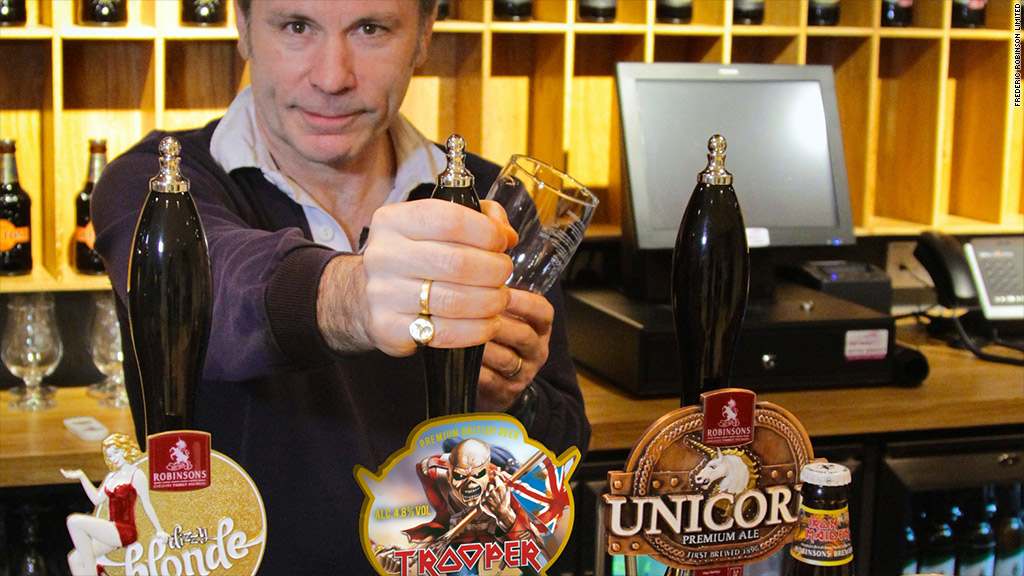 Legendary heavy metal band Iron Maiden finally has its own beer.
The famed London-based band, which has been around for nearly 40 years, is collaborating with a venerable British brewery to produce its own beer, named Trooper after one of Iron Maiden's classic songs.
Iron Maiden and Robinsons, a 175-year-old family-owned U.K. brewery, plan to release Trooper in May.
The label features the band's mascot -- a demon-faced monster named Eddie -- wearing an English soldier's traditional red coat and waving a Union Jack.
In a video posted on the band's web site, Iron Maiden front man Bruce Dickinson said they wanted to "put something suitably patriotic" on the label, so the 1983 song The Trooper, about a British warrior, "leapt out and grabbed us straight away."
Dickinson, who is a pilot, athlete and entrepreneur, also said that he was intimidated when he first approached Robinsons brewery about the collaboration. The brewers wanted to know whether the band was "serious about really brewing a long term beer, having a long term relationship with [them]. It was almost like we were on trial."
Dickinson, the band's vocalist who was once a competitive fencer, has launched other businesses. He once owned a sports retailer called Duellist, which sells fencing equipment. He is also a certified airline pilot and flies the band's chartered 757 Boeing (BA), Ed Force One, when they tour.
Dickinson's spokesman, Iain Macauley, said that Dickinson is an executive and major shareholder of Cardiff Aviation, a Welsh company that maintains and overhauls large airplanes, including Boeing (BA) 737s and Airbus A320s.
Trooper appears to be the band's first venture in the business of beer.
Related: Megadeth's Mustaine rips Men's Wearhouse
Trooper -- described as a traditional English ale at 4.8% alcohol -- will be available this spring at pubs and grocery stores in England and Wales, according to Robinsons marketing executive Daniella Martin.
She said that the brewery already exports its Old Tom beer brand, which has an alcohol level exceeding 8%, to the U.S. Martin couldn't say if, or when, Trooper would land on American shores, but she did say that American consumers will be able to order the beer from Robinsons' web site.
The band announced the release of Trooper on Tuesday, the birthday of bassist Steve Harris, who founded Iron Maiden in the 1970s and composed The Trooper.
The band's original drummer, Clive Burr, died on that same day, though his death wasn't announced until the following day. Burr, who had multiple sclerosis, left the band in the early 1980s.