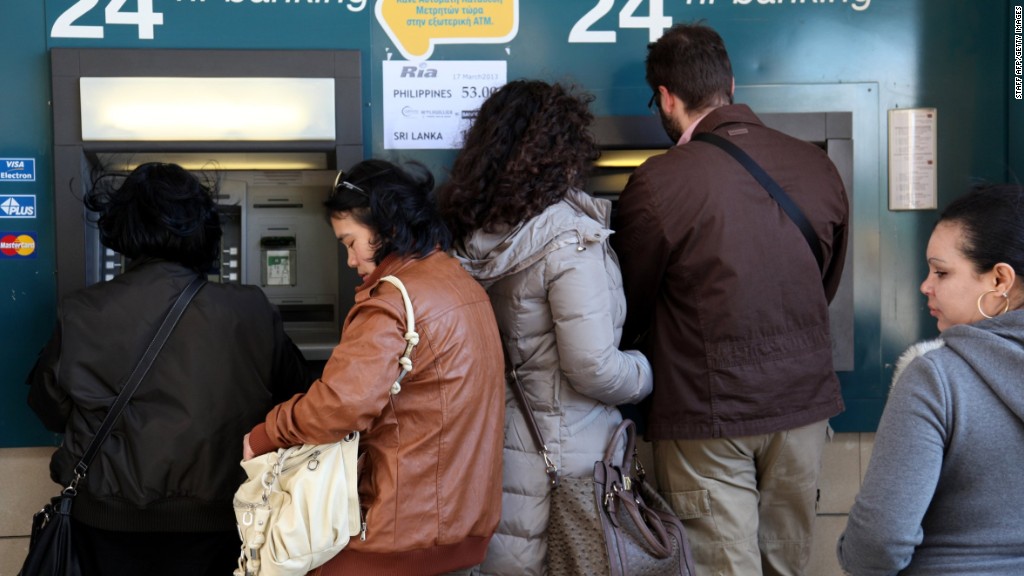 A planned tax on Cyprus bank depositors as part of a European Union bailout is sending people rushing to ATMs to withdraw cash.
The EU has required a one-time tax of 9.9% tax on deposits of more than €100,000 starting Tuesday, as part of a bailout of the tiny nation. On Saturday, the EU unveiled a €10 billion plan to rescue Cyprus' outsized banking sector and avoid a default.
It was the first time that the EU has insisted on such terms for bank depositors as part of a bailout. The EU's bailouts other nations in the last three years, such as Greece and Portugal, have usually been accompanied with strict budget restrictions and led to big losses for bond holders.
The Cyprus Parliament is expected to vote on the plan Monday. If it goes through, people with less than €100,000 in deposits will have to pay a tax of 6.75%.
As Cypriots heard the news of the tax, they started lining up outside of ATMs to withdraw money. Banks have placed withdrawal limits of €400 and many ATMs were running out of cash over the weekend.
Cyprus' President Nicos Anastasiades tried to calm his nation on Sunday, and convince lawmakers to vote for the bailout plan, which includes the deposit tax.
"A disorderly bankruptcy would have forced us to leave the euro and forced a devaluation," he said in a speech.
The move is being closely watched by policy makers because of the potential to destabilize financial markets in Europe. The worry is that depositors in other financially weak, or bailed out, nations might fear similar bailout provisions in the future from the EU.
"The question is whether this becomes a full-blown crisis or a mini-crisis," said Steven Englander, global head of foreign exchange strategy at Citi. "Depositors and investors elsewhere could easily see this as another in a string of 'one-offs' and react badly."
The bailout, while small compared to the emergency loans supporting other troubled European nations like Greece, represents more than half the size of the €18 billion Cyprus economy. Cyprus is the EU's smallest state, accounting for just 0.2% of output.
Related: Europe financial sector is fragile, says IMF
The problem in Cyprus is the banking sector, which is several times the size of its economy.
The International Monetary Fund was expected to contribute to the deal as it has in others. Christine Lagarde, the fund's managing director, said in a statement that she supported the terms and would recommend that the IMF help provide financing for it.
Cyprus made a formal request for help last June after its banks were decimated by losses on Greek debt -- losses that caused lending to stall and sent the economy into a deep recession.
Over the course of last year, gross domestic product in Cyprus fell by 2.4%, and latest forecasts show further contraction this year and next.
Unemployment hit 12% last year and is forecast to rise to over 14% in 2014.
Negotiations on a bailout stalled last year after the previous government, led by Communist President Demetris Christofias, objected to the conditions that international lenders were looking to attach. They restarted following the election of a new center-right President Nicos Anastasiades last month.
The plan will leave the tiny island nation facing a more manageable debt burden. Its debt already stands at about 87% of GDP and is forecast to rise to 100% in 2020.
Related: EU eases austerity demands for Portugal
Russia has come to Cyprus' aid in the past, providing a €2.5 billion loan in 2011 to shore up government finances. Russia is expected to take part in the new rescue, possibly by extending its existing loan or reducing interest payments.
In addition to the tax on bank deposits, other conditions for the bailout loans include an overhaul of the financial sector and an increase in corporate taxes.
Cyprus is the fourth of 17 eurozone states to be granted a bailout by its EU partners and the IMF, after Greece, Ireland and Portugal. Spain has been given EU assistance to rescue its banks but has so far avoided asking for a full sovereign bailout.
More work will be needed before the bailout can be finalized, and some EU parliaments will have to ratify the deal, but analysts say the pressure to reach an agreement was high.
"Neither the Cypriot government, nor the eurogroup of EU finance ministers wants to see a eurozone member default, threatening catastrophic contagion for other financially troubled member states," IHS Global Insight country analyst Charles Movit wrote in a note last week.
Market confidence in the eurozone was briefly shaken again recently when Italian elections left the country with a hung parliament. Lack of a stable government would set back efforts to bring down Italy's debt mountain, the second largest in the eurozone after Greece.
-- CNN's Isa Soares contributed to this report from London