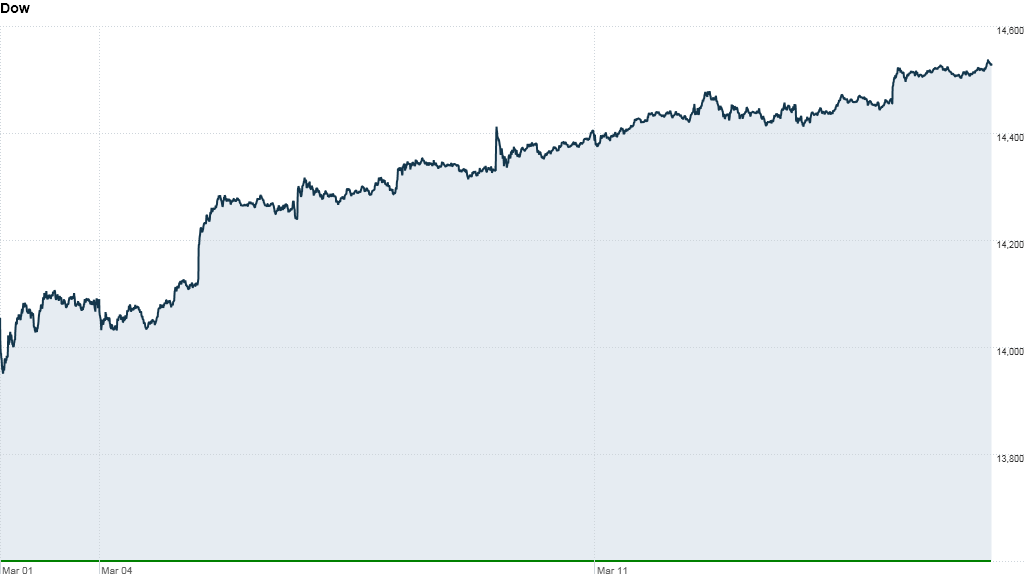 Wall Street's stock rally came under pressure Monday, as investors fretted about a controversial bailout and bank tax in Cyprus, but experts don't foresee a long-lasting pullback.
"This is just a hiccup for stocks," said Donald Selkin, chief market strategist at National Securities. "The market has been vulnerable to some kind of setback after the kind of run that it's had, so it just needs let some air out before resuming the rally."
Just last Thursday, the Dow sealed a 10-day winning streak, its longest in nearly two decades. The index also set new record highs for eight straight days. Meanwhile, the S&P 500 remains just 0.6% below its all-time closing high set in October 2007.
By the end of last week's run, the market appeared to be in a "tired rally," said Fred Dickson, chief market strategist at D.A. Davidson & Co., noting that volume had been unusually low for a market advancing to record levels.
Related: 5 reasons Cyprus bailout matters
Rather than sending markets even lower, the Cyprus-fueled weakness will likely attract new buyers, said Selkin.
If Monday's action is any guide, that's already begun. The Dow started the day down more more than 100 points, but managed to briefly bounce into positive territory in the afternoon.
"There's no real competition for stocks right now," said Selkin. "The Federal Reserve is forcing investors to buy stocks by keeping interest rates so low. Cyprus will be forgotten in a day or two."
According to Dickson, stocks are in the late part of the middle stage of a multi-year bull market, which he says will continue with the support of the Fed and ongoing signs of the economic recovery.
"The housing market is improving [and] there's no slowdown in consumer spending, despite the payroll tax's hit on personal income," he said.
And even though stocks are trading near record levels, valuations remain reasonable and company balance sheets are strong, he added.
Though the broader rally should resume, Selkin said bank stocks could be vulnerable, given their recent strong gains and contagion fears stemming from Cyprus.
The S&P 500 Financial sector is up more than 12% this year, beating the broader index's 9% gain.
On the upside, Selkin expects technology stocks, including Apple (AAPL), to pick up steam. Tech stocks have been the biggest laggards this year, with the S&P 500 Technology index up just 4%.