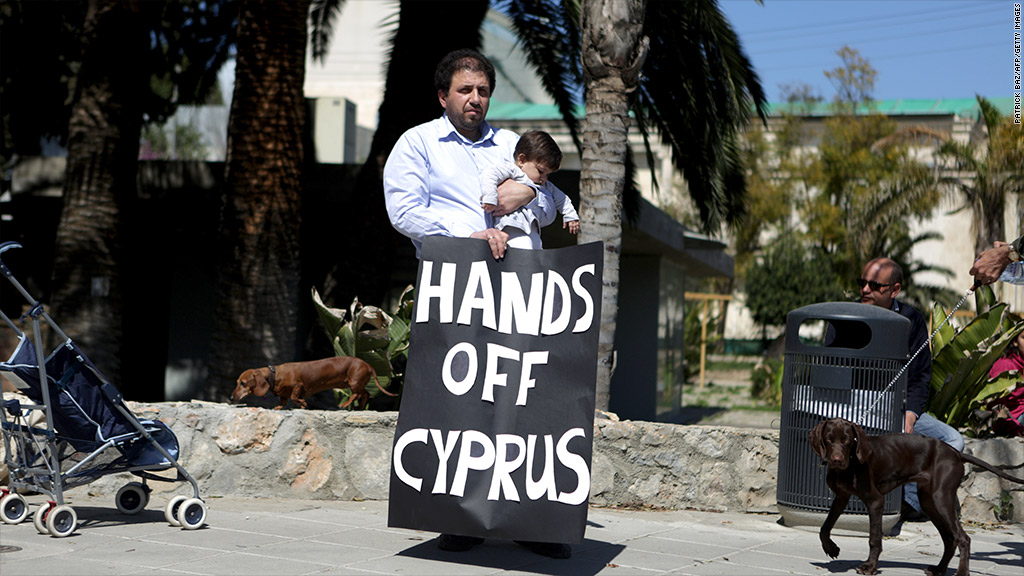 Russian officials are up in arms over a possible levy on Cyprus bank accounts, which Russian president Vladimir Putin denounced as "unfair, unprofessional and dangerous." There's good reason for their concern: Nearly a third of all the money in Cyprus' outsized banking sector is Russian.
For years, Russian firms -- both private and state-run -- have been using Cyprus as a tax haven.
Attracted by a corporate tax rate of 10% -- half that of Russia's -- Russian investors have funneled money into Cyprus shell companies since the early 1990s. The money is then repatriated through investments in Russian ventures. Cyprus is actually the leading source of foreign investments into Russia, according to data from the Russian central bank.
The tax-dodging scheme is similar to ones used by corporations and individuals from a host of nations in tax shelters worldwide.
"Most of it is legal, if not necessarily moral," said Marios Zachariadi, an economics professor at the University of Cyprus.
Related story: 5 reasons Cyprus bailout matters
Cyprus' favorable tax rates have made the island a haven for many investors. The country's banking sector boasts €70 billion in deposits, Zachariadi said. That's nearly four times the size of the country's total economy.
Most of the deposits belong to Cyprus nationals. The country attracts many wealthy retirees, drawn to the nation's warm weather and favorable tax code. But a big chunk of the stashed cash -- almost half -- is foreign.
Of that, some $31 billion belongs to Russian businesses, banks and individuals, according to ratings agency Moody's, which made its estimate in U.S. dollars.
Zachariadi said Greek Cypriots and the Russians have had a special relationship for centuries, with the Russians helping the Greeks during their war for independence in the early 1800s. Cyprus was one of the first countries to welcome Russian money after the collapse of the Soviet Union. Both nations share a rocky history with the Turks.
It's easy to see why some in Russia are unhappy with a new proposal from the European Union to levy a one-off tax on Cyprus bank deposits of up to 9.9% in exchange for €10 billion in bailout money to help the government pay its bills. If most of Russia's deposits get hit with the top tax rate, which applies to accounts holding €100,000 or more, the country's citizens stand to lose more than $3 billion.
Russian President Vladimir Putin slammed the bank-tax proposal, while Prime Minister Dmitry Medvedev called it "just like a confiscation of someone else's money."
There's a suspicion that not all of that money was obtained honestly. Cyprus is believed to be a harbor for ill-gotten gains. The country "remains vulnerable to money laundering; reporting of suspicious transactions in offshore sector remains weak," the U.S. Central Intelligence Agency wrote in its country brief.
Expanded surveillance around money laundering is one of the things being discussed as part of a bailout.
"Some of the Russian money in Cyprus is almost certainly illicit," said Alexander Kliment, a Russian specialist with the Eurasia Group. "Whether the Russian money there is dirtier than anyone else's is impossible for me to say, but that is certainly the popular perception in Europe."