U.S. stocks rose Wednesday after the Federal Reserve reiterated that its stimulus measures will remain in effect until the job market gets back on track.
The Fed said in its policy statement that it will continue buying $85 billion worth of Treasuries and mortgage-backed securities to help "make broader financial conditions more accommodative."
Speaking to reporters, Fed chair Ben Bernanke acknowledged that payroll data improved in February, but he cautioned that the trend may not last. The Fed also trimmed the upper end of its forecast for economic growth in 2013.
"This was pretty much what I expected," said Doug Roberts, chief market strategist for Channel Capital Research. The statement and Bernanke's comments "eliminate any lingering doubts about his position," Roberts said.
The Dow Jones industrial average gained 0.4%, to close at 14,511. Shortly after the Fed's announcement, the Dow hit a new intraday record high of 14,546.82. The S&P 500 gained 0.7% and the Nasdaq advanced 0.8%.
Stocks have been rallying on a combination of improving economic data and stimulus from the Fed.
So far this year, all three major U.S. indexes have gained between 9% and 11%, and the Dow recently had its longest string of gains since 1996.
Bernanke downplayed concerns about a stock market bubble.
"We don't see, at this point, anything that's out of line with historical patterns," Bernanke said, noting that the Dow was still far below its all-time high in inflation-adjusted terms.
Related: Cyprus buys some time
Meanwhile, investors continue to monitor developments out of Cyprus after lawmakers voted against a tax on bank deposits, which had been part of a €10 billion bailout proposal. Banks in Cyprus will remain closed through Friday, after depositors rushed to withdraw cash from ATMs earlier in the week.
Investors have been increasingly sanguine about the prospect of financial contagion spreading from the tiny island nation to larger economies in the euro area.
"Cyprus has a bit of time to go back to the drawing board and come up with a solution to its problems," said Nick Stamenkovic, strategist at RIA Capital Markets in Edinburgh, Scotland. "The market seems to take the view that the problem is relatively contained."
Related: Mini flash crashes happen a dozen times a day
In corporate news, FedEx (FDX) widely missed earnings estimates and cut its outlook for the year. The company is often viewed as a bellwether for the broader economy due to the global scope of its business. FedEx also said it may temporarily ground some aircraft. Shares of rival UPS (UPS) also fell.
Shares of Caterpillar (CAT) sank 1.5% after the heavy-equipment maker reported a sharp drop in sales to its worldwide network of dealers.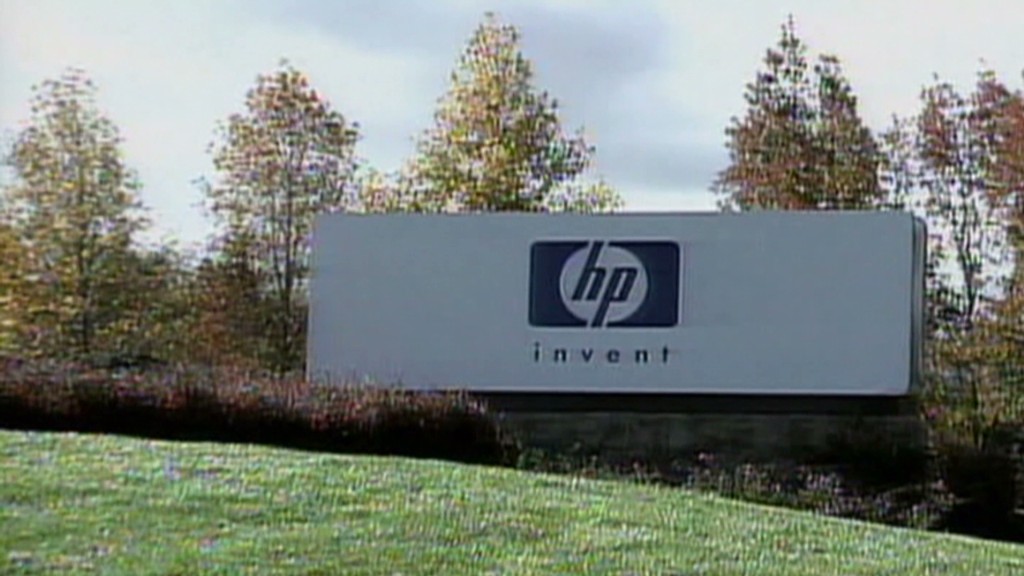 BlackBerry (BBRY)shares jumped more than 6% after analysts at Morgan Stanley (MS) upgraded the stock. The company will soon start selling its new Z10 smartphone to U.S. customers.
Shares of Lennar (LEN) rose nearly 5% after the homebuilder reported better-than-expected earnings.
General Mills (GIS) shares gained after the packaged food company said sales and earnings rose in the most recent quarter.
Related: Vote for your favorite stock
Adobe Systems (ADBE) shares jumped a day after the graphics software maker beat earnings estimates.
Shares of Model N (MODN) surged nearly 29% in the company's stock market debut. The software design company priced its IPO at $15 per share late Tuesday.
Related: Fear & Greed Index gets greedy
European markets ended mixed. The FTSE 100 in London fell 0.1%, while Germany's DAX gained 0.7% and the CAC 40 in Paris jumped 1.4%.
Asian markets also posted strong gains. The Shanghai Composite added 2.7% and Hong Kong's Hang Seng advanced 1%. Tokyo's stock market was closed for the first day of spring.
The yield on the 10-year Treasury note edged higher to 1.96%. The U.S. dollar fell versus the euro and the U.K. pound, but rose versus the yen. Oil prices edged higher while gold prices declined.