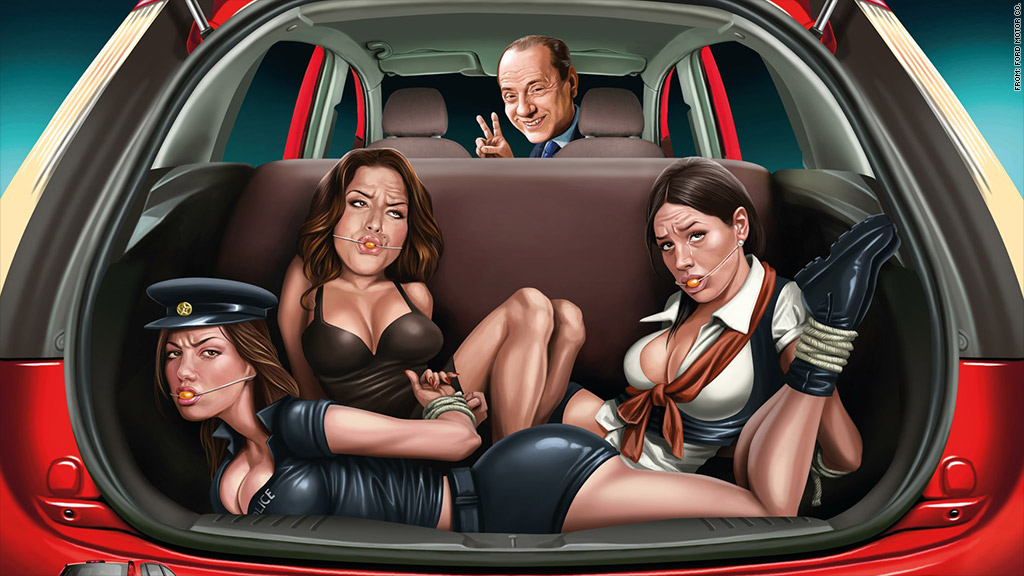 Ford and ad agency WPP apologized on Monday for offensive artwork depicting women tied up in the back of a Ford Figo, a car available in India.
The cartoonish drawings were never part of a paid campaign but were part of "a creative exercise by a team that was submitting for an ad competition," according to Chris Preuss, Ford (F) spokesman for WPP. "They were actually posters uploaded to a website, which is where it all took off from."
One of the images depicts Silvio Berlusconi, former prime minister of Italy and a candidate in the current campaign, driving a Ford Figo with three tied-up women in the back. Another image depicts Paris Hilton driving a Figo with what's meant to be the three Kardashian sisters tied up in the back. A third image shows three male race-car drivers tied up in the back.
"We deeply regret this incident and agree with our agency partners that it should have never happened," said Ford, in a prepared statement. "The posters are contrary to the standards of professionalism and decency within Ford and our agency partners."
WPP also released a statement saying that it "deeply regret[s]" the existence of the "distasteful" posters.
Related: Ford unveils the Figo for India
In a statement, the Kardashian sisters said they were exploring "all of their legal options," and called the ads "disgusting, vile and offensive to all women."
India is particularly sensitive to the topic of violence against women, since several high-profile gang rapes have occurred there in recent months.
Ford unveiled the Figo, a subcompact, in 2009 to be produced in India and exported to other Asian countries and Africa.