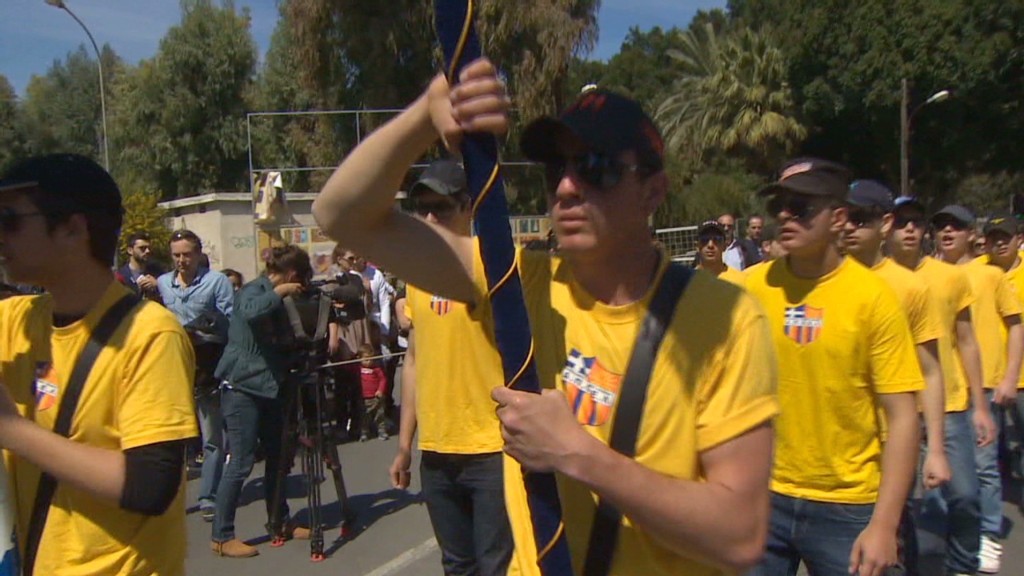 March 25 is normally a day of celebration in Cyprus, marking the Greek revolution nearly 200 years ago that led to independence from the Ottoman Empire.
But Monday wasn't a day to party.
The €10 billion European Union rescue that Cyprus secured at dawn on Monday will prevent a chaotic financial collapse and secures the island's future in the eurozone. But it will also exact a heavy toll on the Cyprus financial sector and economy.
The EU deal means the closure of Cyprus' second biggest bank -- Popular Bank of Cyprus -- and radical surgery at other banks that will cut the industry in half, cost thousands of jobs and starve the economy of credit, deepening a painful recession.
Most banks will open again Tuesday for the first time in 10 days but Popular Bank and market leader Bank of Cyprus -- the lenders that triggered the €10 billion rescue -- will stay shut for two more days as officials begin the restructuring and try to prevent a run on small deposits. Large deposits have been frozen at both banks.
Related: Dow hits new record on Cyprus deal
The country's political leaders, facing the worst crisis since the Turkish invasion of Cyprus in 1974, made clear there were tough times to come.
"I cannot say that we rejoice about the agreement. But if this is the only possible way, then I want to assure you that the Cypriots are very resilient," Foreign Minister Ioannis Kasoulides told reporters after leaving a church service.
The deal has been structured to avoid adding significantly to Cyprus' national debt, which should not exceed 100% of gross domestic product by 2020. Instead, it places much of the immediate burden on local and foreign individuals and businesses with more than €100,000 at Popular Bank and market leader Bank of Cyprus.
Both banks have been surviving on emergency funding from the European Central Bank since they sustained heavy losses on Greek government debt when it was restructured as part of an EU bailout.
Cyprus becomes the fifth eurozone country to receive a bail out after Greece, Ireland, Portugal and Spain.
The deal also requires Cyprus to increase its tax rates on capital gains and businesses, introduce structural reforms, privatize state assets and shrink its banking industry to the EU average size by 2018.
"It's clear that the depth of the financial crisis in Cyprus means that the near future will be very difficult for the country and for its people," said Olli Rehn, the EU's top economic official.
Related: Are you in Cyprus? Tell us your views on the deal.
Cyprus allowed its banks to balloon to four times the size of its economy based on deposits, and more than seven times based on total assets. To hit the 2018 EU target, Cypriot banking -- which employs some 20,000 people in a country with a workforce of about 400,000 -- will have to contract by 50%.
And with wealthy foreigners, including many Russians, facing the loss of all their deposits at Popular, and about 30% at Bank of Cyprus, the island's days as an offshore banking center are numbered.
Cyprus' economy shrank by 2.4% last year and was forecast to contract further this year and next. Unemployment hit 12% last year and is set to rise to over 14% in 2014. Development of natural gas deposits could help ease some of the pain but the events of the last 10 days are likely to mean further deterioration in the medium term.
Indeed, EU officials were reluctant to put a figure on the overall size of the bailout -- which was originally set to equal annual GDP in Cyprus -- given the impact of events since March 16, when the announcement of plans to tax all bank deposits regardless of size prompted a run on cash machines.
Some commentators said the country should reconsider, even at this late stage, and go it alone rather than condemn its people to the same downward spiral of plunging GDP and soaring unemployment as countries such as Greece or Portugal.
"Iceland is also a financial center but having its own currency, recovered rather quickly from a similar financial crisis," wrote Peter Morici, economist and professor at the Smith School of Business, University of Maryland.
--CNN's Ivan Watson contributed to this article.