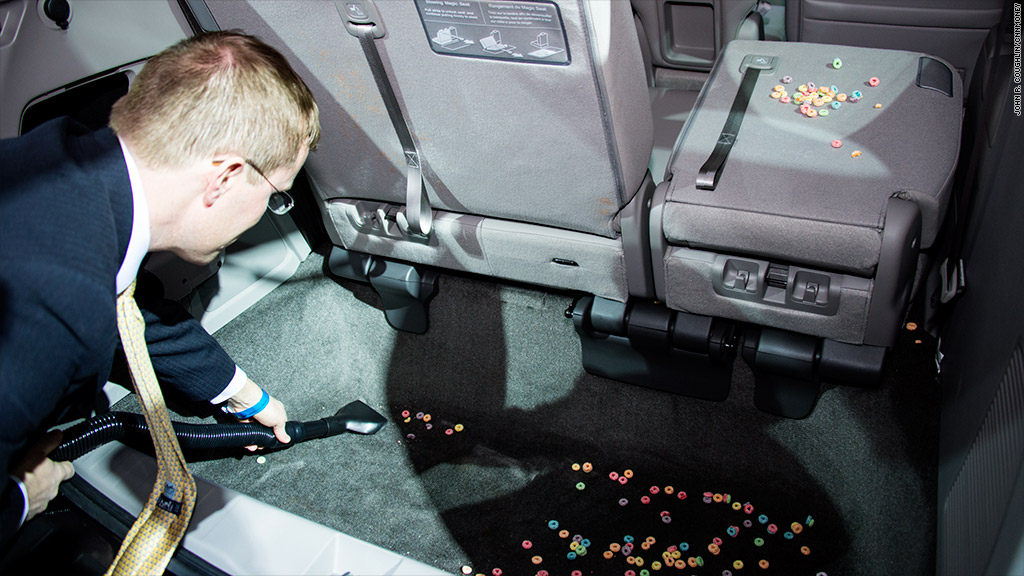 The minivan, the most domestic vehicle on American roads, is about to feel a little more like a house on wheels with a built-in vacuum cleaner.
At the New York Auto Show on Tuesday, Honda unveiled its 2014 Odyssey minivan -- and the feature getting most of the attention was a vacuum cleaner from Shop-Vac in the rear of the van.
Honda said the hose and attachments on what it is calling the HondaVac, can reach anywhere in the minivan and includes a replaceable filter and canister bag. It can run continuously while the engine is running or run for eight minutes with the engine off.
It comes in the Touring Elite version of the minivan and will go on sale this summer.
The Odyssey was the No. 2 selling minivan in the U.S. market last year, with about 126,000 sold. That put it behind only the Dodge Caravan, but ahead of the Toyota (TM) Sienna and the Chrysler Town & Country. But the minivan segment has been shrinking for years.
Related: New wheels from the New York auto show
General Motors (GM) and Ford Motor (F) stopped making minivans years ago as families in need of the space for hauling children, pets and other items have turned to SUVs and crossover vehicles. There were only 540,000 minivans sold in the United States last year, according to sales tracker Autodata, which is just less than half the sales that the segment achieved 10 years earlier.
Related: Iconic Jeep Cherokee's controversial return
Honda (HMC) has been an innovator in the segment, introducing the first van with a fold-down rear seat more than 10 years ago. Its sales have held up better than most in the segment, falling only 4% since 2001.