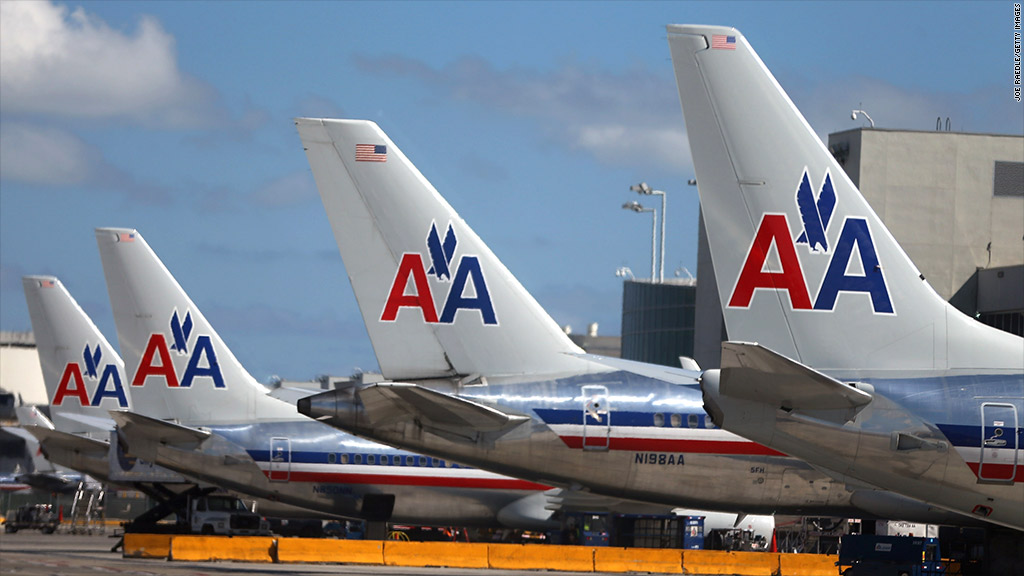 A federal bankruptcy judge gave approval on Wednesday for US Airways and American Airlines to proceed with their planned merger, but declined to authorize a proposed severance package worth nearly $20 million for the CEO of American's bankrupt parent company.
US Airways and American Airlines announced plans last month to join forces in an $11 billion deal to create the world's largest airline. The companies said in a joint statement Wednesday that the decision from Judge Sean Lane "allows us to continue progressing forward with our planned merger, and we are gratified to know that he considers the merger an 'excellent result' for stakeholders."
A point of contention ahead of Wednesday's hearing was the $19.9 million severance package -- half cash and half stock in the new company -- proposed for Thomas Horton, CEO of American parent AMR. Doug Parker, the current CEO of US Airways, is set to hold the same position at the combined company, while Horton will serve as non-executive chairman and will step down from that position at some point next year.
While Judge Lane declined to approve Horton's severance, he may take up the issue again when AMR presents its reorganization plan for approval within the next few months.
Horton took over as CEO of AMR in November 2011 after it filed for bankruptcy, having previously served as president.
Tracy Hope Davis, the government trustee in AMR's bankruptcy case, objected to Horton's severance in a filing ahead of the hearing, calling it excessive and a violation of bankruptcy law.
Related: How 10 major airlines got down to a 'final four'
American spokesman Mike Trevino countered that the company's severance arrangements "are designed to motivate a strong management team during the integration process and will be paid by the new company."
Gregg Overman, spokesman for the Allied Pilots Union, which represents the American pilots, said ahead of the hearing that the group was "not happy" with Horton's proposed severance, but said it "appears to be a cost of doing business."
In addition to the bankruptcy court, the merger still needs approval from federal regulators before it's finalized, which is expected to happen in the third quarter of this year.
The combined US Airways-American company will join United Continental (UAL), Delta Air Lines (DAL) and Southwest Airlines (LUV) as the industry's dominant players in the United States. Together, they accounted for 83% of U.S. airline passengers last year. The consolidation has meant fewer choices for the nation's fliers, who have only one non-stop choice available to them on about a third of the nation's major routes.
But even as competition has dwindled, fare increases have remained in check, inching up less than 2% a year in the last decade. And most experts don't expect this deal to trigger a surge in ticket prices.
However, passengers will probably experience a lot more travel disruptions -- from lost luggage to flight delays -- as the two airlines combine systems, which is typically the case when airlines merge.
--CNN's Joe Sutton contributed reporting for this article.