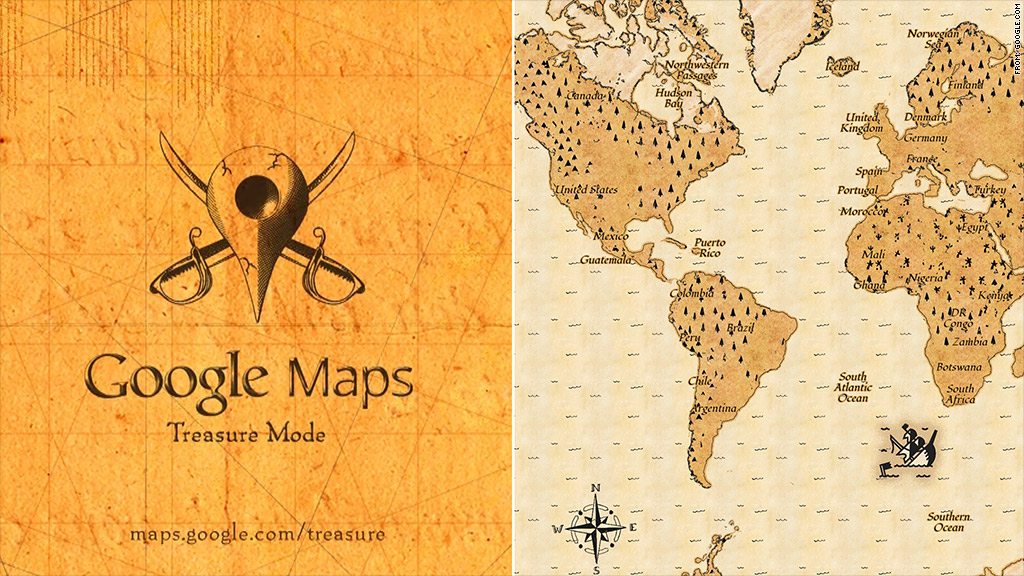 April Fools' Day is here, and the usual suspects are at it again with fake product launches.
Google announced the launch of a new smell search feature, Google Nose. It's still in beta mode, but its "aromabase" of more than 15 million "scentibytes" is sure to entertain, featuring such wondrous odors as airport terminal, used napkin and garlic breath.
That's not all from the jokers at Google (GOOG). The company also launched a new version of Maps called Treasure Mode, where the general public can take part in the hunt for Scottish sailor William "Captain" Kidd's long lost treasure. It looks like a yellowed 17th Century scroll, and the usual Street View mode is now equipped with a telescope-like filter.
Sony unveiled its new "Animalia" electronics line, designed exclusively for pets. Cats will have their own feline-fitted headphones and dogs are sure to love the paw-friendly TV remote control. And what hamster wouldn't want a hamster wheel equipped with a home entertainment system?
Related: Baseball's largest hot dog
Twitter announced its site is now a paid service, and that only "premium" users will get to use vowels. Everyone else will be forced into consonant-only microblogging on Twttr, encouraging an even more "efficient and dense form of communication." Wrtng shrtr twts mght nt b tht bd.
Billionaire entrepreneur Richard Branson wrote on his blog that Virgin will soon offer the world's first glass-bottomed plane.
"I can't wait to experience the first flight for myself with my family and other natural born explorers," Branson said.
Subaru took a stab at humor with the announcement of its new BRZ sports car, which will boast just about every feature that's been rumored on the Internet. It'll be an all-wheel-drive, twin-turbo, two-seater convertible that's a hybrid and also runs on diesel.
The company stated it's "tired of fighting off the constant speculation about what's 'next,' and so we are just giving in and delivering all the speculation in one vehicle."
There's also Scope, with its new bacon-flavored mouthwash. Procter & Gamble, the company that owns the Scope brand, isn't officially declaring it an April Fools' joke - yet. It even took out a half-page ad in Monday's USA Today.
But a quick chat with the public relations agency hired by P&G (PG) to handle the announcement was suspicious indeed. MSL New York publicist Stephanie Friess politely said she wouldn't answer any questions and redirected this reporter to the brand's website.
"I can give you more information later this week," she promised. "But I think it's a really fun thing to share!"
Last on the list is Toshiba (TOSBF), which unveiled the Shibasphere, a gaming console that reads your emotions and won't let you get angry when games go awry.
April Fools' Day is nothing new for the company. It was originally reported that Toshiba's prank was about an inflatable laptop. But that was a 2010 joke that has remained live on the site ever since.