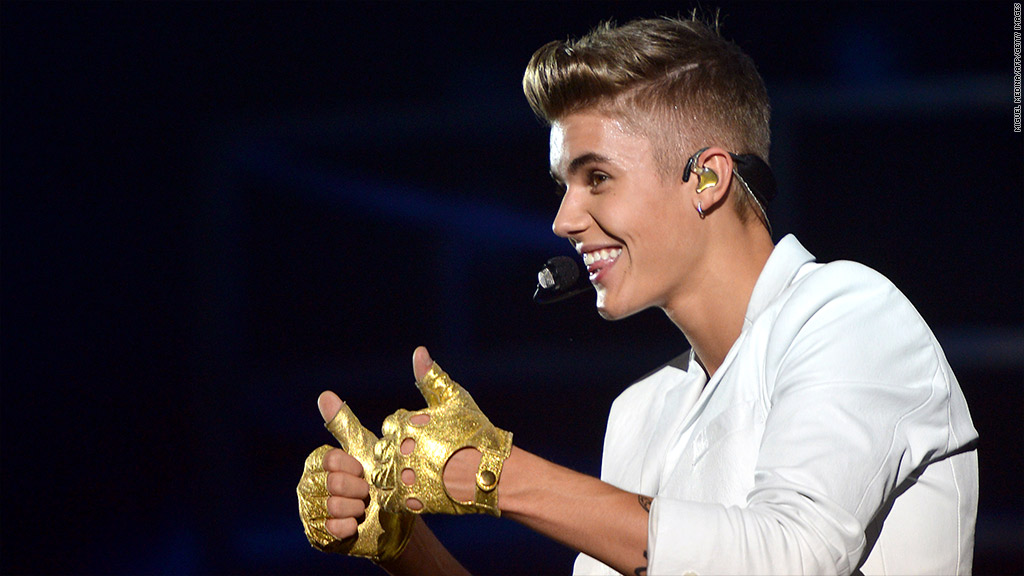 Justin Bieber is launching a new prepaid debit card aimed at teens with a social media splash planned for Thursday night.
The centerpiece will be a YouTube video featuring the teen heartthrob suggesting his fans should learn about responsible spending by using the new SpendSmart card.
But consumer advocates say the card is a bad deal for young consumers.
The card's issuer, SpendSmart Payments (SSPC), signed Bieber to a $3.75 million endorsement deal late last year, but his campaign on behalf of the card is just kicking off.
Bieber's vast social media empire has a wider reach than some television networks. He has 37.7 million Twitter followers, 2 million subscribers to his YouTube channel and more than 52 million Facebook followers -- and many of them are about to learn about SpendSmart.
In the video, Bieber talks to his teen fans about the importance of responsible spending habits and managing a budget. "Managing your money is important, and there's a great company that can help you do that called SpendSmart," he says.
But SpendSmart and other prepaid debit card companies have been criticized by consumer groups for charging high fees.
The card costs users a flat fee of $3.95 a month, and there are additional charges. Withdrawing money from an ATM is $1.50, while checking your balance at an ATM is another 50 cents.
Adding money to the card can cost parents between 75 cents and $2.95, and if the card isn't used for for 90 days there is an additional charge of $3.
John Ulzheimer, CEO of SmartCredit.com, said the fees on the SpendSmart card aren't the worst out there, but he still recommends staying away from prepaid cards altogether.
"If you want to teach teens responsible spending then there are better, less expensive ways of doing so," said Ulzheimer. "Teaching teens that it's OK to pay a fee to use your own money is the exact opposite of what you should be teaching them."
Prepaid cards are 'risky' and loaded with fees
Strategic branding expert Barbara Apple Sullivan said that despite Bieber's popularity, it's too soon to predict success for this card. She said there have been plenty of celeb-branded prepaid cards that failed.
"The singer Usher, who has successfully endorsed everything from clothing to cell phones, launched a prepaid MasterCard and two 'limited edition' Visa gift cards -- all now defunct," said Sullivan.
Another celebrity prepaid card was a spectacular bust for both the celeb and the card issuer.
Related: Prepaid cards - don't be misled
The Kardashian Kard was backed by the ubiquitous reality television stars. But they terminated their endorsement of the card less than a month after its launch amid criticism of its high fees, including a purchase fee of $9.95 and a monthly fee of $7.95.
The Kardashian family's attorney claimed the "negative spotlight ... threatens everything for which they have worked." But Revenue Resource Group, which worked with MasterCard and issuer University National Bank to create the card, sued the Kardashians for $75 million, charging breach of contract.
SpendSmart Payments has worked with a couple of different celebrity names in its brief history, but it has yet to report a profitable quarter since it went public in 2008. The company sold a $4.9 million equity stake in January to a group of private investors just after it was due to make its $3.75 million payment to Bieber.
Its deal with Bieber also grants him the option to buy 2 million shares for about 49 cents a share. But with the stock trading at 39 cents a share Thursday, all those options are underwater.
-- CNNMoney's Blake Ellis contributed to this report