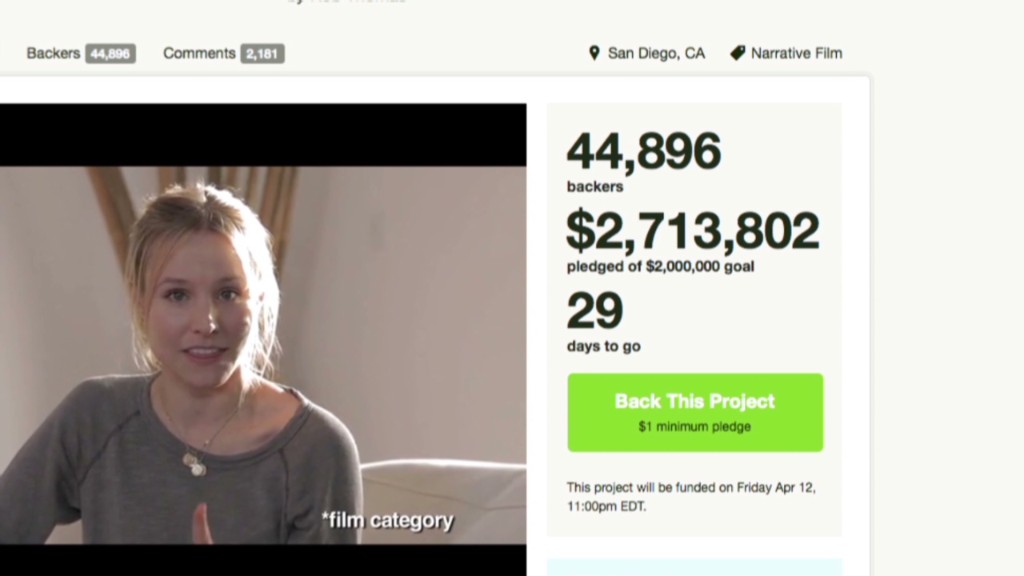 The Kickstarter campaign to bring the cult TV show "Veronica Mars" to the silver screen is drawing to an end, after raising more than $5 million from nearly 100,000 devoted fans.
The campaign to fund a low-budget feature film based on the TV series, which ran from 2004 to 2007, was launched last month by series creator Rob Thomas and star Kristen Bell.
The campaign was set to end at 11 p.m. ET Friday, and with less than seven hours to go, it had raised more than $5.5 million from more than 88,000 backers. According to the campaign page, this gave the film the most Kickstarter backers in history, topping the 87,142 backers for Double Fine Adventure's video game last year.
"We did it! We did it! This is amazing! You all are amazing!" Thomas tweeted. "My phone is vibrating non-stop. This is so much fun!"
The campaign already made Kickstarter history when it raised $1 million in a record 4 hours and 24 minutes. In less than 24 hours, it surpassed its $2 million goal.
Although progress slowed after the initial push, its funding continued to grow, topping $5 million on Wednesday. Throughout the campaign, Thomas and Bell actively solicited new donors, adding perks for different funding levels in an effort to break the record for the most-supported project. They even added a $1 donation, which would fetch Thomas and Bell's "eternal gratitude" and give access to project updates.
Still, many of the most coveted (and expensive) perks -- like naming one of the movie's characters or being an extra in the film -- went quickly.
Related: The first day of the Veronica Mars campaign
Veronica Mars starred Bell as a teenage detective in a fictional California town, and has maintained a loyal fan base for years. A feature film nearly became a reality a few years ago, but Warner Brothers ultimately decided there wasn't enough interest to commit to a major studio movie.
But now, thanks to the campaign's success, Thomas and Bell say the film will shoot this summer for a scheduled 2014 release.
"We have the funds now to make a rocking movie for you guys," Bell said in a video on the Kickstarter page. "We are so excited, so grateful and you've surpassed anything that we thought you could do."
Warner Brothers is committed to distributing and marketing the film, but it is unclear whether they will commit any additional funds to the movie's budget. Warner Brothers declined to comment. (Warner Brothers is owned by CNNMoney parent company Time Warner (TWX).)
Supporters say the campaign has paved a new way for cult film projects to find funding, but critics question whether Kickstarter is the right venue for a studio film.
Either way, Hollywood has taken notice.
"We can't say definitely where this will lead for us, for filmmaking, or for Hollywood," Peter Binazeski, vice president of public relations for Warner Brothers Digital Distribution, wrote on a company blog. "But we can say this: Yes, there will be a Veronica Mars movie."