A sell-off in stocks accelerated Monday afternoon following the news of explosions at the Boston Marathon.
The Dow Jones industrial average, which had been in the red all day, fell 266 points, or 1.8%. About 120 points of that drop took place following the reports of the explosions in Boston.
The S&P 500 lost 2.3% and the Nasdaq slipped 2.4%.
CNN reported that two explosions were heard near the finish line of the Boston Marathon shortly before 3 p.m. Eastern. (Read CNN.com for the latest on the explosions.)
Earlier in the day, stocks had already slumped worldwide, gold prices plunged and investors flocked to lower risk assets like U.S. Treasuries. The initial sell-off began after investors awoke to news that China's economic growth had slowed in the first quarter.
What happened in China? The Chinese economy grew 7.7% in the first quarter, compared with a year earlier. The report was "disappointing" and confirmed China's recovery is fragile, said Qu Hongbin, HSBC's co-head of Asian economic research.
Economists had been expecting the Chinese economy to grow 8%, and because it reflected weaker global demand for Chinese goods and services, the news also drove stocks in Asia and Europe lower.
The Shanghai Composite, Hang Seng and Nikkei all dropped more than 1%. European markets took their cue from Asia, with London's FTSE falling 0.6%.
China is the world's second-largest economy after the United States, and is considered one of the top engines of global economic growth. Case in point: 7.7% growth per year is considered weak in China, while the U.S. economy would be lucky to grow around 3% annually.
A separate report also showed industrial production growth slowed sharply in China in March. Heavy manufacturing related to steel, power and telecommunications equipment showed the most weakness.
Gold bugs get zapped. Gold plunged more than 9% to settle at $1,361 an ounce and popular gold ETF SPDR Gold Trust (GLD) fell 8.8%.
Mining stocks were hit hard, with Newmont Mining (NEM), Rio Tinto (RIO), Freeport-McMoran Cooper and Gold (FCX), and Rangold Resources (GOLD) each dropping more than 5%.
The Australian and New Zealand dollars both fell against the U.S. dollar following the weak Chinese data. Both countries rely heavily on China as an importer of their raw materials.
Investors also opted for the safety of the U.S. dollar against the euro and British pound. Demand for U.S. bonds rose, and the yield on the 10-year Treasury note slid to 1.7%.
Bracing for barrage of bank and tech earnings. On the flipside, Citigroup (C) had some good news. The bank reported a better-than-expected 30% jump in net income, to $3.8 billion. Revenue also topped forecasts, rising 6% in the latest quarter.
Goldman Sachs (GS), Bank of America (BAC) and Morgan Stanley (MS) are on tap to report results later this week. Tech giants will also report results later this week, with Yahoo (YHOO), Google (GOOG) and Microsoft (MSFT)all on deck.
Related: Fear & Greed Index slides into neutral
In other corporate news Monday, Dish (DISH) said it is bidding $25.5 billion to buy Sprint Nextel (S), countering an agreement between Sprint and Japan's Softbank. Sprint's stock price surged 14%.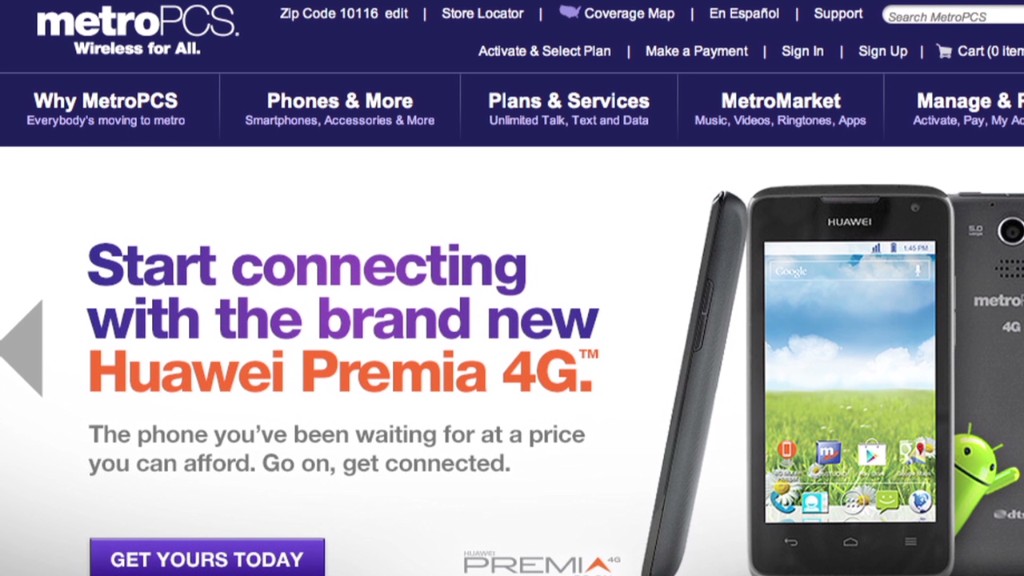 Thermo Fisher Scientific (TMO) signed an agreement to acquire Life Technologies (LIFE) in a deal valued at $13.6 billion, plus debt. Life Technologies shares rose 7.5%.
Mixed bag of economic news. A major survey of U.S. homebuilders showed the housing recovery may have lost some of its steam in March. The news weighed on shares of homebuilders. Hovnanian (HOV), Lennar (LEN), DR Horton (DHI) and Toll Brothers (TOL) were all lower.
Separately, the New York Fed released its monthly manufacturing survey showing that conditions for New York manufacturers improved slightly in April. The indexes for general business conditions and new orders remained positive, despite modest month-to-month declines.