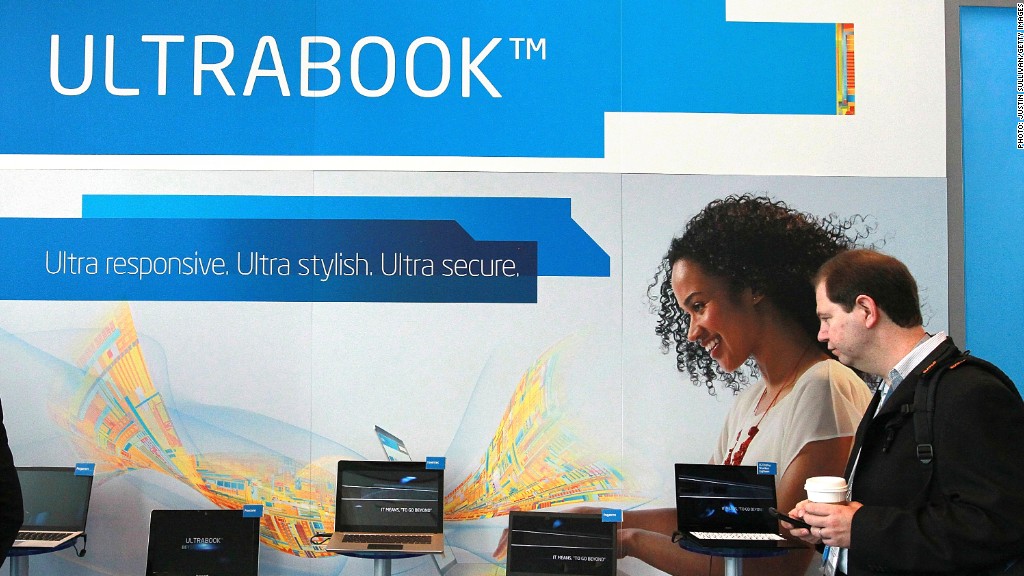 In the midst of plunging PC sales, chipmaker Intel is doing its best to remain optimistic.
Intel reported another decline in chip sales for PCs as part of its first-quarter results on Tuesday, with revenue from that business falling 6% compared to a year ago. The news comes just a few days after research firm IDC reported that worldwide PC sales plunged 14% last quarter -- the worst yearly decline since IDC began tracking the data in 1994.
Intel's overall revenue fell 2.5% compared to last year, to $12.6 billion, and its net income dropped 25%, to $2 billion.
The company tried to draw investors' attention toward one of its bright spots: its growing in its data center business, where sales rose nearly 8% from last year, to $2.5 billion. Intel (INTC) also offered solid guidance for the upcoming quarter. Shares rose slightly in after-hours trading Tuesday.
Intel's results come as the PC industry continues to struggle against the rise of tablets like Apple's (AAPL) iPad and other mobile devices. Intel and its rivals have tried to innovate their way out of their sales slump, but so far to little avail.
Related: Chip wars could drive mobile customers nuts
In 2011, Intel unveiled the Ultrabook, its design for a super-thin notebook computer. Others in the PC industry followed suit and unleashed a flood of UItrabooks, but sales have disappointed.
Compounding the problem is the lukewarm response to Microsoft's (MSFT) Windows 8 operating system for PCs, which debuted in October 2012.
Bob O'Donnell, a vice president at IDC, said that the Windows 8 launch "not only failed to provide a positive boost to the PC market, but appears to have slowed the market." He slammed Windows 8's "radical changes" to the user interface, particularly the removal of Microsoft's iconic start button.
Intel hopes to become more of a player in manufacturing chips for mobile devices, but it still lags significantly behind its competitors in that field. It wasn't until roughly a year ago that Intel chips began popping up in smartphones for the first time, and they still have virtually no U.S. presence.
Intel believes that will change with the release of its new 22 nm mobile chip design this fall, which will incorporate 4G-LTE capabilities.
"We are working with our customers to introduce innovative new products across multiple operating systems," Intel's outgoing CEO, Paul Otellini, said in a written statement. He plans to retire next month. The company has not yet named his replacement.