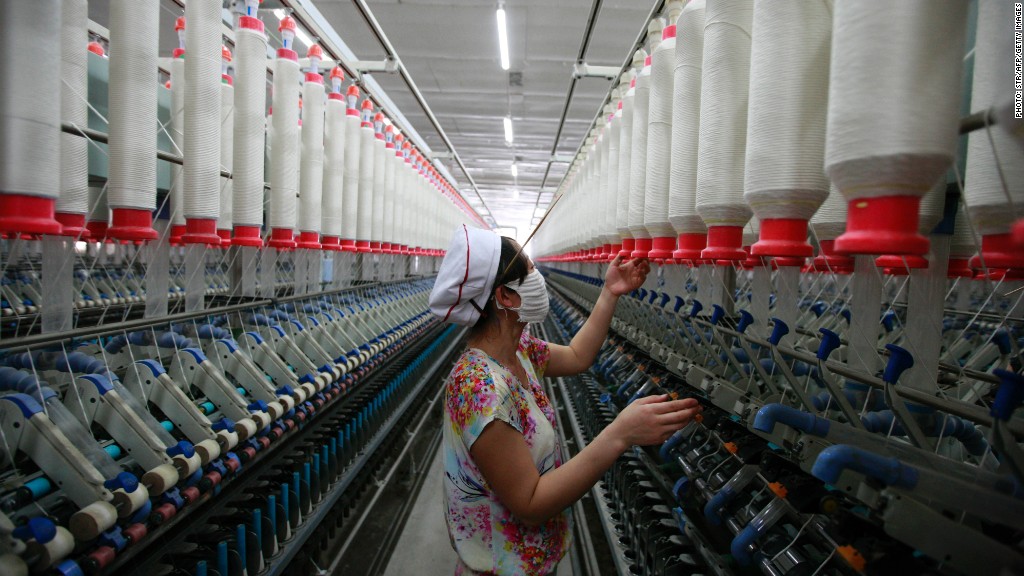 Factory activity in China grew at a slower pace in April, the latest in a series of data points indicating weakness in the world's second largest economy.
Global bank HSBC said its "flash" index of purchasing managers' sentiment fell to 50.5 in April from March's final reading of 51.6. Any reading above 50 signals expansion in the manufacturing sector.
"New export orders contracted after a temporary rebound in March, suggesting external demand for China's exporters remains weak," said Hongbin Qu, an economist at HBSC. "Weaker overall demand has also started to weigh on employment in the manufacturing sector."
The strength of manufacturing in China is considered a barometer of the global economy because of the nation's role as a powerhouse exporter. Because it makes up a large part of China's economy, manufacturing plays an important role in shaping domestic policy.
China's economy has grown at an average of around 10% a year for the past three decades, allowing the nation to rocket past competitors to become the world's second-largest economy.
But China's economy grew at a slower pace at the start of the year than economists had expected, expanding by only 7.7% over the previous year during the first quarter.
Related story: China growth slows in first quarter
Inflation, a problem in 2012, has been tame so far this year. But economists are worried about a rapid expansion in credit and a red-hot housing market.
Economists at HSBC said the lackluster manufacturing report could help spur policy changes from Beijing.
"Beijing is expected to respond strongly to sustain the economic recovery by increasing efforts to boost domestic investment and consumption in the coming months," Qu said.