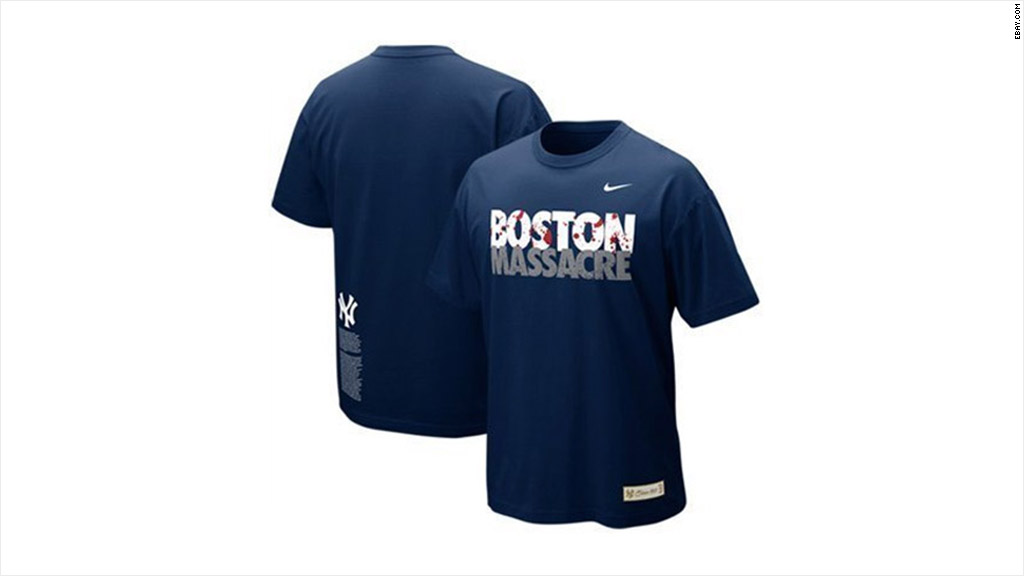 Nike has pulled shirts that read "Boston Massacre" -- a reference to the Yankees-Red Sox rivalry -- from store shelves in light of the tragedy in Boston last week.
The phrase references a four-game sweep of the Red Sox by the Yankees in 1978 that was part of an epic late-season collapse for Boston. The T-shirts in question were printed in Yankee colors, with drops of blood splattered over the lettering.
Following the fatal attacks in Boston, Nike (NKE) "took immediate action last week to remove this product from distribution," company spokesman Brian Strong said in an email.
"The shirts being referenced are older baseball shirts that were predominantly being sold through our Factory Store Outlets," Strong said.
Related: Crowdfunding campaigns for Boston victims
Nike rival Adidas, meanwhile, is selling shirts reading "Boston stands as one" on its website, with all proceeds going to the One Fund Boston relief effort.
"There has been an overwhelming demand for the Boston Tribute Tee since its launch last week, and we were out of stock within a day," Adidas spokeswoman Katja Schreiber said in an email. "Due to the overwhelming demand, we decided to further extend our support."
Additional tribute merchandise has popped up on eBay and at local retailers.
CNN's Jennifer Sholar and CNNMoney's James O'Toole contributed reporting.