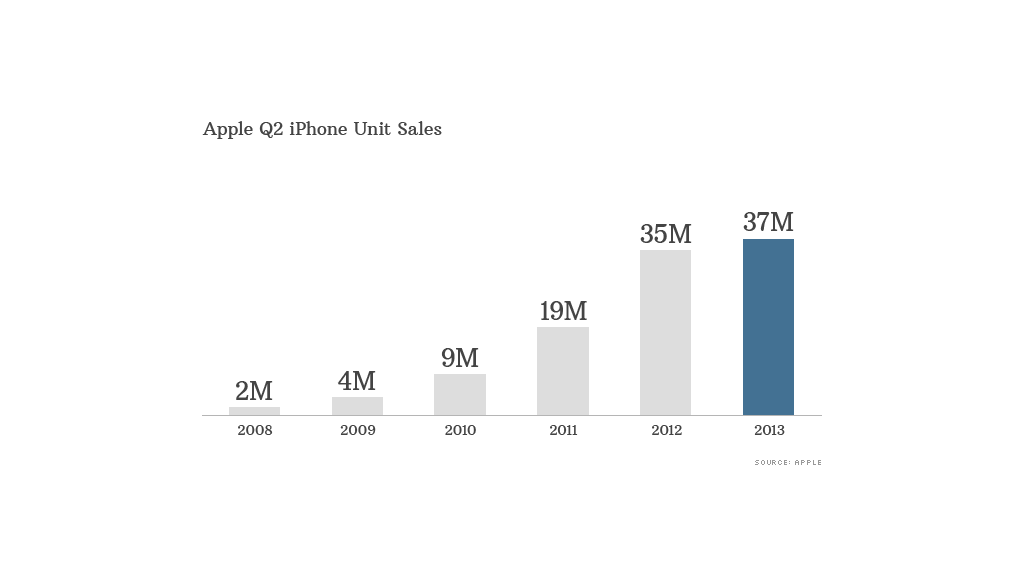 Apple's cheaper, older devices have been popular with consumers -- but those discounts have pinched the company's profits.
The tech titan's profit fell 18% last quarter, and its gross profit margin declined by nearly 10 percentage points. Though Apple's earnings fell less than Wall Street analysts expected, its margin came in well below their forecasts.
Shares of Apple (AAPL) initially popped about 5% in after-hours trading, but the gains lost steam and turned flat later in the evening.
Squeezed profit has been a troubling trend for Apple. Many customers are opting to buy older iPhones and the cheaper iPad mini -- devices that are less profitable to Apple.
Without a major, market-disrupting new device, investors have feared that trend will continue. Apple's stock has fallen by nearly 24% so far this year, a phenomenon that CEO Tim Cook "deemed very frustrating to all of us" while on a post-earnings conference call with analysts.
Apple made sure to address those disgruntled investors: The company increased its impressive cash hoard to $144.7 billion, and it plans to hand some of that back to shareholders by increasing its quarterly dividend to $3.05 per share. That comes after activist shareholder David Einhorn pressured Apple to stop hoarding its cash and provide more value to stockholders.
Apple's dividend yield is now 3%, as of the close of trade on Tuesday, up from 2% before the increase. That brings Apple's dividend yield in line with Cisco (CSCO) and Microsoft (MSFT).
What's more, Apple upped its stock buyback plan to $60 billion from the $10 billion level announced in 2012 . The company says it's the largest stock buyback in corporate history, and Apple will issue debt in order to complete it. Credit rating agency S&P promptly issued Apple a 'AA+' corporate credit rating, which is just one level below a perfect "AAA."
All that serves as a welcome distraction from some lousy product news. Supply chain issues have plagued the latest batch of iPhones, an ongoing issue that the company mentioned on the conference call.
Apple still managed to sell 37.4 million iPhones last quarter, compared with 35.1 million in the same quarter last year. While that's a hefty amount of iPhones, Apple typically doubles its iPhone sales over the year -- that's what's happened for the past four years in the second fiscal quarter, until now.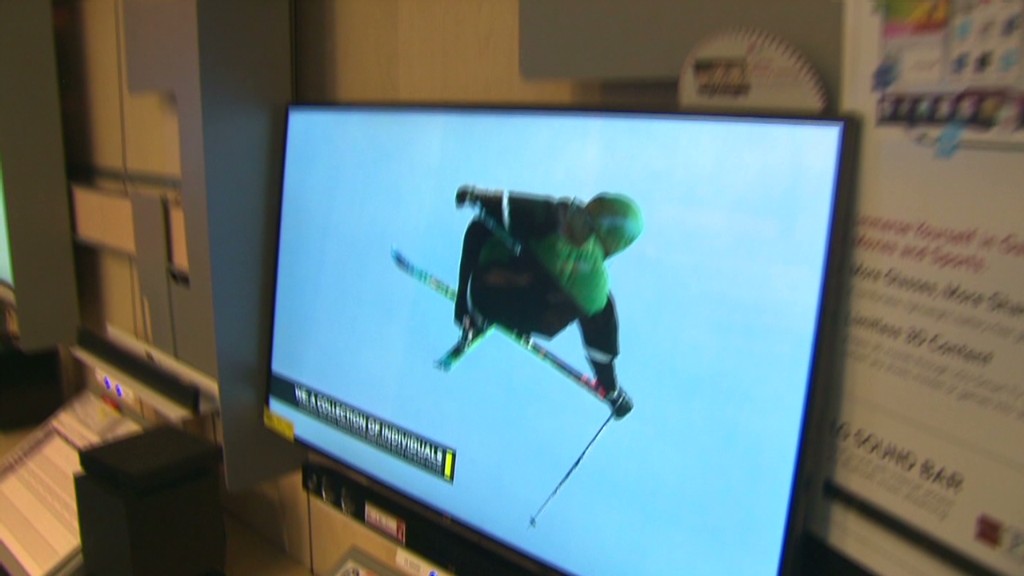 IPad sales came in at 19.5 million, compared to 11.8 million a year ago. Mac sales were flat at about 4 million, but Cook said on the conference call that the PC market "still has a lot of life in it. And we're going to continue to innovate in it."
In all, Apple's sales were $43.6 billion last quarter, coming in just above Wall Street's estimates, according to median estimates compiled by Thomson Reuters. Apple netted $9.5 billion in profit for its fiscal second quarter, down from $11.6 billion in the same period a year ago. The company's gross profit margin fell to 37.5%.
For the current quarter, Apple expects sales of about $34.5 billion, well below analysts' median estimate of $38.2 billion. The company expects its margins to continue declining, to between 36% and 37%.