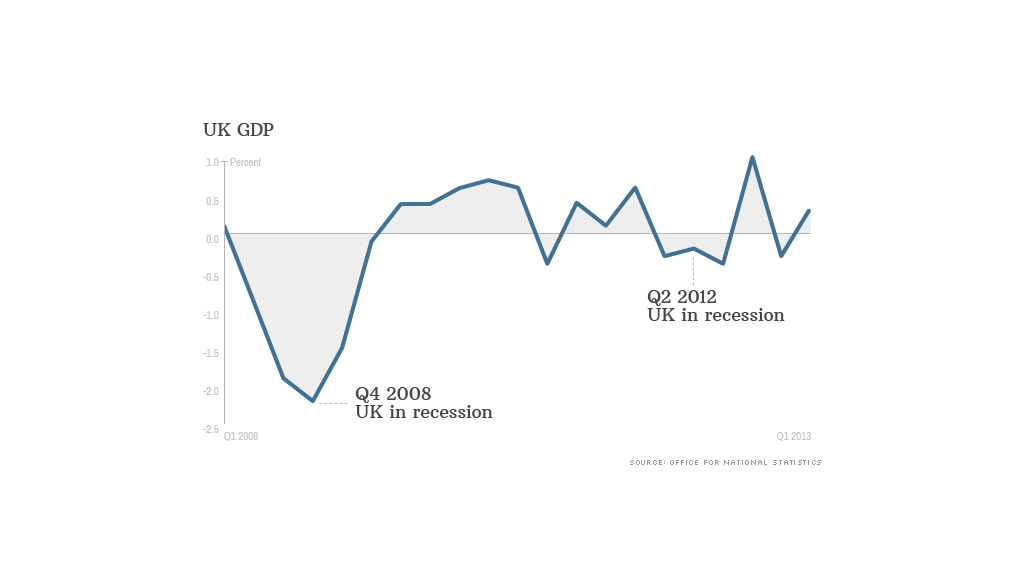 The U.K. dodged a triple-dip recession as a recovery in its dominant services sector helped the economy resume growth in the first quarter.
Gross domestic product rose by 0.3% compared with the fourth quarter of 2012, when it shrank 0.3%, according to preliminary estimates released by the national statistics office.
Most economists had expected the world's sixth-largest economy to narrowly avoid a second consecutive quarter of contraction, but cautioned that the chances of a surprise were high given cold weather that depressed construction activity and retail sales.
The recovery will ease pressure on finance minister George Osborne to spread the pain of government spending cuts over a longer period of time.
Services sector output grew by 0.6% in the first quarter, offsetting the decline in construction.
Retail sales fell 0.7% in March as British shoppers, squeezed by falling real incomes, stayed at home during the unusually cold spell, but the overall impact of the weather was limited.
"The strongest evidence was that it reduced retail output in January and March 2013 but boosted demand for electricity and gas in February and March, which increased output in the energy supply industries," the statistics office said.
Osborne hailed the return to growth as a sign that the economy was "healing." But economists said that without further fiscal or monetary stimulus, Britain would struggle in the face of recession in the eurozone and slowing global growth.
Related: Jobless misery deepens in Spain and Greece
"The government should be using near-historic low interest rates to undertake huge multi-decade infrastructure investment projects," noted Schroders' European economist Azad Zangana.
The economy has been stuck in a rut for for 18 months, and GDP remains 2.6% below its pre-recession peak hit in the first quarter of 2008.
Global growth is slowing and a survey this week suggests the pressure on personal finances in the U.K. is rising.
Four times as many households reported a deterioration in April as those that recorded an improvement, pushing Markit's Household Finance Index to 37.7 from 39.3 in March.
The U.K. economy contracted for five consecutive quarters from the second quarter of 2008, and was back in recession for nine months in late 2011 and early 2012 when the eurozone debt crisis was raging.
Related: Austerity debate rages in Europe
The International Monetary Fund cut its forecast for U.K. growth in 2013 by 0.3% last week, citing depressed demand, and said the government should think about taking a more flexible approach to cutting the budget deficit. On Friday, Fitch Ratings downgraded U.K. debt to 'AA+' from 'AAA', citing the impact of weak growth on debt and deficit levels.
Osborne has stuck resolutely to the path of austerity, arguing that a policy of fiscal discipline and cheap central bank money will ultimately bear fruit.
Despite the return to growth, some economists expect the Bank of England to provide further monetary stimulus later this year, and perhaps as early as next month.
Governor Mervyn King and two fellow members of the bank's monetary policy committee were outvoted this month when they argued in favor of extending bond purchases by £25 billion to £400 billion.
Interest rates have been held at a record low of 0.5% since March 2009.
Earlier this week, the central bank extended by a year its "Funding for Lending" scheme aimed at encouraging banks to provide more credit to companies, and broadened the range of businesses that could qualify for the program.