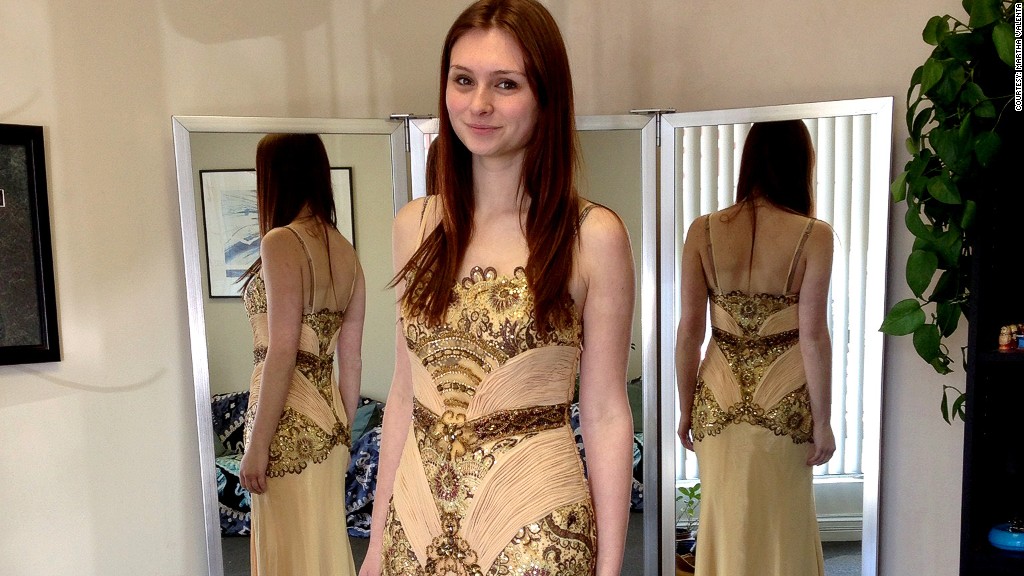 From paying for a designer dress to renting a fancy limo, teens (and their parents) are shelling out hundreds or even thousands of dollars this prom season.
On average, families expect to spend $1,139 on prom this year -- up roughly 40% from 2011's $807 average and a slight increase from last year, according to a Visa survey.
Families in the Northeast expect to pay the most, an average of $1,528, while Midwestern families were the most frugal, at an average of $722, according to the survey of more than 1,000 parents of prom-aged teens.
With traditions like debutante balls falling out of fashion and young people getting married later in life, prom has grown in importance and people are willing to spend more on the big night, said Kit Yarrow, a consumer research psychologist.
"Prom is the new wedding," Yarrow said. "I think that every society has to have a rite of passage into adulthood for young people, and prom has become that."
The increase in prom spending is also being driven by the popularity of photo-oriented sites like Facebook and Instagram, she said. Prom is "a post-able moment" which has heightened the pressure around appearances.
While parents still foot a majority of the bill, teens pay for about 41% of the costs, Visa's survey found.
Related: I had 10 jobs before age 25
Sarah Hoffer, an 18-year-old senior at Webster Groves High School in St. Louis, saved roughly a month's worth of pay from her job at a local car wash to help pay for her prom.
Her biggest expense was a $259 vintage-inspired dress that she fell in love with online. Her mother, Martha Valenta, agreed to pay for an additional $220 in alterations.
"The dress was real drama," said Valenta, who wore a borrowed dress to her own prom. "I don't recall that ever in my youth."
Hoffer also spent $50 on a ticket, $20 on shoes, $43 on a manicure and pedicure and $35 on makeup -- bringing her grand total to $627, of which she paid about two-thirds.
To save money, she used a free trial visit for a spray tan, had a friend's mom style her hair and drove herself to prom, unlike many of her classmates who she said spent hundreds on limos and party buses.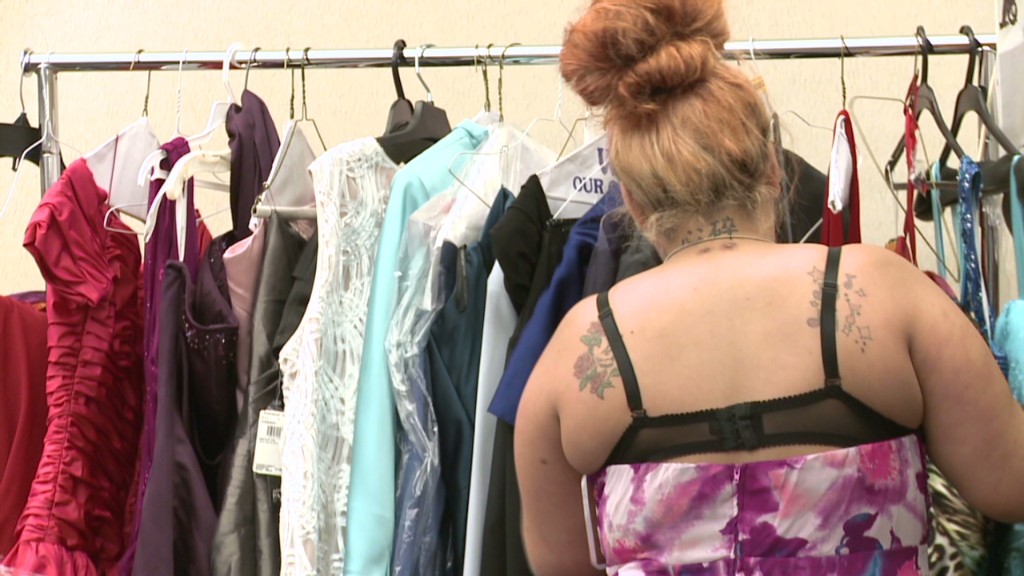 When Patti Manoogian, from Hackettstown, N.J., took her 17-year-old son Alex Galbreath to Men's Wearhouse, she wasn't expecting to pay more than $100 to rent a tux for prom night. But the designer Vera Wang tux her son picked out cost $200 to rent.
The school requires students to ride a bus to prom, which saves on limo costs, but once she adds on the $90 prom ticket, the corsage for his date and photos, the total bill will likely exceed $400. Other parents, she said, are spending much more.
"I love the idea that the kids have an opportunity to dress up like adults," she said. "But if we could take down the competition on what people look like, I think you could get the same nice adult evening for something that doesn't cost a mortgage payment."
For some families, the costs are especially daunting.
Families with household incomes below $50,000 a year plan to spend an average of $1,245 on prom this year, compared to $1,129 for those with incomes above $50,000, the Visa survey found. And single parents plan to spend $1,563, nearly double the amount of married parents.
Related: Bieber launches prepaid debit card
Noel D'Allacco founded the nonprofit Operation Prom to provide donated prom dresses to low-income teens nearly a decade ago. This year, the group expects to distribute more than 5,000 dresses nationally.
"Years ago we used to require a copy of their parents' tax return, but ever since 2009, we stopped doing that because chances are if you are coming there is some sort of financial need," she said.
A dialysis patient awaiting a kidney transplant, Brenda Cruz has been unable to find work for years. Living on monthly disability checks of less than $1,000 a month, the Brooklyn, N.Y. resident had no clue how to afford to send her 19-year-old daughter, Rachel Gantt, to senior prom in June.
But at Operation Prom's giveaway in Queens, Gantt was able to pick out a dress for free. Cruz is still worried about paying for shoes and a prom ticket, but she is determined that her daughter not miss out.
"I'm going to try everything I can," she said. "If that means that I can't pay rent for this month coming up so she can get her ticket, then I'm just going to have to do it and deal with the consequences later."