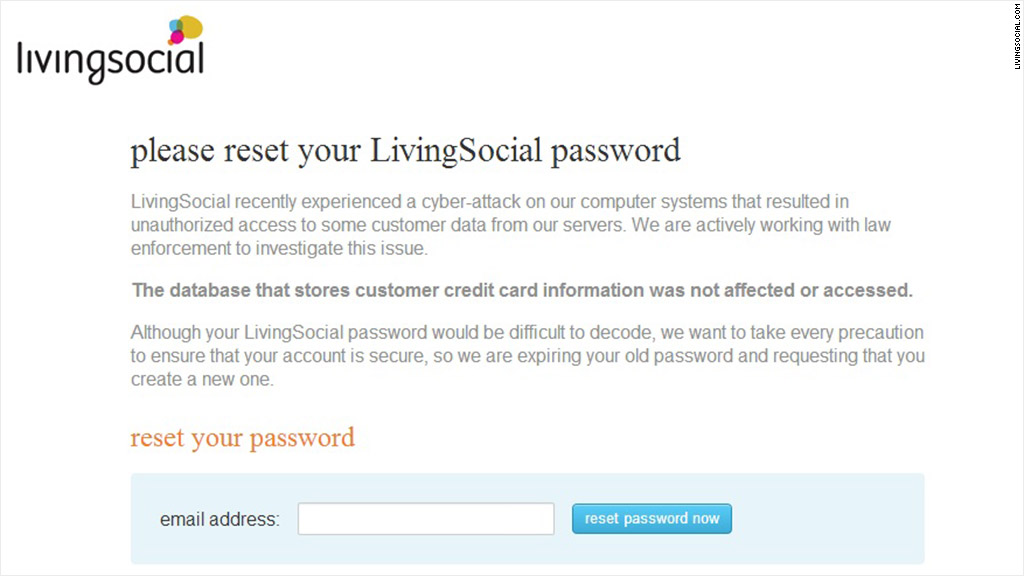 If you're a LivingSocial customer, get ready to change your password.
The daily deals site recently suffered a cyberattack on some of its servers, and customer data for more than 50 million users may have been accessed, the company said late Friday. Credit card data was not affected.
Some users who attempted to log in on Friday were greeted with a message about the "unauthorized access," and were required to reset their passwords.
A LivingSocial spokesman sent CNNMoney a copy of an email that the company is sending to customers, which says the hackers may have accessed names, email addresses, encrypted passwords and the dates of birth for some users.
All LivingSocial users had some data stored on the hacked server, the spokesman said, except for customers in Korea, Thailand, Indonesia and the Philippines. Those countries use TicketMonster and Ensogo, which are on different systems.
The company declined to comment further on details of the hack, instead sharing an internal memo that CEO Tim O'Shaughnessy sent to employees earlier today about it. Tech blog AllThingsD first reported on the hack, citing that internal memo.
Related story: Stop hackers in their tracks
In the message that greeted users attempting to log in, LivingSocial said it is "actively working with law enforcement to investigate this issue."
News of the LivingSocial hack comes three days after the Associated Press Twitter account was compromised. The hackers sent a tweet falsely claiming an attack on the White House had left President Obama injured, sending stocks sharply lower for a brief moment.