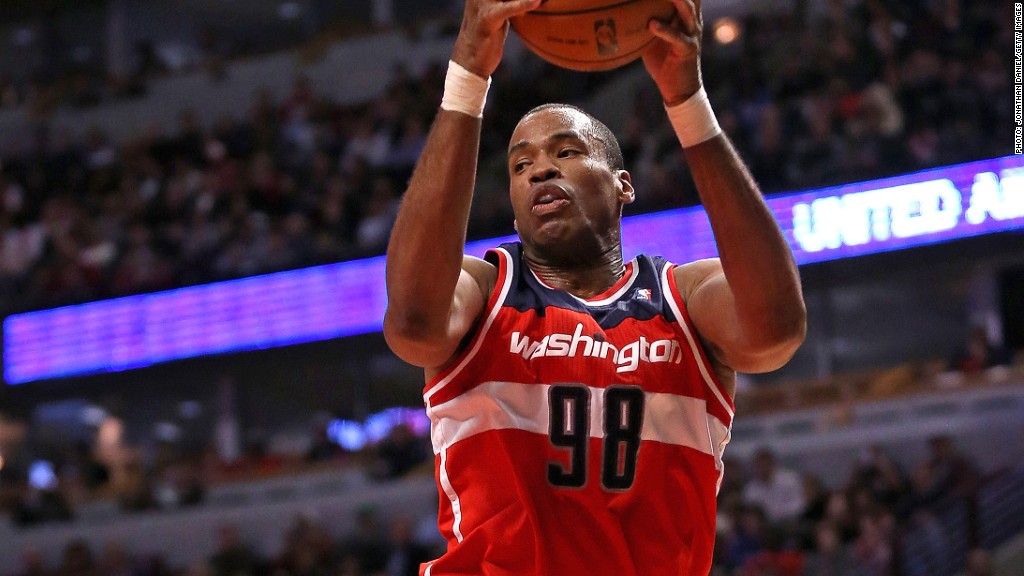 For years, the assumption in locker rooms and along Madison Avenue has been that an openly gay athlete could kiss his endorsement deals good bye.
But when back-up Washington Wizards center Jason Collins came out on Monday, his endorsement potential probably went up.
Collins came out in a Sports Illustrated interview. His only endorsement deal right now is with Nike (NKE), which issued a statement supporting his decision.
"We admire Jason's courage and are proud that he is a Nike athlete. Nike believes in a level playing field where an athlete's sexual orientation is not a consideration," said the leading source of athletic endorsement dollars.
Collins was also praised by NBA Commissioner David Stern and Adam Silver, who is set to be the next commissioner, as well as by White House Press Secretary Jay Carney.
Marketing experts say while Collins has never appeared in a Nike ad as part of his endorsement deal, there's now a much greater probability that he'll do so.
"I don't think he's going to be a major spokesman, but he could certainly earn seven figures off of this," said Bob Dorfman, editor of the Sports Marketers Scouting Report and executive creative director of Baker Street Advertising in San Francisco. He said he thinks Nike will now consider using him in some of its spots.
"There's a big demographic that could certainly see him as a role model and an a pioneer," he said.
Related: SI Interview: Why Jason Collins is coming out now
But Frank Vuono, president 16W Marketing, said he thinks while Collins' endorsements will increase, they'll grow modestly given the fact that he's not a star athlete.
"There may be some companies that decide having the courage to come forward is good for their brand to associate with," he said. "But I don't see anyone beating down a path to his door."
Related: Gay marriage's corporate boosters
Paul Swangard, managing director of Warsaw Sports Marketing Center at the University of Oregon, said that while advertisers have certainly been reluctant in the past to use openly gay spokespeople, that is starting to change. J.C. Penney (JCP) and Procter & Gamble's (PG) CoverGirl makeup both use talk show host Ellen DeGeneres as its spokesperson and many other companies, including Starbuck (SBUX)s and Targe (TGT)t have come out in open support of gay marriage.
"The market is more receptive. He might be the right player at the right time to benefit from that," said Swangard.
Collins earned $1.4 million this past season, according to Basketball-Reference.com. He's a free agent without a contract for next year.
Swangard said the endorsement dollars Collins previously got from Nike were probably modest, and he cautioned that he might not be interested in doing any kind of advertising, even if he can. Both Swangard and Baker said he could also see significant income from speaking engagements and appearance fees if he so chooses.
"It's a great situation for him to be in. It's a question of what he wants to do," he said. "I haven't seen any indication that he did this to improve his marketability, but because he thought it was the right thing to do."