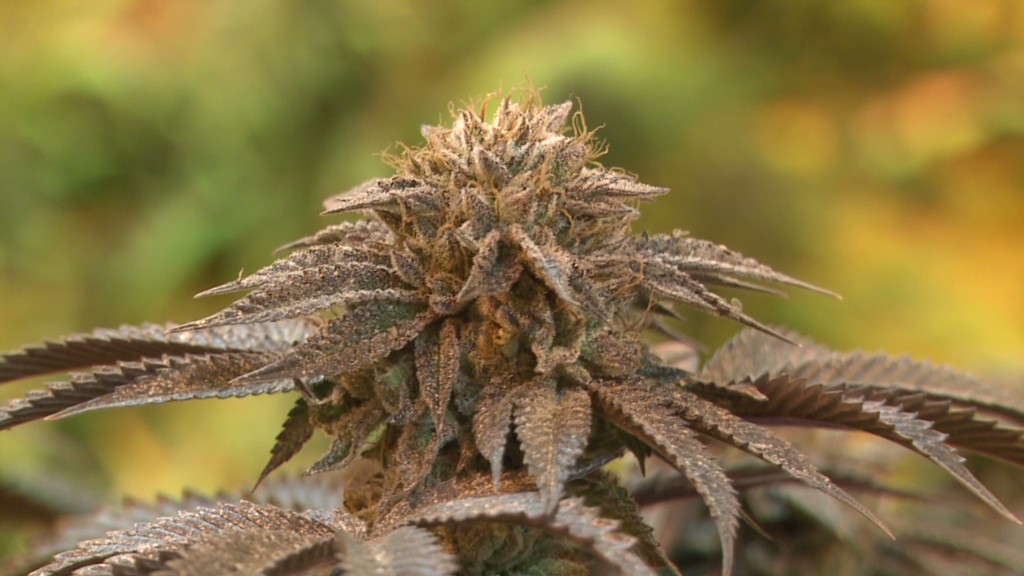 Every day, John Davis sends an employee to his local bank with a bag of $3,000 in cash -- and he makes sure it doesn't smell like weed.
Banks and credit card companies are staying away from marijuana businesses, forcing growers and sellers to deal mostly in cash. In response, when pot businesses deal with banks, it's usually in disguise.
That's just one byproduct of the nation's mismatched drug laws.
Washington State has long allowed for medical marijuana, and it legalized pot for recreational use last year. But financial institutions still face intense pressure from federal authorities, because pot is illegal under the nation's Controlled Substances Act. Banks that deal with cannabis businesses open themselves up to accusations of money laundering, so they avoid it altogether.
Related: Is marijuana legal or not?
But forcing businesses into cash-only transactions brings about all sorts of problems -- it undermines the state's efforts to tax the industry and creates security risks at stores.
The Northwest Patient Resource Center, a Seattle store that grows and sells cannabis, ran into its first hardship last year when it could no longer process customers' credit cards. Davis, the center's CEO, said American Express and Discover dropped him in the fall. Visa and Mastercard soon followed.
Davis resorted to buying his own ATM machine. Every night, he refills it with a few thousand dollars of his own cash. He deposits the rest at his bank the next day. The practice makes Davis uneasy.
"The more cash you have sitting around, the more of a target you are," he said.
Last September, he received a letter from his bank -- which he prefers to not name -- that made matters worse: "After a thorough assessment and evaluation, it is with deep regret that [we] will cease offering banking services for medical marijuana/cannabis businesses and/or facilities," it read.
Davis hasn't banked openly ever since.
To create distance between him and the pot business, he started an unrelated holding company.
More than a dozen interviews with dispensaries and growers in Washington show this kind of secret banking is a common practice.
CNNMoney asked the nation's largest retail banks with operations in Washington about their policies for small marijuana businesses. HSBC didn't respond. JPMorgan Chase (JPM), U.S. Bancorp (USB) and Wells Fargo (WFC) said they don't serve the industry, citing federal law. Bank of America (BAC) didn't respond but has previously stated that it turned away marijuana-related business clients after warnings from the U.S. Drug Enforcement Administration five years ago.
However, more than a dozen cannabis businesses have told CNNMoney they all keep corporate accounts at Chase, U.S. Bank and Wells Fargo, in addition to small, local banks.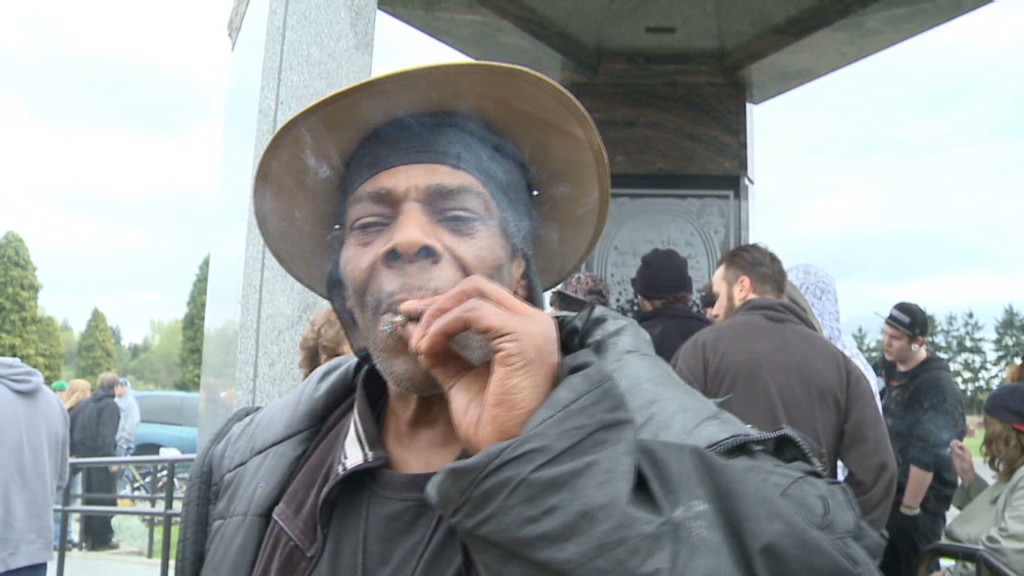 Even those companies that only indirectly deal with the marijuana industry have a banking problem.
Canna Security is an alarm system provider for the industry. CEO Daniel Williams explains that all of his clients use cash, so he's forced to take his payments that way. He often shows up to his bank -- a major national bank -- holding a bag filled with $10,000.
A loan officer there once suggested Williams apply for a credit line, one he desperately needs to expand his business. The bank later got cold feet.
Williams said having the financial community turn its back on the industry "almost makes it impossible to run a proper and legitimate business."
Related: Pot tourism: Seattle's budding economy
Greta Carter has also been forced to bank in secret. Although she doesn't sell marijuana, her wellness center is wholly tied to the pot industry. It partners with dispensaries, who then offer the center's services, such as massage therapy and acupuncture.
When a major bank came by for a visit, she and others scrambled to hide any poster or drawing featuring marijuana's ubiquitous green leaf. Carter had worked at Citi (C), helping develop new products, like debit cards.
"Those of us that have banking are doing it covertly," she said. "The irony is that these people are trying to come out of the shadows."
Businesses have found ways to circumvent credit card processors. Some use Square, a point-of-sale device that works on tablets and smartphones. Others use debit card machines that look like credit card terminals but function like ATMs.
For the most part, though, weed is bought with paper money. That could hinder Washington's ability to properly tax pot businesses, because the state will have a difficult time tracking sales.
Washington hopes to prevent that by controlling and closely monitoring how much marijuana is produced, said Pat Kohler, director at the state agency regulating the industry.
But the pot industry will still face considerable incentive to dodge the law.
"Forces are conspiring to keep it in the black market," Davis said.
In the meantime, he does what he can to protect himself. The Northwest pot dispensary has reinforced concrete walls, motion detectors and cameras everywhere. Teller windows are made of thick, ballistic acrylic glass. The place is built like a fortress -- which is appropriate. It's a former bank.