Facebook finally decided to concentrate on mobile late last year, and its shares have recovered nicely from their post-IPO doldrums. To keep that momentum going, Facebook needs to prove that its mobile strategy is working.
Investors are scrutinizing the company's moves, and at first, even tepid mobile growth was enough to send Facebook shares soaring. That's because the company set expectations at rock bottom: Right after its May 2012 IPO, Facebook said it wasn't making "any meaningful revenue" from mobile.
Facebook turned a corner a few months later, when it launched a new Apple (AAPL) iOS app and began showing ads to mobile users. It worked: Mobile accounted for 14% of the company's ad revenue in the third quarter, which ended September 30. Investors were thrilled, sending shares up 21%.
But some of that goodwill didn't last.
A few months later, Facebook revealed that mobile comprised 23% of its ad revenue in the fourth quarter. That was a solid bump, but investors focused on the fact that mobile user growth slowed slightly -- and shares fell by 10%.
Clearly, investors are no longer impressed by mere "we're working on it!" assurances. Still, shares are up nearly 16% since Facebook's (FB) strong third-quarter report in October.
Related story: Facebook uses offline purchases to target ads
Expectations are high for Facebook's first-quarter report, due Wednesday after the market closes. Analysts polled by Thomson Reuters expect sales to have grown 36% over the previous year to $1.4 billion. Profit estimates came in at $308 million, after Facebook warned last quarter that its expenses will rise by 50% this year.
In the first four months of the year, the company has already released three major new products that are clearly aimed at maximizing ad revenue.
The first came last month, when Facebook unveiled a News Feed revamp centered around a more visual design that also includes bigger graphics for ads.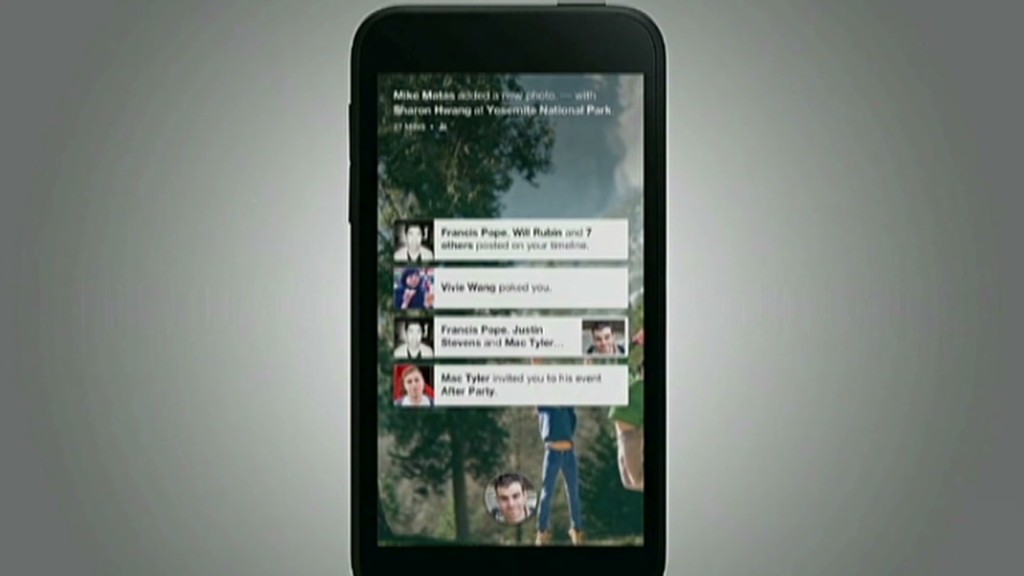 The second and third came too late to be included in Wednesday's results, but they're a clear sign of where Facebook is going. The beginning of this month brought Facebook Home, a custom startup screen for Android smartphones that will eventually include ads. A week later, Facebook announced "Partner Categories," which lets advertisers target specific users based on their past buying history -- even if the purchases happened offline.
JP Morgan analyst Doug Anmuth said in a note to clients this month that he is "encouraged by newer formats and products." He also reminded his readers that social advertising is in its infancy.
Facebook is trying to prove that space has a viable business model. Its incremental moves have generated cautious optimism. Now it's time to give investors a real reason to believe.