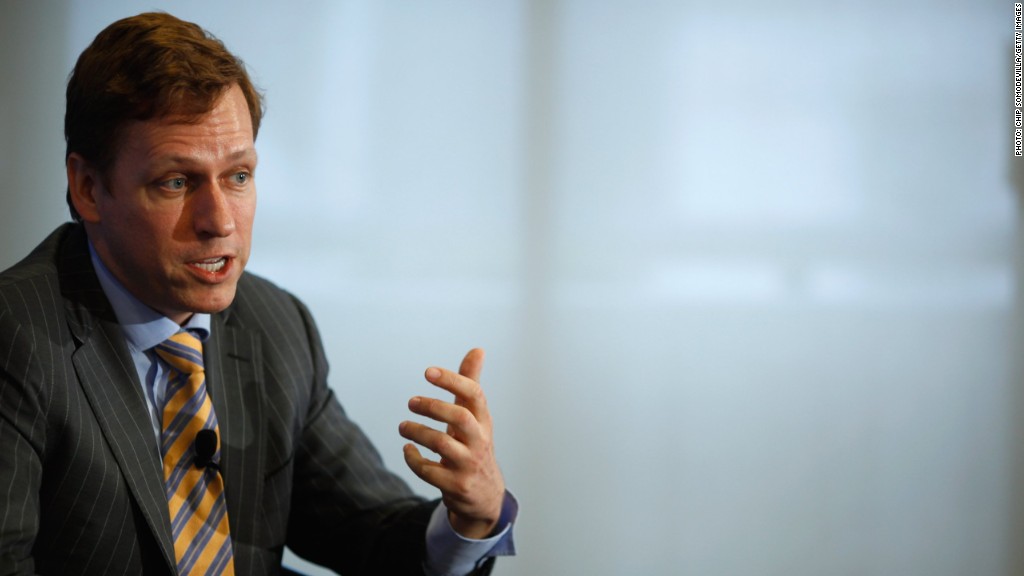 Tech visionaries Peter Thiel and Marc Andreessen disagree on the promise of Twitter, but both see a relatively long lifespan for the social media firm. At least in Internet years.
In a debate with Andreessen at the Milken Institute Global Conference Monday, Thiel, a co-founder of PayPal, said he expects that Twitter's roughly 1,000 employees will have jobs a decade from now.
The business case for Twitter is solid, Thiel said.
Related: Marissa Mayer's first-year pay is $6 million
He contrasted the future of Twitter with that of The New York Times, a print media vanguard that he says is not guaranteed a future in the digital age. Employees of the paper, Thiel cautioned, should be worried about the longevity of their jobs.
Andreessen, creator of the Netscape browser, has a vested interest in Twitter's future. His venture capital firm Andreessen Horowitz -- or @a16z in Twitter parlance -- spent a reported $80 million on a stake in Twitter in early 2011 when the social media company was valued at around $4 billion.
Twitter is expected to go public within the next two years. Thiel, who doesn't tweet or own shares of the company, said the company's estimated $10 billion current valuation was fair.
Yet Thiel bemoaned what Twitter's success says about the current state of innovation. The slogan of Thiel's investment fund Founder's Fund is "we were promised flying cars, and instead what we got was 140 characters," a reference to the length of a tweet.
Twitter, Thiel said, shows that current innovative technologies haven't fundamentally reshaped the lives of individuals or caused a major change to life expectancy or the overall economy.
Related: Alibaba takes stake in 'China's Twitter'
"New technologies are being used to send pictures of your cat halfway around the world," Thiel said. "We've talked ourselves into thinking that throwing cats at birds is the best we can do. We can do more than that."
Andreessen disagreed, comparing Twitter to the printing press and claiming the technology is a fundamental breakthrough in how humans communicate. "Twitter is instant global public messaging for free," he said.
Andreessen told CNNMoney that he's been encouraging the companies in his portfolio to wait as long as possible before going public, but said Twitter is one of the few that will be ready in 2014 or 2015.
If Twitter does go public, it's expected to be the largest offering since Facebook. With Facebook's (FB) stock down 29% from its IPO nearly a year later, investors might prove wary of the next big social media IPO.
Andreessen admitted on his panel with Thiel that he feels a bit of schadenfreude seeing the recent struggles of the New York Times as the Internet cuts down on its print profits. Andreessen said that during the 1990s, the publication often dismissed the Internet as a technology that had little chance of widespread adoption.
"It causes me a certain amount of pleasure today watching the New York Times Company try to cope with the consequences of the technology they laughed at," Andreessen said.
Those of you laughing at the cat pictures on Twitter, watch out.