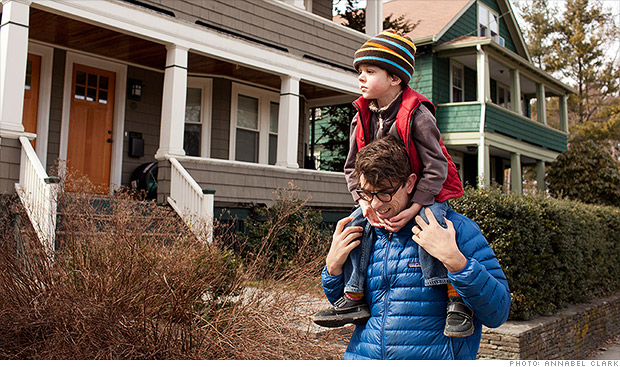 The cost of son Finn's care has forced author Jeff Howe and his family to make some tough choices.
(Money Magazine)
Our kid is nothing like your kid.
I don't mean that in an every-child-is-unique-as-a-snowflake way. I mean that my wife, Alysia, and I are pretty sure that Finn hails from some distant, unknown planet.
The cost of Finn
As the Howes have learned, not only is paying for a child with special needs hugely expensive, but the costs don't end when the child becomes an adult.
WHAT FINN COSTS NOW A YEAR
Caregiver
$9,555
Diapers
1,800
Out-of-pocket care
5,400
Occupational therapy
10,200
WHAT FINN MAY COST IN THE FUTURE
Cost of lifetime care for an autistic person
$2.3 million
Behavioral therapy for children with autism
$40,000 - $60,000 a year
Cost of an adult with autism living in a residential facility
$50,000 - $100,000 a year
His favorite foods include dirt and discarded water balloons. He spends hours a day in a headstand. He giggles maniacally at any expression of pain or distress. Recently I caught him shattering our water glasses on the patio. While I went for the broom, he dumped a quart of milk onto our kitchen floor. I tried to scold him, but he was already engrossed in one of his favorite hobbies: smelling his right foot.
What's wrong with this child? There are a lot of ways to answer that question.
We have some acronyms, for instance: He's been diagnosed with CVI (cortical vision impairment), ASD (autism spectrum disorder), and DCD (developmental cognitive disability). My favorite, PDD-NOS (pervasive developmental delay not otherwise specified), is the most accurate. It's doctor-speak for "We have no earthly idea what's wrong with your child."
I often find myself grasping for otherworldly metaphors to explain our experience. Imagine E.T. came to your house but never figured out how to phone home. No spaceship. No tearful departure. Just you, the other humans in the house, and E.T. He can't really communicate, so domestic dramas take place through wild gestures and improvised sign language.
"We are not of his world," Alysia and I tell ourselves. "And he is not of ours." The best we can do is help our alien child negotiate the baffling planet on which he's found himself.
A quarter of U.S. households have a member with special needs. More than 8% of kids under 15 have a disability, and half of those are deemed severe.
What we share in common with the parents of all those special-needs children is that our kids have almost nothing in common: Within the "autism spectrum" alone there is far more diversity than there is within the rest of the human population. As one clinical psychologist told me, "Saying you study autism is like saying you study the world of non-elephant animals."
Special-needs parents do share one thing: the eviscerating cost of our children. It's one of the awful ironies of this unchosen life. Not only do we divorce more frequently and suffer from more mental health problems, but we pay dearly for the privilege.
According to Autism Speaks, the cost of caring for an autistic person over his or her lifetime is $2.3 million. Families shoulder much of that burden, and the strain on state and federal governments threatens to tear away whatever safety net remains.
Some of the expenses can be tabulated, like the $1,800 a year we spend on diapers for our 5-year-old or the $24,000 a year we pay for a caregiver we wouldn't otherwise employ.
Related: Paying for special needs
Others are harder to calculate. Finn mutilates toys, shreds books into confetti, shatters picture frames, and tears at our emotions in ways we can't fathom. Is my budding rheumatism at age 42 a product of this long-term stress? Then there are the inevitable tensions between Alysia (who is also 42) and me, as we claw at each other for some small pocket of oxygen -- a night out with friends, a few days of escape, a quiet place to work in an otherwise suffocating environment.
Despite it all -- the broken glass, the tantrums, the bite marks, the feces Pollocked across his bedroom wall -- I quite love my sweet, strange boy. There are mornings when I get up early and steal into Finn's room. I drift back off to sleep, but wake to find him smiling mysteriously and running his hand over my cheek, entranced by the sensation of stubble against his inner arm. Then he giggles and tries to do a headstand on my stomach. Finn is my son, and I love him. It has come as unwelcome news, then, that it's not clear how we'll afford to give him everything he so desperately needs.
Paying for Finn (cont.)