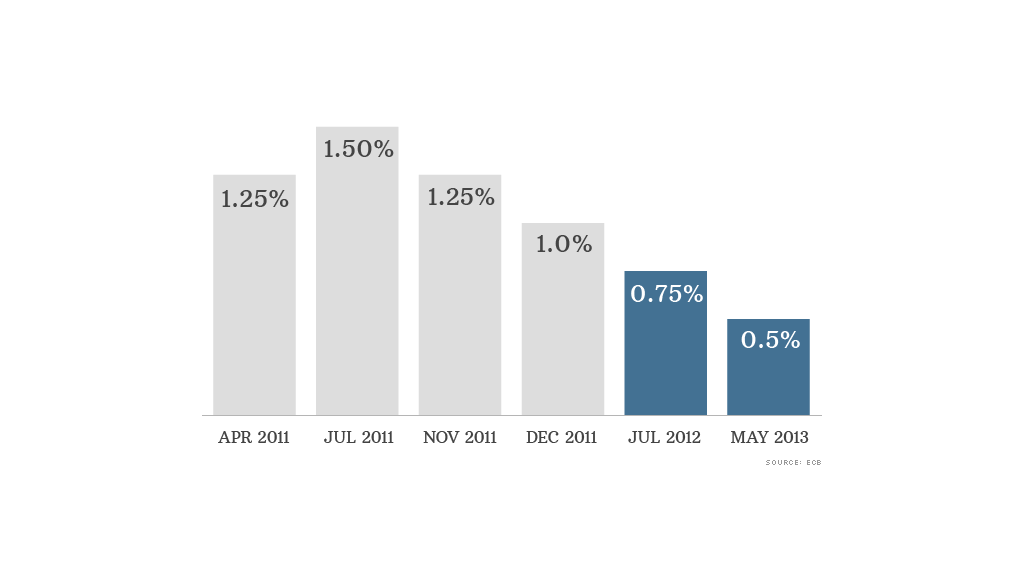 The European Central Bank cut its key interest rate for the first time in 10 months Thursday -- and signaled it was ready to do more if needed to prevent the eurozone falling even deeper into recession.
The interest rate on the main refinancing operation was cut by a quarter percentage point to a record low of 0.50%. It was last changed in July 2012.
"We stand ready to act if needed," ECB President Mario Draghi said at a news conference in the Slovak capital of Bratislava. He hinted that some members of the bank's governing council had pushed for an even bigger cut.
"A cut to 0.25% does now look a very real possibility, should the eurozone continue to find recovery elusive and consumer price inflation remain well below target," said Howard Archer, chief European economist at IHS Global Insight.
The central bank was under intense pressure to cut interest rates as the prospects of a recovery later this year begin to fade.
Unemployment across the 17 eurozone states hit a record high just above 12% in March, inflation fell sharply in April and recent surveys suggest the German economy may be slowing, dragged back by the deep recession that is leaving scars across southern Europe.
Conditions in eurozone manufacturing deteriorated in April at the fastest pace so far this year, according to the latest Markit Purchasing Managers' Index, with German firms reporting falling output, new orders and employment.
Analysts said the impact of the rate cut would be limited. But any help for the ailing eurozone economy -- forecast to contract for a second consecutive year in 2013 -- was welcome.
Draghi said the bank would provide eurozone banks with as much liquidity as they need at least until July 2014, and had begun working with other EU institutions to look at ways of improving lending to small and medium-sized companies.
European stocks have rallied and yields on government bonds have fallen since mid-April as investors bet that the ECB would cut rates. Stocks trimmed earlier losses and the euro fell 0.7% against the dollar.
Related story: Federal Reserve sticks with stimulus
The OECD cut its forecast for the Italian economy Thursday, predicting output would fall by 1.5% in 2013, instead of 1%.
That followed more bad news from southern Europe Tuesday when Spain, the eurozone's fourth largest economy, reported a seventh consecutive quarter of recession. The annual pace of contraction accelerated in the first three months of this year to 2%.
Global growth concerns are also bolstering the case for a rate cut, even if it has little more than a symbolic impact.
Related story: Fed will struggle to unwind its giant trade
Analysts said the cut would provide only limited relief for the weakest eurozone states because it will do little to reassure banks worried about lending to small and medium-sized firms grappling with deep recessions in their home markets.
"There can't be fears of lack of funding as an excuse for not lending," Draghi said.
But he acknowledged that other unconventional measures may be necessary to kick start growth. The ECB was looking at ways to revive Europe's market in asset-backed securities, but discussions were at a very early stage, Draghi said.
And he again ruled out the kind of huge bond buying programs that have been used by other major central banks to support markets and growth.
"We're looking at all possible options but we're very aware of what we can and cannot do," Draghi said.
And while there have been signs that EU leaders may be prepared to ease up on the pace of austerity, the eurozone is not about to imitate Japan and embark on a new round of short-term borrowing to generate growth. The ECB remains the only game in town.