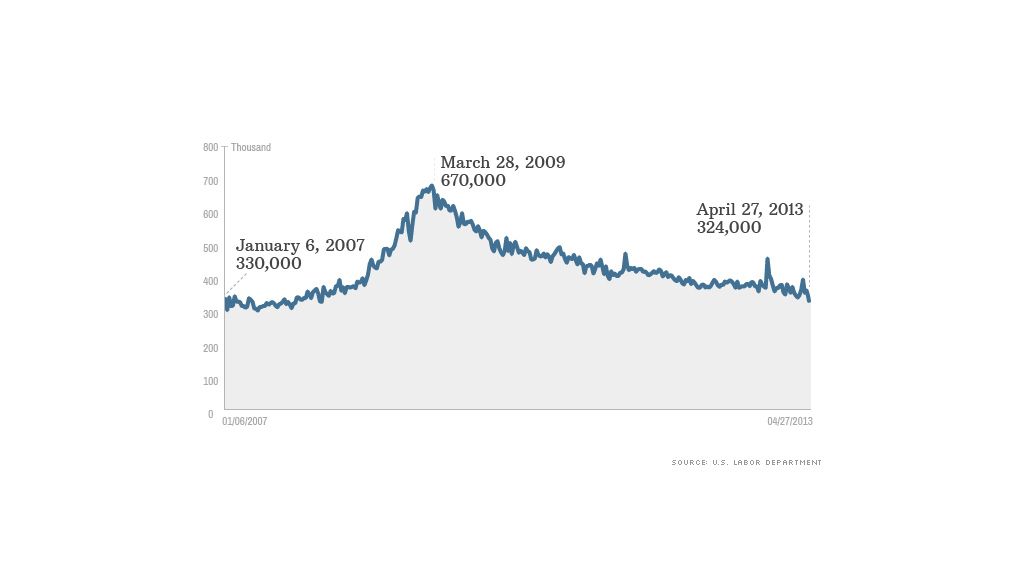 First-time claims for unemployment benefits fell to their lowest level in five years last week, signaling fewer layoffs in the economy.
About 324,000 people filed initial claims, the Labor Department said Thursday. The report was better than expected on all accounts. Economists were anticipating an increase in claims, but instead, the report showed claims had declined by 18,000 from the prior week, marking the lowest level since January 2008.
The weekly figures can be choppy, so economists often prefer to look at a four-week moving average to smooth out the volatility. That figure also declined.
The claims figures are considered a good gauge of layoffs and provide the first look at how the U.S. job market fared in any given month. During the height of the jobs crisis in 2009, claims had surged as high as 670,000 a week.
Related: Firms are firing less, but not hiring enough
Layoffs are now back at pre-recession levels, consistent with normal churn in the job market, but hiring of new employees still remains sluggish.
A separate report, released Wednesday, showed businesses were hesitant to hire new workers in April. They added 119,000 jobs, marking the weakest month for hiring since September, according to payroll processor ADP.
The Labor Department's official jobs report is scheduled to be released Friday morning. The U.S. economy added an average of 159,000 jobs each month over the last year, and so far, it looks like April fell in line with that modest pace of hiring.
Economists surveyed by CNNMoney are expecting the report to show the economy added 140,000 jobs in April, up from 88,000 in March. They're expecting the unemployment rate to remain at 7.6%.
As of March, about 11.7 million people were still counted as unemployed. Not all of them are receiving unemployment benefits, though. About 3 million people filed for their second week or more of unemployment benefits during the week of April 20 -- the most recent data available.