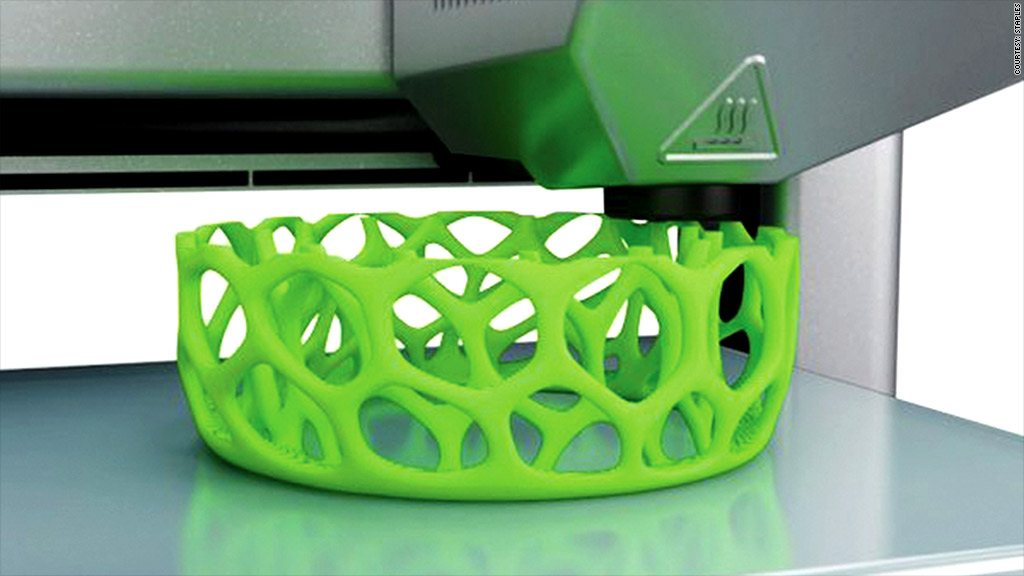 3-D printers have officially gone mainstream. You can now get one at Staples for $1,300.
Staples (SPLS) says it is the first major U.S. retailer to sell a 3-D printer. It began selling The Cube, made by 3D Systems (DDD), on Staples.com Friday, and the printer will hit "many" of the retailer's brick-and-mortar stores by June.
While 3-D printers have long been used in industrial manufacturing, a recent "maker" movement is slowly popularizing in-home versions of the devices.
The Cube, like other 3-D printers, is a machine that creates physical, three-dimensional objects. The printer uses a digital design file as a blueprint, then builds the item layer by layer with plastic. Users can print anything they can design, including action figures, iPhone docks and coffee cup holders.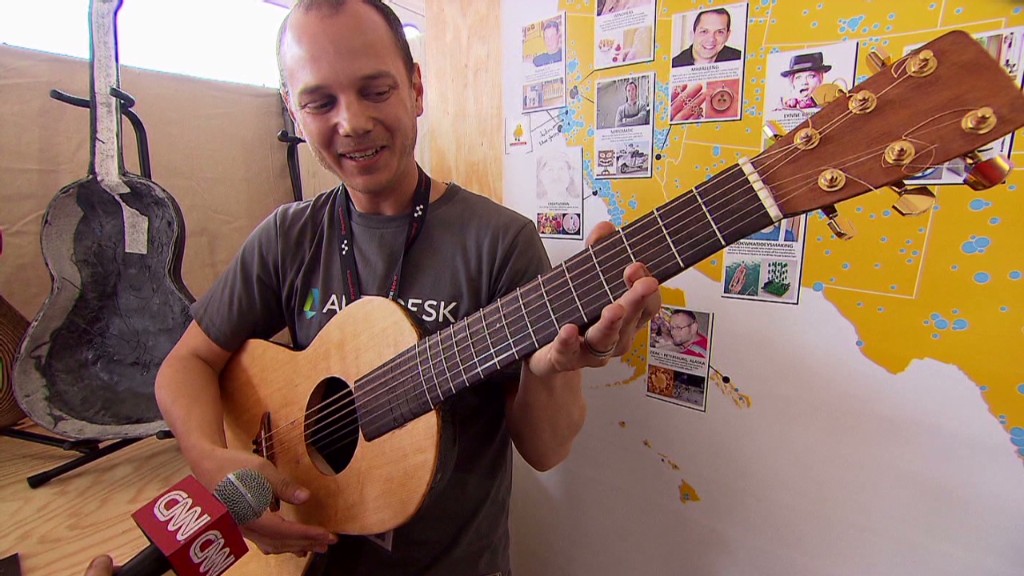 The Cube can print items up to five-and-a-half inches tall, wide and long in 16 different colors, and it comes packaged with 25 free design templates. Shares of Cube maker 3D Systems rose 4% after the announcement but ended the day up 1%. Staples stock closed nearly 3% higher.
George Young, a partner at 3D Systems shareholder Villere & Co., says the Staples announcement validates 3D Systems' mission, "because they've been saying their technology can cover all ends of the spectrum -- from manufacturing lines to consumers' homes. And a retailer like Staples is obviously cognizant about what their customers want."
3D Systems says it is devoted to the "democratization" of 3-D printers, making the complex and expensive technology available to the masses. But the company faces a lot of upstart competition.
Perhaps the buzziest 3-D printer company is Brooklyn, N.Y.-based Makerbot, which unveiled its $2,800 "Replicator 2x" at the Consumer Electronics Show in January.
Following Makerbot's success, crowdfunding site Kickstarter quickly became full of similarly named rivals: Printrbot, TangiBot, Ultra-Bot, RigidBot, Gigabot, and Bukobot.
While many 3-D printer owners may be using the devices to prototype inventions or simply have fun making plastic toys, other industries are tapping into the printers' potential. Chefs are using the printers to create intricately designed food. Doctors are even experimenting with advanced versions of the machines to make artificial organs and prosthetic limbs.
In some cases, 3-D designs have been controversial. Makerbot found itself under pressure to crack down on downloadable designs for printable gun parts late last year, after the school shooting in Newtown, Conn. MakerBot's design file repository, called Thingiverse, had long prohibited "the creation of weapons" -- but they were loosely enforced before the crackdown in December.