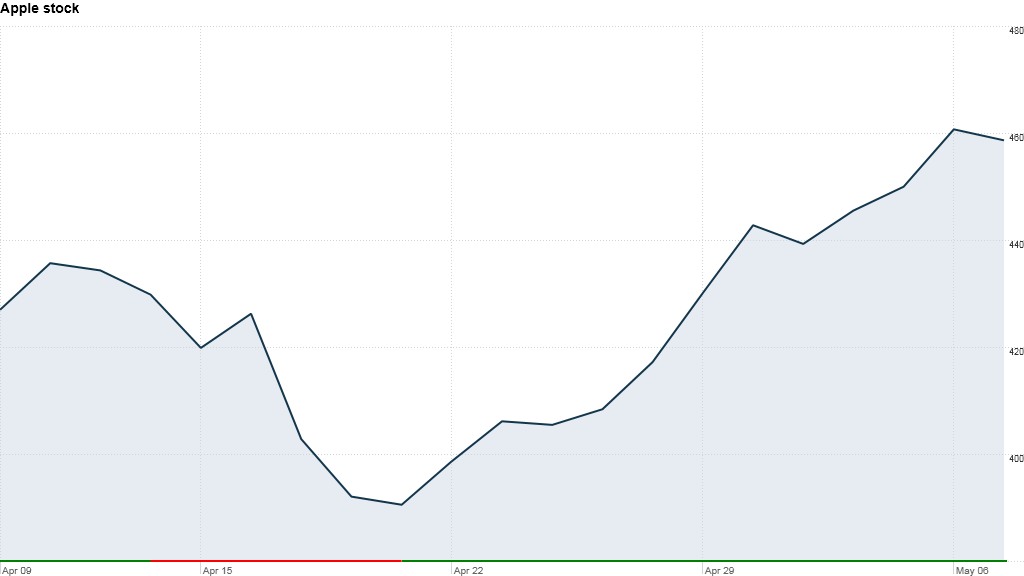 Apple's stock has been on a tear since the tech giant announced what it called the largest share repurchase program in history.
Shares of Apple (AAPL) have gained about 20% from last month's low of $385.
The rally came after Apple said it planned to return $100 billion to shareholders over the next three years, mainly by buying back its own stock.
The company sold a record $17 billion of bonds to help finance the initiative, a move designed to avoid the taxes Apple would have to pay if it repatriated overseas cash.
Apple had been under pressure from investors, including David Einhorn of Greenlight Capital, to use its $144 billion of cash to reward shareholders.
Einhorn called the move "a major step forward," during a conference call Tuesday, and said Greenlight has added to its Apple position.
"Now, we just wait for the release of Apple's next blockbuster product," he said.
Related: Apple cracks the Fortune 10
Once one of the most coveted investments on Wall Street, Apple's stock went into a tailspin after hitting a high above $700 last September.
At one point, Apple lost about $100 billion of market value.
The steep discount attracted the attention of Alisher Usmanov, Russia's richest man, who recently bought $100 million worth of Apple's stock, according to Bloomberg.
At least two other top fund managers have also been scooping up Apple shares recently.
Famed value investor Bill Miller of Legg Mason and hedge fund manager Whitney Tilson both told Fortune's Stephen Gandel that they have been adding Apple to their portfolios.
Over drinks at Berkshire Hathaway's (BRKA) annual meeting in Omaha last week, Tilson said the stock could hit $550.
Despite the rebound, Apple's shares are still down more than 30% from last year's peak.
Apple's lackluster performance came as shares of rival technology companies have rallied along with the broader market. Shares of Google (GOOG) hit a new all-time high this week, while Yahoo (YHOO) has been trading at its highest level in five years. Microsoft (MSFT) shares broke out in April and have gained nearly 25% so far this year.
Investors are worried about Apple's profitability as demand for the iPhone slows and lower-cost rivals eat into its share of the smartphone market.
The tech titan's profit fell 18% in the first quarter, and its gross profit margin declined by nearly 10 percentage points.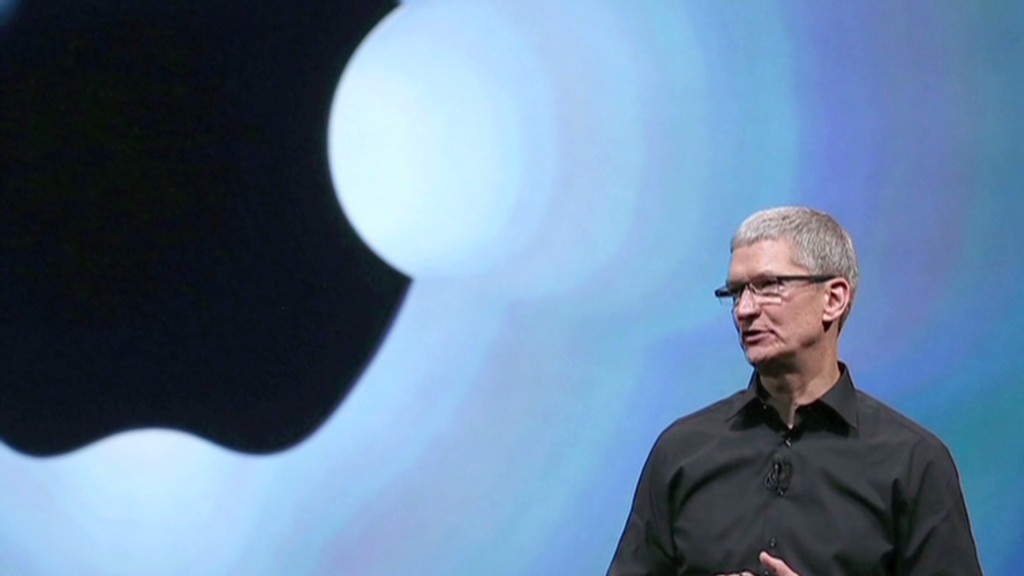 In a more existential sense, Apple is under pressure to demonstrate that it can still deliver revolutionary new products without its visionary leader, Steve Jobs, who died in 2011.
Related: Apple's stock under Jobs: from $10 to $400
But Apple is still a safe bet for long-term investors, said Laurence Balter, chief market strategist at Oracle Investment Research, who rates the stock a strong buy with a $600 price target.
"Apple has the cash to survive the cycle," he said. "It's a stable investment from a balance sheet perspective and the dividend is safe."
Balter said the decision to buy back shares "put a floor under the stock," but investors will need to be patient. "This is just a bump in the road."
Meanwhile, investors have been readjusting their expectations for Apple since the company lowered its earnings outlook for the current quarter, said Walter Piecyk, an analyst at broker-dealer BTIG.
"The valuation is attractive now that the estimates have come back to reality," he said. If the company delivers, the stock could move higher, he added.
Apple shares are currently trading at 11.5 times 2013 earnings estimates, compared with a forward price-to-earnings ratio of 15 for the S&P 500.
The recent stock pullback means there's less pressure on Apple to come up with a blockbuster, said Piecyk. But the company can still grow earnings by focusing on more modest upgrades to its existing product line, he added.
"It's still an inexpensive stock, particularly if you believe they can return to growth in 2014," he said.