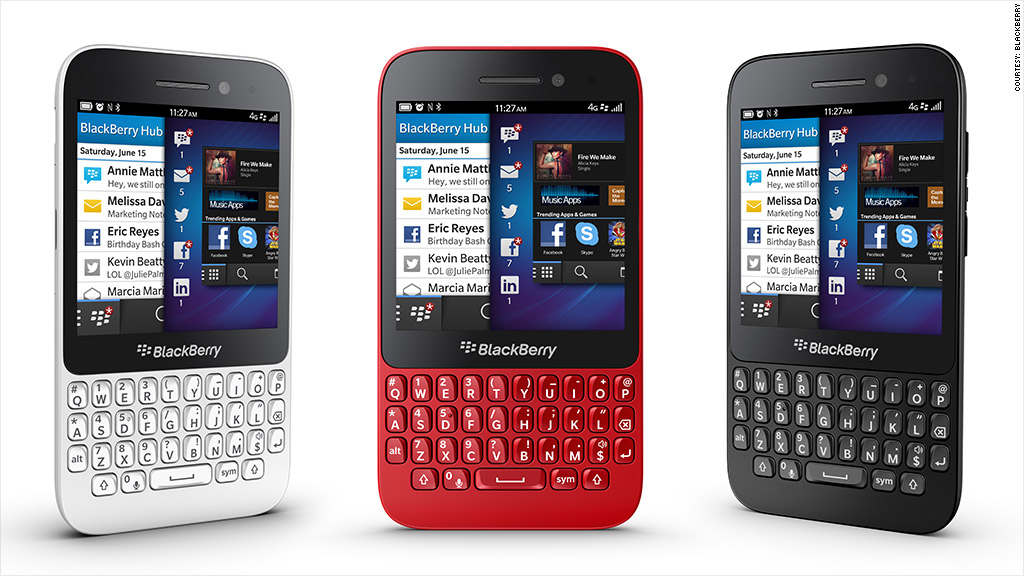 BlackBerry on Tuesday unveiled the Q5, a lower-cost, brightly colored smartphone aimed at emerging markets.
"I know this is going be a big hit," said CEO Thorsten Heins, who showed off the device at the BlackBerry Live conference in Orlando.
Heins didn't talk much about the phone's hardware, but he did show off the Q5's BlackBerry-classic QWERTY keyboard and its 3.1-inch touchscreen. The phone's design is similar to that of the once-ubiquitous BlackBerry Curve and the recently released high-end Q10 device.
The Q5 will be available in multiple colors, including black, white, red, orange and pink. It will go on sale starting in July in "selected markets" in Europe, the Middle East, Africa, Asia and Latin America. Neither Heins nor BlackBerry's press release mentioned pricing for the Q5.
BlackBerry (BBRY) is struggling to regain share lost to Apple (AAPL) and Samsung in some Western markets -- namely, the United States -- but the company sees a major opportunity in countries where smartphone use hasn't yet reached saturation levels. The Q5 is aimed squarely at those regions.
Shares of BlackBerry fell 4% on Tuesday.
Related story: Inside BlackBerry's last stand
Q10 comes to America: BlackBerry did reveal more details for the U.S. launch of the Q10, which the company previewed in January. The Q10 will be available "this summer" through Verizon, T-Mobile and Sprint.
T-Mobile (TMUS) said it will offer the Q10 for $580 without any financing options starting in June. Sprint (S) merely said the phone will be available in "late summer." Verizon (VZ) said it will accept Q10 pre-orders "in the coming weeks" and the phone will go on sale sometime in June.
BlackBerry 10.1 coming to Z10: The company also announced that an update to its BlackBerry 10 software will be available Tuesday to users of the Z10, BlackBerry's touchscreen-only flagship smartphone. The 10.1 update includes the BlackBerry Hub messaging portal as well a handful of other improvements.
The Q10 launched in Canada and the United Kingdom with the latest BlackBerry 10.1 software already installed.