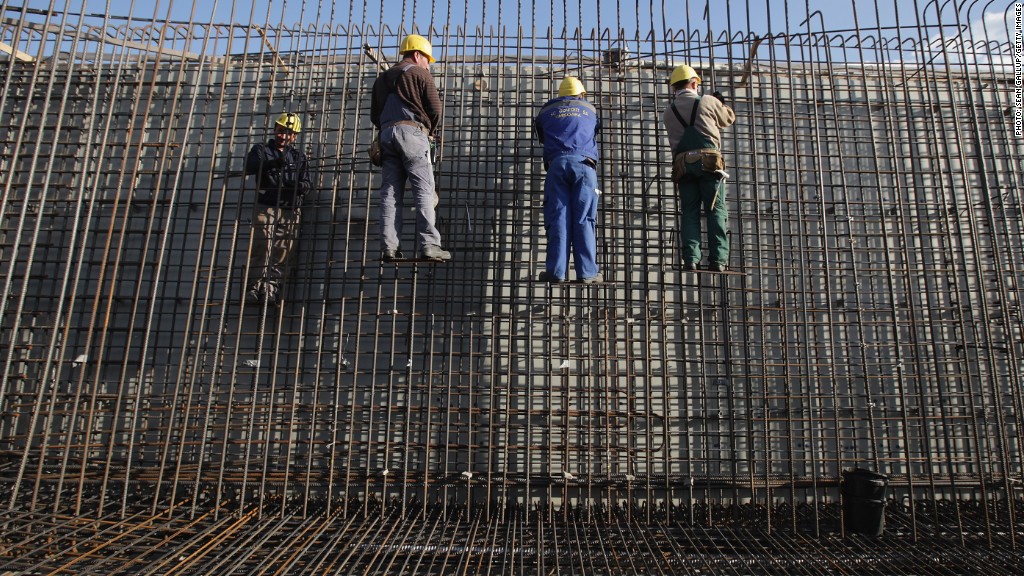 Germany narrowly avoided recession at the start of 2013, but its return to growth wasn't enough to prevent the eurozone economy from contracting for a record sixth consecutive quarter.
Gross domestic product in the 17-nation euro area fell by 0.2% in the first quarter, held back by a return to recession in France. That compared with a decline of 0.6% in the fourth quarter.
The region's economy hasn't grown since the third quarter of 2011, making this the longest period of declining output in the eurozone's history.
The pace of contraction eased in Italy and Spain, but both economies still shrank by 0.5% in the quarter.
The prospects of a second consecutive year of recession in the eurozone and tumbling inflation prompted the European Central Bank to cut interest rates earlier this month to a record low of 0.5%, and declare it was ready to act again if necessary.
"An interest rate cut to 0.25% looks ever more possible while the ECB will also continue to look into the case for a negative deposit rate and ways of getting more credit through to smaller companies," wrote Howard Archer, chief European economist at IHS Global Insight, in a research note.
The euro continued its recent slide against the dollar, and European stocks were weaker in early trading before recovering to stand little changed.
Related: Europeans still back austerity
The recession has depressed business confidence, sent unemployment to record highs and blown attempts to cut government debt off course. Some EU leaders have signaled their willingness to ease the pace of austerity in the hope of shoring up a recovery that most economists are still forecasting for later this year.
But Wednesday's flash GDP estimate was worse than economists were expecting, largely due to disappointing growth in Germany, and could increase pressure on the ECB to take further action to try to stimulate activity.
Germany, which accounts for about 30% of eurozone output, grew by just 0.1% in the quarter, as unusually cold weather hit construction activity. Analysts were expecting growth of about 0.3% in Europe's biggest economy. Investment and exports fell too, underscoring the impact of the eurozone recession and weak global growth.
Related: Is Abenomics working?
France, the eurozone's second-biggest economy, saw output fall by 0.2% for a second consecutive quarter as it suffered from weak exports and falling investment.
"The readings from both powerhouses in the core euro zone are worrying, suggesting the region is stuck in a recessionary trend," noted ETX Capital market strategist Ishaq Siddiqi.
There was little comfort in the figures for southern Europe, although Portugal was able to slow the pace of contraction to 0.3% from 1.8% in the fourth quarter.
Eurostat figures showed the 27-nation European Union dipped back into recession, with output falling for a second consecutive quarter despite growth of 0.3% in the U.K.
The Bank of England said Wednesday that inflation would come down faster than expected and growth prospects for were a little brighter.
"Today's projections are for growth to be a little stronger and inflation a little weaker than we expected three months ago," said Governor Mervyn King.
"That is the first time I have been able to say that since before the financial crisis," King told reporters, presenting his last inflation report before handing over to his successor Mark Carney in July.