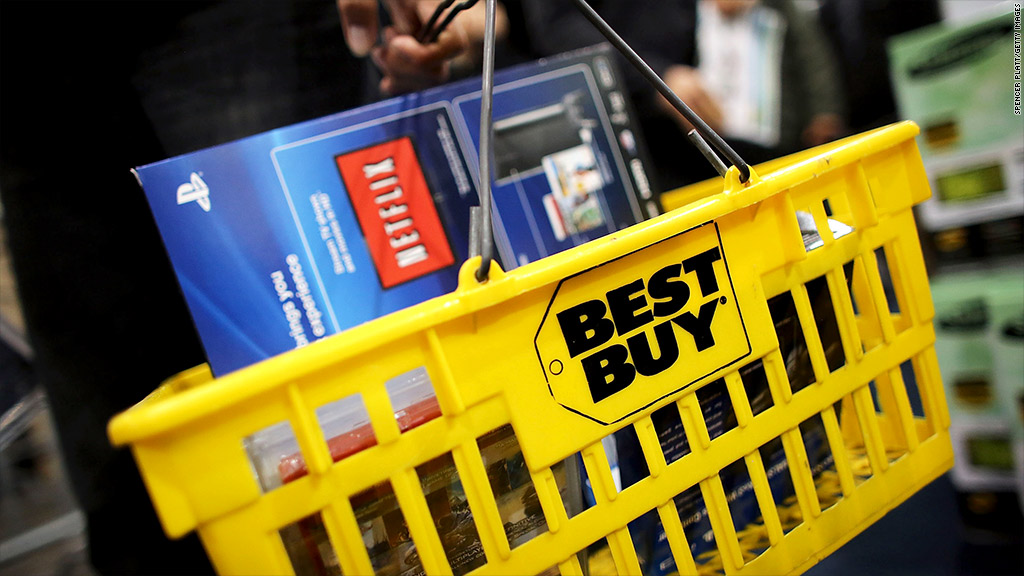 Best Buy's sales fell in its fiscal first quarter, but the company says that the revenue was better than it appears at first blush.
The electronics retailer reported that revenue fell 9.6% to $9.4 billion. That was well below the sales of $10.7 billion forecast by analysts surveyed by Thomson First Call. But on a call with analysts, CEO Hubert Joly said that those forecasts included sales from its European operations, which the company stopped including in its sales total with this report. It announced plans last month to sell off half of its ownership stake in the unit.
Joly said including the revenue from Europe would have brought sales to $10.8 billion, which while down about 7% from a year ago, would have beat forecasts.
Sales at U.S. stores open at least a year were off 1.1%, which Joly said was in line with the company's expectations, while sales fell 2.8% at stores outside the U.S.
The confusion about the sales spooked some investors, and shares of Best Buy (BBY) fell in premarket trading following the report. The company remains the third best performing stock in the S&P 500 so far in 2013.
The retailer attributed some of the decline to the fact that the Super Bowl didn't take place during the fiscal first quarter this year, while last year's game did. The game is a major driver of large screen television sales.
Best Buy's profit from continuing operations fell 54% from a year earlier, but that topped forecasts.
Best Buy is facing increased competition from online retailers such as Amazon (AMZN). In February, it announced it was expanding its price-match guarantee to better compete.
It has also been engaged in a cost-cutting effort that includes closing stores. Some of those moves affected its first quarter results.
The turnaround plans have been led by Joly, who was named CEO in August. Investors have generally been supportive of his efforts, sending shares up 126% so far this year through Monday's close.
Despite the sales decline, Brian Sozzi, chief equities strategist at Belus Capital Advisors, said he's not discouraged by the report.
"If you peer deep into the soul of Best Buy's performance, it should reaffirm the very reason the stock has zoomed in 2013," he wrote in a note to clients Tuesday. "That reason: An operational overhaul that is both removing oodles of wasteful processes and repositioning the company for relevance in a competitive industry."