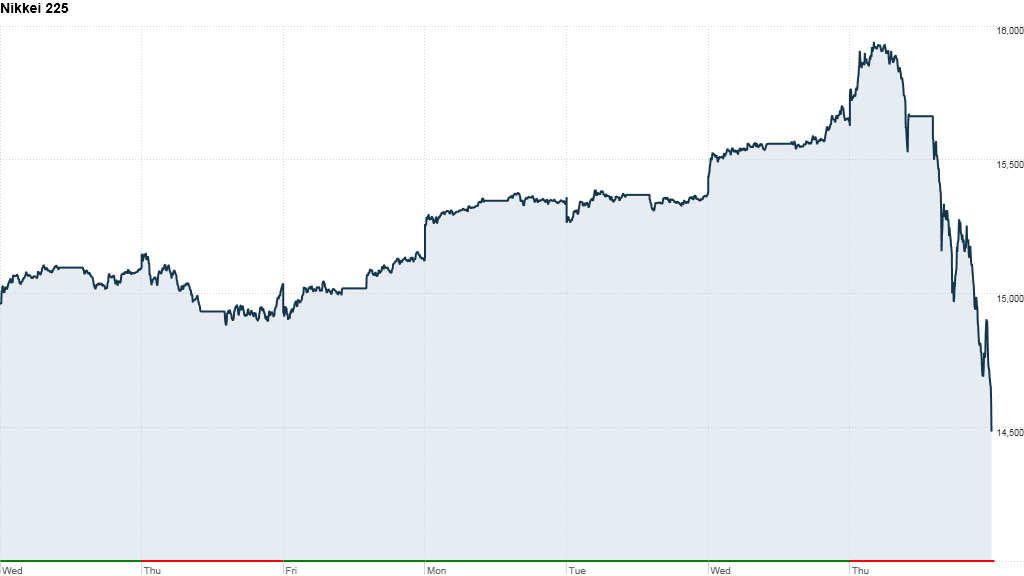 A global rally in stocks came to an abrupt halt Thursday as a 7% plunge on Japan's Nikkei index unnerved investors in Europe and set the tone for a weak opening on Wall Street.
European markets fell by 2% and U.S. stock opened lower in the wake of the biggest one-day drop on the Nikkei since the 2011 earthquake and nuclear disaster. Germany's DAX lost 2.4% and France's CAC 40 was down 2.1%.
Investors were rattled by weak economic data from China and indications that the U.S. Federal Reserve may start dialing down its bond-buying program as early as June.
In Japan, the yen was rising and yields on 10-year Japanese government bonds hit 1% for the first time in months, tracking a rise in yields on U.S. Treasuries.
Related: Eurozone business still going backwards
Analysts said the sell-off reflected concerns that the Japanese rally had gone too far too fast. The Nikkei has surged by more than 70% over the last 12 months.
"The Japanese market is quite clearly overbought," said Max King, an investment strategist and fund manager at Investec Asset Management. "It went a long way in a short time and investors have moved to take profits in the short term."
Central banks, including the Bank of Japan, have been a big driver of the bull market in stocks.
King said the Bank of Japan's policies can't sustain the rally indefinitely, and Japanese companies will have to start reporting better earnings to bolster investment confidence.
Market volatility could continue for a while, said Clem Chambers, CEO of private investors' website ADVFN.
"The end of any run like this is always completely insane," he said. "The rest of the markets are so high and ready to swoon, it could be a Black Friday tomorrow."
U.S. indexes have been posting record highs for weeks, fueled by the Fed's quantitative easing program and some signs of improvement in the U.S. economy.
The latest numbers from China showed the country's manufacturing sector contracted in May, contrary to expectations for narrow expansion, reinforcing concerns about slowing growth in the world's second biggest economy.
Investors were also spooked after the Federal Reserve released minutes from its latest policy meeting revealing that some members of the monetary policy committee were looking to taper off the bond-buying program sooner than expected.